Hi, I'm TigerLily! Welcome to my profile!
Naruto and Yugioh were my first introductions to anime - I'd watch episodes after coming home from grade school nearly every day. Ghibli films were also a huge part of my childhood and something which brought my family together. However, I didn't really fall in love with anime as a medium until my late teens, after watching Ouran High School Host Club and then some shounen favorites like Hunter x Hunter and Code Geass. Since then, watching anime/donghua has become a consistent hobby of mine, alongside reading fiction. I also enjoy manga, although I don't read much of it nowadays and haven't updated my list on this site.
I haven't seen nearly as much anime as some users on Anime-Planet, but I like to keep track of what I have watched and enjoy the community here.
First Tier Favorites: The Grandmaster of Demonic Cultivation (Mo Dao Zu Shi), Princess Mononoke, Banana Fish, Hunter x Hunter (2011), Sarazanmai, Run with the Wind, Made in Abyss, Ouran High School Host Club, Rascal Does Not Dream of Bunny Girl Senpai, Doukyuusei, Haikyuu!!
Second Tier Favorites: The King's Avatar, Code Geass, Nausicaa of the Valley of the Wind, Violet Evergarden, Attack on Titan (season 3), Steins;Gate, Bungou Stray Dogs (second season), Your Lie in April, Wotakoi: Love is Hard for Otaku, Yuri on Ice, Big Fish and Begonia
Favorite Genres: Action, Dark Fantasy, Psychological, Seinen, Shounen-ai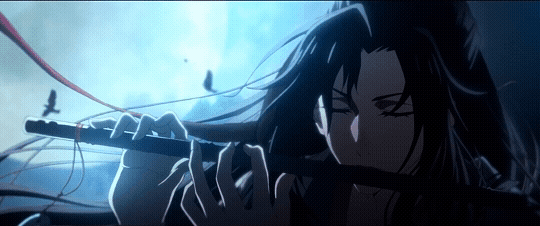 Wei Wuxian, MC of The Grandmaster of Demonic Cultivation (Mo Dao Zu Shi)
Rating System:
***** I try not to give a full 5/5 stars unless a show truly encapsulates everything I adore when it comes to character development and character relationships. Plot, to me, is almost always secondary to characters. Aside from a few Ghibli films (Princess Mononoke and Spirited Away), the only shows I've given 5/5 stars include: Hunter x Hunter (2011), The Grandmaster of Demonic Cultivation (Mo Dao Zu Shi), Banana Fish, Run with the Wind, Sarazanmai, and Ouran High School Host Club.
**** 4 and 4.5 star anime are ones I consider to be fantastic and definitely worth watching, though they had less of an impact on me personally than my 5 star picks.
*** Not disappointing in terms of quality, but in memorability. In other words, I've already forgotten all the main plot points.
** Quality is lacking in some way, usually in the form of lackluster character development.
* Wouldn't recommend. Very few redeemable qualities.
I don't write reviews very often, but when I do, I aim to be as thorough as possible. I've decided to keep a running list here: