Hi, I'm TigerLily! Welcome to my profile!
Naruto and Yugioh were my first introductions to anime - I'd watch episodes after coming home from grade school nearly every day. Ghibli films were also a huge part of my childhood and something which brought my family together. However, I didn't really fall in love with anime as a medium until my late teens, after watching Ouran High School Host Club and then some shounen favorites like Hunter x Hunter and Code Geass. Since then, watching anime/donghua has become a consistent hobby of mine, alongside reading fiction. I also enjoy manga, although I don't read much of it nowadays and haven't updated my list on this site.
I haven't seen nearly as much anime as some users on Anime-Planet, but I like to keep track of what I have watched and enjoy the community here.
First Tier Favorites: Hunter x Hunter (2011), Princess Mononoke, Run with the Wind, Banana Fish, Bungou Stray Dogs (season 2), The Grandmaster of Demonic Cultivation (Mo Dao Zu Shi), Ouran High School Host Club, Rascal Does Not Dream of Bunny Girl Senpai, Haikyuu!!, Your Lie in April
Second Tier Favorites: The King's Avatar, Code Geass, Nausicaa of the Valley of the Wind, Violet Evergarden, Attack on Titan (season 3), Wotakoi: Love is Hard for Otaku, Steins;Gate, Yuri on Ice, Big Fish and Begonia
Favorite Genres: Action, Dark Fantasy, Psychological, Seinen, Shounen-ai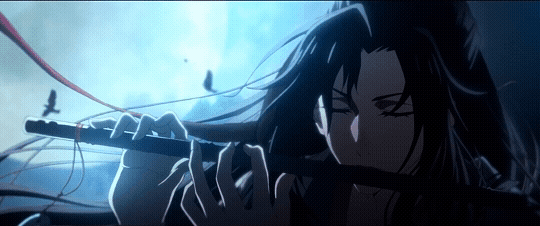 Wei Wuxian, MC of The Grandmaster of Demonic Cultivation (Mo Dao Zu Shi) - season 2 is out this summer!
Rating System:
***** I try not to give a full 5/5 stars unless a show truly encapsulates everything I adore when it comes to character development and character relationships. Plot, to me, is almost always secondary to characters. Aside from a few Ghibli films (Princess Mononoke and Spirited Away), the only shows I've given 5/5 stars include: Hunter x Hunter (2011), Banana Fish, Run with the Wind, The Grandmaster of Demonic Cultivation (Mo Dao Zu Shi), and Ouran High School Host Club.
**** 4 and 4.5 star anime are ones I consider to be fantastic and definitely worth watching, though they had less of an impact on me personally than my 5 star picks.
*** Not disappointing in terms of quality, but in memorability. In other words, I've already forgotten all the main plot points.
** Quality is lacking in some way, usually in the form of lackluster character development.
* Wouldn't recommend. Very few redeemable qualities.
I don't write reviews very often, but when I do, I aim to be as thorough as possible. I've decided to keep a running list here: