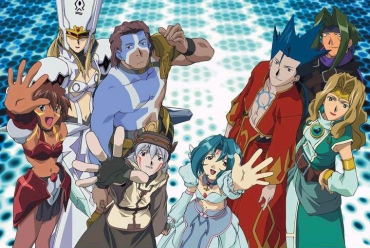 Story: 6/10
Let's let every video-game addicted youngster out there heave a sigh of relief that they can locate the "log out" buttons on their monitors. The protagonist of this anime is not so lucky: for while Tsukasa runs around in the massive online adventure game titled "the World," his body in the real world is lying in a coma.
Well, that sure seems like a compelling enough premise for a cute little 13-episode series, right? Right. Which is why the stretches of time between the periods of action seem so tedious. Entire episodes are devoted to the players in "the World" lazing about in fields, theorizing about Tsukasa's plight, swapping information, and sharing their speculations. The story plods on at an excruciatingly slow pace, with many seemingly pointless conversations peppered throughout.
Once in a while, the show teases us with a glimpse of the players in the outside world, but these glimpses are brief and unyieldingly cryptic.
Animation: 8/10
.Hack//SIGN is a decidedly good-looking show. When it first aired in the U.S, several years ago on Adult Swim, I remember thinking that the animation was superior to anything else airing at the time. (Granted, we still had oldy-goldies such as "Trigun" and "Rurouni Kenshin" queued up in the late night television line-up, and I didn't have anything more contemporary to compare it to, art-wise.)
The pastel colors make "the World" seem beautiful and surreal, the characters are very appealing-looking, and the backgrounds are lush and imaginative.
Sound: 6.5/10
I have nothing against the soundtrack, personally- in fact, I own the CD. Almost every track bears a sense of poignancy and beauty, and I've spent many car rides enjoying the soaring vocals of those Japanese ladies singing their enigmatic English lyrics.
Standing alone as a piece of music, it's lovely. Married to an anime where there's episode after episode of static discussion? It's overpowering, to say the least. Most of these songs are just not "background music" material. To make matters worse, two of the main protagonists are very soft-spoken, and the music seems to blare over their quiet conversations.
As a final note, most of the songs seem to have the same sound and tone. It often feels as if the director just pulled up the soundtrack on his media player, hit "shuffle," and said: "Okay, plug it in! We're good to go!"
Characters: 6/10
I like to be able to root for certain characters from the get-go. But even about ten episodes into the show, I was hard-pressed to name my favorite. Tsukasa seemed too brooding and anti-social to form any kind of attachment to. The better part of the first few episodes were preoccupied with his sulking and pissing, and his only lines seemed to alternate between "leave me alone" and "you're so selfish." The reason why everyone seemed so genuinely concerned about his predicament is a little confusing, considering how many times he cuts down people who are trying to help him. It isn't until the end of the series- and we're talking the last damn episode, that he borders upon anything approaching "niceness."
Mimiru is pig-headed and immature. B.T is aloof and conniving. The Silver Knight is the very definition of a "power-hungry admin," and Sora behaves as though he's a momma's-basement-dwelling rapist, in real life.
A few of the side-characters manage to rise above the sea of mediocrity, and proved to be pretty likeable. Bear is a very fatherly sort of figure, attempting to compensate for his perceived failure at his parental duties in the real world by protecting Tsukasa and Mimiru in the virtual one. Krim, as well, is a very positive sort of character: he alone behaves like a real person just trying have fun playing a game.
I can't help but feel that the show would have benefited from investing a little more time developing the players' lives in the outside world. It could have made the more distasteful characters sympathetic if the audience were privy to the reasons why they act the way they do.
Overall: 7/10
Not a bad show, but I'd sooner pop in the soundtrack for another round than sit down and watch it a second time.