Anime/Manga/Games loving trash person.
Send help.
I'm a person from a long country... there's nothing more to it, yes, I'm from Chile, the long country in the ass of the world, but that nobody knows. The first time I watch anime (knowing that it was anime) was at 8 years old. Currently, I have watched and read a lot of animes and manga, I also enjoy playing games in a safe way. (Not a gamer)
The first anime I saw was "Meitantei Conan/Detective Conan/Case closed (for the english fandom)", I'm still watching it after all these years. (I really need help)
This year (2018) I'm more into reading mangas (maybe because the challenge thing?), but I'm also watching some anime that I like.
I tend to see a lot of things, from different demographics and genres. I enjoy almost everything, I get bored easily, so I do not stay doing only one thing at a time.
I tend to have little obsessions about things I like, It is not as if these things were really works of art, they are usually things that consume my time (a lot of time), but after a few months (sometimes years), I see the real value of them.
My current obsessions are:
Osomatsu-san
Boku no Hero Academia
Mahou Shoujo Ore
Haikyuu
Skip Beat
A lot of Manwhas (Love is an illusion/Oh! Holy!/etc.)
Takane to Hana
ETC.
Mystic Messenger (Actually I'm pretty obsessed right now.)
Undertale
Ib
OSU!
Love Nikki!
I also like music and food, In the music field, I love orchestras, instrumental and piano pieces... altough I'm not so fan of opera. I, like most anime fans, enjoy J-rock/J-pop... (I'm not into K-pop/rock because I don't know what they are saying so I don't enjoy it) In the food field, I enjoy sweet food, but I also like salty food, I always enjoy to have a balanced meal between sweet and salty things. I am an insulin-resistant person, which does not mean that I have diabetes, but I can have it later (even though I love sweet)
My favourites musicians/groups/composers/singers are:
Joe Hisaishi
Brian Crain
Peter Gundry
Ryozan Sakata
Amazarashi
RADWIMPS
Base Ball Bear
MUCC
Aimer
Cuarteto de Nos
And a lot more, but you don't care, neither I do.
In need to make a top 20 anime/manga someday, but I need to make some investigation before, I don't like to recommend things, without having an idea what I'm talking about. But someday I will.
If you want a specialized recommendation, tell me your tastes and an idea of what you are looking for.
(I can recommend both, animes or manga, don't be shy, that's my work)
Seriously send help, I need a life.
Also if you want to talk or something that is not anime/manga related, or if you want emotional help, you can do it, I may not respond immediately, but it is because I am too shy, and internally I will be excited and I will not know what to answer or what to say. You can speak to me both in Spanish and in English, only that in English I will delay a little more, I'll try to be a good talk (I need friends but I am socially clumsy, so I would appreciate it if you would talk to me if you have time.)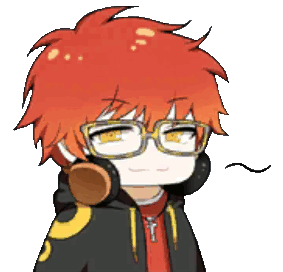 See ya~