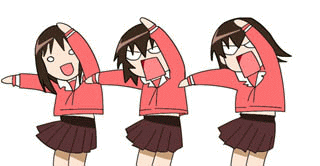 Yo! My name is Bill! And if you're new here, glad to meet you! I'm a West-Midlands English lad who was born in 2000, moved to Wales in 2012, and started watching anime in 2013!
My first experience watching anime isn't a massively exciting story. Me and my best pal felt like watching something new and we ended up watching the anime Fatal Fury films. After that I asked around at school for other anime to watch and here I am years later, still watching anime and still enjoying the hell out of it!
My tastes have obviously changed over the years. You know what it's like, you start off with any medium and you love pretty much everything you consume. As time passed, I got more jaded and cynical with anime. Most new shows don't do much to entertain me and some genres annoy me to no end, but despite this, I'm always willing to give new shows a try regardless of genre, release date, or popularity!
Although I DO have a list of genres that I'm more inclined to watch, those being...
Mecha. I love giant robots because of how over-the-top and awesome they can be. (Gurren Lagann, Gunbuster, Code Geass)
Sci-fi. I think sci-fi can be really entertaining because of the neat concepts it introduces. I love seeing technology that does cool things but at the same time could theoretically exist. (Cowboy Bebop, Ghost in the Shell, Chobits)
Fantasy. While I love sci-fi because of the realism behind it, I also love fantasy because of how creative it can be. And in my opinion, the more absurd, the better! (JoJo's Bizarre Adventure, Fullmetal Alchemist: Brotherhood, Fairy Tail)
GAR. This isn't a genre, but it's a blanket term that I like to use to describe certain shows with an extreme level of masculinity and manliness. Muscles, shouting, and ridiculous fight scenes. (JoJo again, Berserk, Dragon Ball Z)
Rom-coms. I'm so lonely and these shows can be fucking hilarious. (Ore Monogatari, Ouran High School Host Club, Fruits Basket)
Psychological. Hooray for mind rapes and confusion! (Neon Genesis Evangelion, Death Note, Parasyte)
As for specific anime, my favourite show would HAVE to be JoJo's Bizarre Adventure. The awesome music, the manly and loveable characters, the style, it's everything I could want from a piece of media. (Part 4 is my favourite)
Go and watch JoJo. :3
Other than JoJo, my other favourite shows are Gurren Lagann, Baccano, Berserk, Fullmetal Alchemist: Brotherhood, and Princess Tutu!
Now I suppose I'd best list off my favourite characters. Ladies first, as we go by in the UK.
My second and third favourite female characters would have to be Lal'C Melk Mark from Diebuster and Sucy Manbavaran from Little Witch Academia. Lal'C is really cool and collected but still nice, and Sucy is one of the funniest and strangely cutest characters ever!
Now, if you were paying attention, you'd see that I ranked Lal'C and Sucy as my second and third favourite female characters. That's because the number one spot goes to my waifu, Mirajane Strauss, who I love for her beauty and endlessly kind soul.
Moving on to the gents, I'd have to say that my favourite male character (and my favourite character in general actually) is Eikichi Onizuka from GTO. If only because he's a combination of the coolest character ever as well as probably the funniest.
(ONLY ONIZUKA COULD GET AWAY WITH THAT)
Kamina from Gurren Lagann ranks second, if only because he's stupidly manly.
And to top it off, my favourite villain from any anime ever is Yoshikage Kira from JoJo Part 4: Diamond is Unbreakable due to his composed demeanor, interesting quirks, and unique motivation. Sorry Dio, I still love you, but with Yoshikage Kira, I think there's just a little more to him.
(might not look like much but just watch Diamond is Unbreakable and you'll understand why he's so great)
Go and watch JoJo. :3
Other than anime, I'm a consumer of most forms of media. Here be some of them!
Films. I like to think I'm a film buff to a degree. I'm not an expert but I know my stuff. My favourite films are Pulp Fiction, Whiplash, Batman (1989), My Neighbour Totoro, Back to the Future, Trainspotting... I could go on and on. My favourite directors are Quentin Tarantino and Alfred Hitchcock, my favourite actor is probably Cillian Murphy, and my favourite actress is probably Emma Stone. I think that Pulp Fiction has the best writing and soundtrack (although Trainspotting is probably a close second in terms of soundtrack), Whiplash has the best acting (mostly thanks to J.K Simmons), La La Land has the best direction, Birdman has the best cinematography, Ip Man has the best fight choreography, Borat has the best comedy (closely followed by Shaun of the Dead and Hot Fuzz), and Sin City has the best visual style. As I said though, I could talk forever and ever about this topic so I'd best stop here.
Television. I don't watch television as much as films, but I still enjoy me a good show here and there. I particularly love Peaky Blinders, Red Dwarf (the funniest show of all time in my humble opinion), End of the F***king World, The Office, Fawlty Towers, and the Netflix Marvel shows (my favourite being Jessica Jones).
Video games. Probably my biggest passion of all. My favourite genre is easily the platformer; my favourite franchises being Donkey Kong Country, Mega Man (classic series and X), Castlevania, Pokemon, Super Smash Bros, and Mario (including the subseries). As for individual games, my favourites are Stardew Valley, The Binding of Isaac: Rebirth, Castlevania: Symphony of the Night, Resident Evil 4, Smash Bros Wii U, Donkey Kong Country, Mega Man II and III, and Super Mario World. To the most part I'm a console gamer and I own six consoles.
Music. My folks raised me on a lot of music they grew up with, and my friends introduced me to a lot of other bands. My favourites are Queen, ELO (Electric Light Orchestra), Franz Ferdinand, Wolfmother, Duran Duran, Johnny Cash, Damien Rice, Seth Lakeman, and a wide range of other artists!
Western animation. I love cartoons almost as much as anime. My favourite shows are BoJack Horseman, The Maxx, Rick and Morty, The Boondocks, Batman TAS, Star Wars Clone Wars (2003), and Archer.
Graphic novels. This is a new hobby. I've always been into superheroes and I've recently started buying graphic novels in bulk. My favourite reads so far are V for Vendetta, The Walking Dead, Venom (by Rick Remender, featuring the Agent Venom rendition of the character), and Daredevil: Yellow (Spider-Man: Blue was fantastic as well). My favourite Marvel heroes are Agent Venom, Gwenpool, Ant-Man, Spider-Man, Deadpool, Wolverine, and Daredevil, while my favourite villain is easily Carnage. I'm also a pretty big Batman fan, but otherwise I don't have a great deal of experience with DC. I DID read the first volume of The New 52 run of The Flash, though, and I thought it was pretty swell.
YouTube. I watch a lot of YouTubers. I'm a fan of Ashens, Jim Sterling, the Angry Video Game Nerd, Nostalgia Critic, Caddicarus, I Hate Everything, SomecallmeJohnny, YourMovieSucksDOTorg, Ralphthemoviemaker, Jaiden Animations (who I have a crush on), DouchebagChocolat, iDubbbzTV, Undoomed, TJ Kirk, and Shoe0nHead (who I also have a crush on), just to name a few.
JoJo's Bizarre Adventure. Go and watch JoJo. :3
Some more not so fun facts about myself!
I have an intense dislike for imouto characters. Except for Ui Hirasawa or Kyon's Sister, they're awesome. The imouto from Charlotte can fuck off for all I care.
My favourite Zelda game is Wind Waker. Don't know why that's here, it's just an unpopular opinion.
I have too many mains in Smash 4: I play as Donkey Kong and Little Mac the most though.
I eat an awful lot. My favourite food would probably be a lovely steak and ale pie, but I'm also a massive cheese addict. My favourite snack food is Peanut M&Ms.
I hate dogs, but I love cats. I have two beautiful nekos of my own that I live and breathe for, and I think that they're both weebs. Martha is the senior and she enjoys watching GAR anime, she's also my favourite of the two. Bob is slightly mentally retarded and enjoys moeshit, but I love him anyway.
I obsessively speak the Queen's English. I'm also a complete grammar nazi and I don't understand a lot of the web speak that people use.
My favourite Pokémon is Vaporeon, followed by Lucario and Probopass. Some of my other favourites are Galvantula, Flygon, Garchomp, Charizard (of course), Scyther and Scizor, Geodude, Alakazam, and Torterra.
I stand at an impressive 5 foot 7. I also have small hands.
I'm a massive wimp and will cry at anime frequently. I'm also scared of heights, clowns, dogs, sudden loud noises, animatronic puppets, and the Cookie Monster with teeth (despite my love of Sesame Street).
And I think I've gone on long enough, so with that said I'll leave you with a list of what I'm watching (so you can chat to me about them if you want), and thanks for reading! If you want to talk about anything, don't hesitate to leave a comment and have a chat, take care and enjoy watching anime! ^_^
Just be respectful and I won't have to eat you. >:3
Go and watch JoJo. :3
Lovely people that deserve a high five. Or maybe even TWO high fives. :o
(it's a long list but fuck it, I love all of you <3)
1 MONTH WATCHED: 4/7/2014
2 MONTHS WATCHED: 20/7/2015

3 MONTHS WATCHED: 11/7/2016
Groovin' Magic. ;)
Character in profile picture is Joseph Joestar from JoJo's Bizarre Adventure: Battle Tendency
Character in header photo is Minami Kotori from Love Live
RateYourMusic (musics 'n stuffs)
YouTube (I post anime reviews sometimes)
Miiverse - Billiam123
3DS Friend Code - 0319-1353-8058
Skype - frankstleBilly
Discord - frankstleSilly#6272
Line - billiamtheotaku
Facebook - Piss off, you're not having this. XD
<3
Seriously, though, go and watch JoJo. :3