~Hello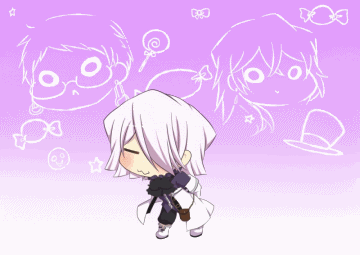 ~Welcome to my Profile~
I'm an anime fan (obviously) and I watched a few as a child on Toonami (such as Sailor Moon, Dragon Ball Z, Tenchi Muyo, Inuyasha, etc.) Also Pokemon, Digimon, and Card Captor Sakura on other stations. I basically stopped watching anime around the time I hit high school and didn't get back into it until a friend kept nagging me into watching Ouran High School Host Club back in 2011. The rest is history as I've been addicted ever since! xD
As to my anime ratings ... think of them like this:
5 Star = Masterpiece
4 1/2 Star = Near Perfection
4 Star = Awesome
3 1/2 Star = Good
3 Star = Okay
2 1/2 Star to 1/2 Star = Varied Suckage ... from Bad to Horrendously Atrocious
If you're here to chat then feel free to leave me a message and I'll get back to you when I see it.
Thanks,
~Liz
Oh, and my manga list is not updated very often. I go on reading binges but rarely, if ever add it to my AP list or my MAL list so ... yeah. I've read a TON of manga. It just doesn't look like it 'cause I don't keep track. Also, I finally got around to importing my MAL list since I updated it more frequently but several failed to transfer over as AP doesn't have them listed on the site ... -_-' (though the manhwa/manhua/webtoon database on AP is MASSIVELY superior and that at least I try to keep updated)
Oh, and check out my lists if you're looking for any ideas on what to watch. I have an Obscure Anime list (relatively unknown series) that may interest you. I always love finding a good anime that few people have seen. I get a sense of accomplishment from it! (Yes, I'm aware I'm a very strange person. Weird. Odd. Slightly crazy. Yeah... xP)
Random miscellaneous facts about me for the curious... I'm the eldest of three. Both of my younger siblings are married and I'm the poor single shmuck lol (I have a brother and sister) and each have two daughters though my sister also just gave birth to my first nephew October 11, 2020. I'm a doting auntie! :D I have TN (Trigeminal Neuralgia) and had brain surgery for it in 2017. Oh, and I had weight loss surgery in January of 2020. Cause I was a big girl, but I'm not anymore. It's been a year and a half and I've already lost 53.98% of my body weight (I did a six month weight loss program to be approved for surgery so I also lost weight before my surgery as well) and I've currently lost 31 pounds more than I currently weigh... so I've essentially lost a whole me plus an extra 31 pounds lol. At my highest weight my BMI was 61. My BMI at surgery was 50, and my current BMI is 28. Big difference! I'm much happier now. I've even met my goal weight and lost an extra pound passed that so far, but if possible I'd even like to lose another 10 extra pounds which would put me at a 26 BMI. That's probably more about me then you wanted to know lol.
Newest Review: Anime: Chuan Shu Zijiu Zhinan (01-23-2021)
Manga/Manhwa/Manhua: Why She Lives As A Villainess (06-05-2021)
Most Recently Completed Anime: Kono Subarashii Sekai ni Shukufuku wo! Movie: Kurenai Densetsu (07-21-2021)
My MAL account is duchessliz87 for the curious....
(my profile theme is Xerxes Break from Pandora Hearts!)
And because I feel like adding something else... here's some J-Rock... Enjoy!
Band-Maid
One Ok Rock
And some J-Pop... Just because! xD
Faky
And... since so many people are obsessed with K-Pop... Here's my, personal, favorite groups! First is my top two favorite girl groups
Mamamoo (Yes, I'm a proud MooMoo! x'D Bias is Wheein. Main bias wrecker is Hwasa)
Dreamcatcher (Bias is Yooyeon. Don't really have a main bias wrecker because they all be wrecking me lol)
And, finally my ULT. group is the boy group ONEUS! (from the same company as Mamamoo! xD I have dual bias' in Seoho and Leedo. My main bias wrecker is Ravn.)
^My bias' Seoho and Leedo singing a cover together