Greetings, high lords and ladies, from a land afar,
Allow me to formally introduce myself. I am the noble Mary Stonehaggins, Dragon Master of Light and daughter of the late Roberto Stonehaggins. I serve my beloved king as his trustworthy general and lead our high-esteemed armies to victory on the battlefield. Aside from that, I am an optimistic author who is hoping to publish her "research" on her home world, Lore.
Crysalis is my home. An elegant kingdom settled upon majestic falls. Its defense is impenetrable, isolated from land, deterring threats of invasion significantly. Being the general of my king, I travel around a lot, protecting our lands from various dangers. The worst of them is Chaos, the greatest known enemy of the Dragon Gods. As a proud Dragon Master (one who has been granted the powers of the Divine Dragon Gods including immortality), it is my duty to keep these forces at bay. In total, there are six of us, one for each Dragon God, excluding the seventh god who had been demoted.
The threats from Chaos, unfortunately, exist in multiple dimensions, so I have had to travel through multiple dimensions in hopes to stop them. Through my journeys, I have stumbled upon this so called world known to you as Earth. Fascinated by the fact that this world is much like my home, I have decided to research this world too and understand what life on this planet is like. One thing I enjoyed more than anything is learning about different cultures and languages. And that is how I stumbled upon anime and manga.
I believe the first anime that I picked up was Blue Dragon. Why? Because I had the game for my 'brother's' xbox console and enjoyed playing it. But the real first anime that I happened upon was no other that Fairy Tail. And thus the world of anime was opened up to me.
Preferred anime site(s): Animeshow.tv, Cartoonhere.com
At first I was hesitant to read manga because I preferred watching instead of reading Japanese-related material. But now I alternate between the two.
Preferred manga site(s): Mangareader.net or Mangapanda.com
Aternate: Mangarock (android app. Works great and makes reading manga easy)
My favorite anime:
The Story of Saiunkoku
Fairy Tail
Akatsuki no Yona
Uta no Prince-sama: Maji Love 1000%
Bleach
Kobato
Assassination Classroom
Kuroko no Basket
Arslan Senkai
Tsubasa Reservoir Chronicle
Favorite op: School-Live! (Gakkou Gurashi)
Shuurei Hong- The protagonist from The Story of Saiunkoku. Shuurei is anime role model. Having lost her mom when she was an infant, she took on several responsibilities, despite her youth. Despite being part of a high nobility clan, her family's household was very poor and her lord father was considered useless. Shuurei is very strong-willed and a hard worker. She never give up her dreams and pursues them until they are reached. She is the ideal person that I'd like to be.
Yona – Again, another brave heroine. I love to see how characters find and evolve their strengths. Yona is a fair example. Kudos to her! (Akatsuki no Yona)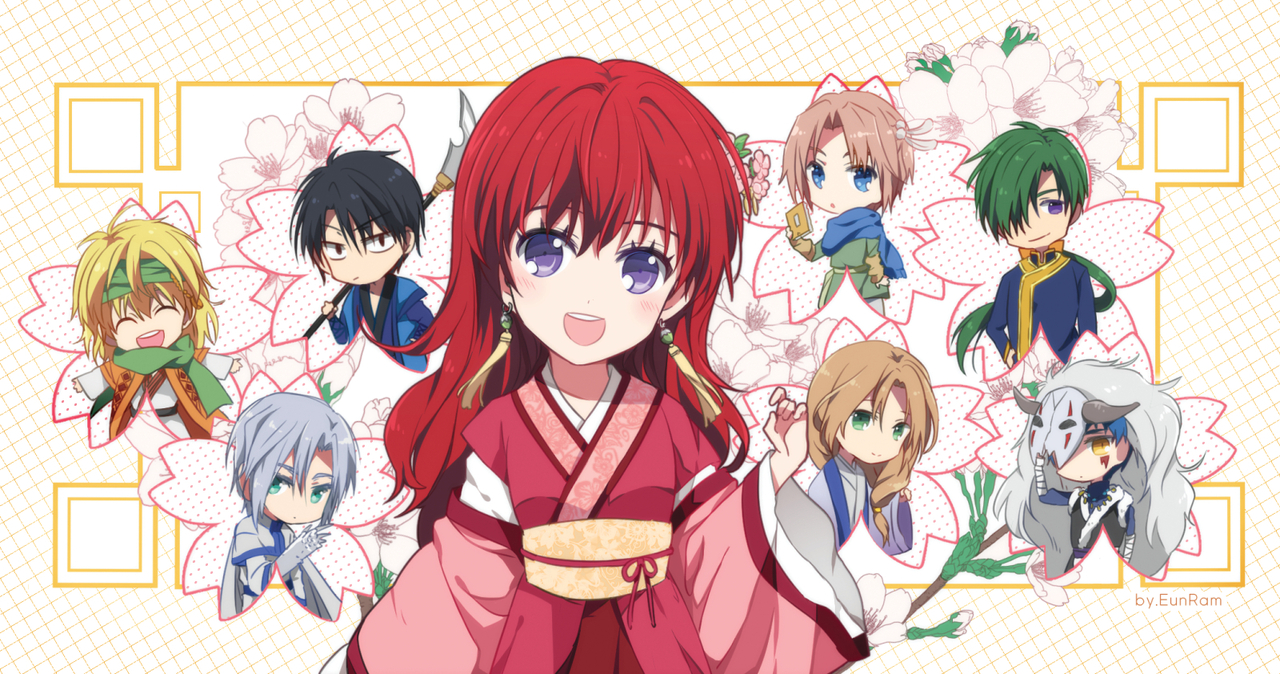 Itokki Otoya – What a cheerful and supportive character. He was the first one to help Haruka and also the first to truly fall in love with her (I think). His innocence's and shyness is so cute! He kind of reminds me of myself. (Uta no Prince-sama: Magi Love 1000%)
Jellal Frenandas – At first, I hated him, but after learning more about him and his past, I became sympathetic for him. How he starts to redeem his sins, and the support from his childhood friend, Erza, reminds me of the song "Amazing Grace". He was lost in despair, but now he has found his resolve. (From Fairy Tail)
Juushiro Ukitake- He has this fatherly figure that reminds me of my lord king. Absolutely my favorite captain, even though he's very sickly. I also love his zanpakutō, Sōgyo no Kotowari. Who doesn't love mischievous twins? (Bleach)
~I have more favorites, but these are my favorites from my top five anime~
Anyway, I love chatting about various anime and creating fan fics about them. Feel free to chat with me anytime. J
Mary Stonehaggins :)