hello minna
watashi wa animelover1477 desu
I love anime ... im addicted to it. i also love drawing anime characters :)
WHAT DO I LOVE ABOUT ANIME?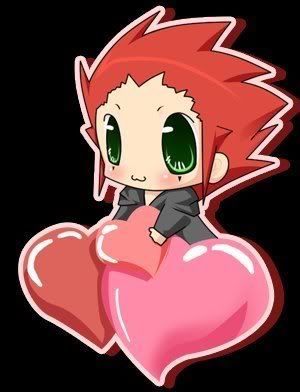 LOVE: What i LOVE about anime is that the manga writers and anime makers work hard to produce anime that we can watch. When we watch anime it is so cool we get to see everything from love to deaths and beautiful stories that people work hard to make. Not only that but that these stories[anime] that we watch that we visually see is in fact what the autors and creators see in their mind. The thought that people see all the things that go on in the anime shows inside their brains amazes me. From fights to relastionship. every detail are inside the brains of the magaka's .
WHAT DO I HATE ABOUT ANIME?

HATE: What i hate about anime is one big thing .. is when it ENDS. when the story just stops and your left wondering what happens. And manga doesn't tell you either.

that is what i hate and love
Top 25 Anime [in order]
One Piece
Naruto shippeden + Naruto
Inuyasha
Katekyo Hitman Reborn
Hunter x Hunter [ALL]
Fairy Tail
Fushigi Yuuigi
Kemono no Saja Erin
Saiunkoku Monogatari 1&2
Bakuman 1-3
Beelzebub
Kuroko no Basket
Area no Kishi
Kyo Kara Moah
Ao no Excersist
Skip Beat
Peach Girl
Clannad
The Prince of Tennis [ALL]
Chihayafuru
Kimi ni Todoke 1&2
Kenichi [History's Strongest Disciple]
Mouretsu Pirates
Kaicho wa Maid-Sama
Itauraza na Kiss
Lovely Complex
Top 25 Manga [no order]
Naruto
Ahiru no Sora
I'll(Generation Basket)
Giant Steps
Baby Steps
Diamond no Ace
Highschool Debut
Backstage Prince
The King's Pawnshop
Koi, Hirari
Dengeki Daisy
Until Death Do Us Part
Faster Than a Kiss
Shinobi Life
Wild Ones
Kurogane
The One
Love So Life
Swich Girl
Kamisama Hajimemashita
Hana to Akuma
Gakuen Babysitters
Fantatista
Beelzebub
Cat Street
Bowling King
My favourite saying/phares in anime are :
made made dane - the prince of tennis
jibun de mite kite kangearu - the daughter of twenty faces
Favourite characters from KHR

Funniest characters: 1. fran from varia 2. lambo tsuna famile 3.reborn
Hotest character(s): hands down hibari kyoya <3
loudest characters: squalo , ryohei sasagawa
Favouite Characters from Naruto
Guy: Naruto , Gaara, pervy sage , Naruto's Father xD
Girl: Hinata, lady tsunade
Favourite Jinchuuriki: Naruto and Gaara
Fav Bijuu: Kurama, Son goku, guuki
Video`s
FRANS FUNNY MOMENTS: