~*here* are my fav songs for your bio-reading pleasure~
Let's get started!
First things first, you can call me JJ or Jesse! I've been watching anime on and off since late 2014.
10 Assorted Facts About Me:
1. I don't know how to write a short bio, minimalism is for mentally stable people 💁
2. Myers Briggs: INFJ
3. Fav Animal: Rabbit
4. 2 tattoos, 5 piercings (not done yet!)
5. I'm bi/pan and prefer they/them
6. Working at a pork plant turned me vegetarian (since July 2020 🐷)
7. If I could be a different animal for a day I'd be: Mantis Shrimp, the One Punch Man of the sea!
8. Favorite Foods: Twin Bings, cherry sours, bubble tea, slushies, anything with peanut butter & chocolate. If you harass the lovely mint chip ice cream enjoyers of the world then square up; I love my frozen toothpaste.
9. Favorite Artists: AJR, Mother Mother, Melanie Martinez, MARINA, Gorillaz, Ashnikko, Joji, King Princess, Cavetown, Bo Burnham
The underlined ones I've seen in concert and I had tickets to Melanie before Covid hit 😭
10. I am incredibly average at artsy things but I do them anyway. I'm always singing in the car, and sometimes I sketch portraits of whatever I'm obsessed with at the time. I can usually make vaguely pleasing sounds on flute or piccolo.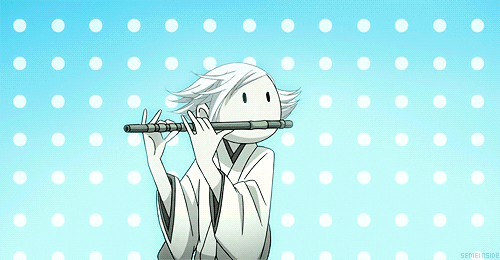 Back to anime tho, some of my favorites so far (links attached, just click):
Extended version *here*
~Honorable Mentions!~
Favorite Genres/Tags: Psychological, NoitaminA, Noir, Horror, Thriller, Sci Fi, Supernatural, Melancholy, LGBT Themes, Seinen
Not likely to enjoy but still possible: Childcare, Slice of Life, Sports, Isekai, Iyashikei
Almost never enjoy: CG Animation (hate hate hate), Political, School Life, Love Triangle
Last Watched: Kotaro Lives Alone
At the peak of my manga-reading, BL was my go-to. Never related with hetero manga to the same degree; I have my own ideas on why (*ahem* religious trauma *cough*). My favorites are on this list here. I'd like to branch out to less romance-focused manga though! I'm slowly working on Tokyo Ghoul.
I know people love to hate it but I had a Killing Stalking phase 👀 I listen to true crime now but I don't romanticize real serial killers, only a few 2D ones like the one below. Of course it's because he's hot, interesting and damaged, why else? 🤠
"Strumming my pain with his fingers
Singing my life with his words..."
Besides Sangwoo, other favorite characters of mine include:
(you can click any GIF to see the character profile)
(x)
Feel free to check out my lists but keep in mind my highschool self wrote parts of them. Also, I love sharing recommendations but I don't get them often. So if you have anything you think I'd like based off my ratings, fav genres etc, please share I really wanna know! If it's sad and pretty I'll probably like it.
All in all, thanks for the follows (I always follow back) and comments n things; I appreciate the love! Side note if you're in the NYC area whassup?
[cheers weebs 🍻]