Well...let's see I am kind of partial to Shounen series especially sports anime/manga. The first anime I ever watched was the old Toonami stuff...Ronin Warriors, Gundam Wing etc. when I was 12 or 13 and actually knew what anime was. The first manga I ever read was Fake in high school. Often I go into a series blind...basically putting anything on my PTW list that looks potentially interesting and watching a couple of episodes. Usually when I am binge watching something I don't keep my list up to date. Often I just add a series I just finished as completed without adding or updating it to my currently watching list or updating a few episodes here and there I recently watched. So just because it says I completed multiple anime in a day, it doesn't mean I watched them all that day. It could be through the course of a week or more, or less I just didn't feel like updating said list all the time.

About Dropping and On Hold Anime...
If I try watching a series and don't like it after only watching a couple of episodes it gets deleted from my list. After watching multiple episodes and still dislike it then I add the anime to my dropped list. I try not to drop shorter series however, I will not keep watching something I absolutely hate. Though I do try to watch a good part of an anime before dropping it to give it at least a chance, usually half of a series if it is longer. I also don't rate series I drop just because I do not think it is fair to rate something I have no intention of finishing and am unable to completely form an opinion on. I mean I dropped them for a reason so they are not going to have high scores to begin with, let's be real. Reasons for dropping a series can be teeny such as I just found it boring or it wasn't for me. To larger issues such as pacing, bad adaptations etc. To petty shit like I just hated a character who ruined the series for me. I mean sometimes I can finish series I don't really like, other times I just can't and have to drop them. I try not to put series on hold either just because they end up on hold forever and I cannot remember what the anime was even about and have to restart it.
I tend to rate a lot of my series high if it has characters I like, however if a series has uninteresting, blah or really annoying characters it's not going to get a high score from me. As tastes are subjective (no matter how many people on here try to say it is not), so just because someone else enjoyed a series, I might not have. I don't care about animation, a minuscule plot hole etc. If a series has likable characters and can get me watching one episode after another and not counting the minutes until it is finished, without being bored then it is good enough, though it has to have some sort of plot to keep me invested. As anyone can see from my anime list I have pretty shit tastes anyways (wow just like everyone on here!) so I could care less about arbitrary ratings and opinions, unlike some of the people on this site.
As for manga I usually read series that an anime has not completely finished like Hunter x Hunter and Eyeshield 21. Or those that are my absolute favorites Haikyuu, Kuroko no Basket etc... If a series has not been updated for a long time, I put it on hold. I also enjoy playing RPGS including Dragon Age, anything Shin Megami related and Suikoden. I don't usually read my profile comments so if you don't get a reply, it is probably me just not reading it....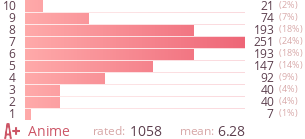 How I rate my series...
As for how I rate my series...I enjoy series with likable characters so anything with really great characters and an okay plot gets a pretty high rating from me. Even if I don't like the main characters, if it has side characters I like it's good. Most of the time I like the side characters in anime better anyways. I usually like faster paced anime, with some amounts of comedy and am not really a fan of slower paced anime, but there are always exceptions.
5 Ratings are My Absolute Favorites...I do no think any anime is a masterpiece and that they all have their flaws but I enjoy these series so much I can overlook their shortcomings. So my 5 ratings are series that are my top favorites and they are my favorites because they are 5's lmao. I do not see them as perfect and they can easily be 4.5 and even 4 ratings if I did not have a personal bias towards them. Like Yu Yu Hakusho could easily be a 4.5 or 4 due to quite a few boring episodes and arcs. However, the Dark Tournament to me makes up for it, thus it being one of my favorite series. Slam Dunk could also be a 4.5 because Hanamichi annoys the fuck out of me. But the side characters and Hanamichi's growth as a character throughout the series puts it into 5 status. Yuri on Ice I felt was too short to flesh out the plot and characters though, the amount of warm hearted feelings it gave me makes it a 5 in my book.
4.5 Ratings are also amazing series that I love but not enough to be my absolute favorites. It's kind of hard for me to explain but these series just did not give me the same feelings as ones I rated a 5 even though I still love them. Rurouni Kenshin for example there were characters that got on my nerves too much and I just couldn't over look it as well as the long filler parts. Banana Fish a certain character died and I am not okay with that!! lmao. Prince of Tennis....way too many fillers and Ryoma along with many of the side characters annoyed me to no end. I loved the anime but gave it a 4.5 just because of those issues. However, the manga didn't have the annoying fillers and I found certain characters less annoying so it got a 5, kind of the same thing with Eyeshield 21.
The other ratings are pretty much normal....
Series rated 2 and below are just disappointments...bad adaptions, specials and OVAs that bring nothing to an anime, anime that bored the crap out of me, bad pacing, or just a bad series, or a series that just did not live up to what it was supposed to be. An example is I just finished watching Space Dandy, which is supposed to be a comedy...I did not laugh a single time and found most of it boring. As it is a comedy that is supposed to make people laugh but did not make me laugh, I gave it a 2.
I rate series based on personal enjoyment and do have some annoying and over complicated way to try and score my series. The higher rated a series is on my list, the more I like it...yes that is it...mind blown! I do not rate series lower then a 1.5 because why should I try and push myself to watch something I know I will not enjoy. When I can be trying to find something to watch that I might like?
I'm level
on mal-badges. View my badges


How I watch my Anime...
I don't have really one way of watching anime, I just need to be in the mood to watch it. I sometimes watch seasonal anime as it airs or wait until it is completely aired to finish watching it, it just depends on how I am feeling. If it is an anime I really want to watch I will probably watch it as it airs or wait for a couple of episodes to be released. For anime that has already aired I just watch what I want to watch usually higher priority stuff first. Though at the moment I am trying to complete shorter series to trim down my PTW list a bit.
I torrent my favorite anime and store it on a 8 Terabyte hard-drive and watch it on a WDTV box. If you have not heard of one, it is like a stream box but can store downloaded videos as well as stream. Probably one of the best gadgets I have ever bought.
I also stream series and watch it on my Google Chrome-cast. I tried watching it on my jail-broken Fire-stick but it is too hard to find streams for series. My favorite streaming sites are Netflix, Crunchyroll, GoGoAnime, Chia Anime and 9Anime.
Favorite Anime Opening, Ending and OST atm...
Types of Characters I Like and Dislike
Types of characters I like...I usually like strong and independent female characters and most of the time stotic or cool acting male characters and bishounen!! Types of characters I dislike are really generic, useless, jerk, and crybaby male characters and bossy, clingy, useless, whiny, bitchy and Mary Sue like female characters. I tend to like anti hero types of characters and really hate characters who kill characters I like lmao...cough...Blackbeard cough... also dislike characters who have huge egos when they really just suck (looking at your Kuwabara!). Also dislike really naive and idealistic characters who do not think of the consequences of their actions. However, there are always outliers for all of these. I don't mind the characters from the character types that I dislike who change for the better and have good character development (ex: Endeavor, Erina etc.) it is the characters that refuse or do not change that I have a problem with.
And for those of you who made it to the end...a little treat for the eyes....some Man Service!!! Yea just forget the child is there lmao...