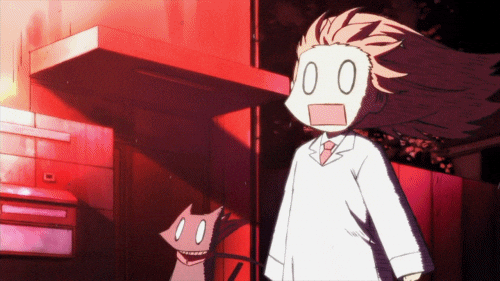 "Get dat outta here!"
I'm short gremlin girl that lives in your fridge. I'm Wholesomely Sassy™ and have a dark sense of humor. I'm also a master holder and collector of stock images. I love orange tea, my fuzzy jacket, my pet bird named Peache, and bagels. (And anime and video games of course.) I hope we can be friends! (/^▽^)/
My rating system goes something like this:
1-this anime sucks balls
1.5-this anime doesn't suck as much balls
2-It was okay but not really worth my time
2.5-A little less than average but I will rate it 2.5 out of respect for how it's made (usually these are flashy but awfully made shows)
3-Average, nothing special but it was entertaining at least
3.5-A decent watch, I enjoyed it enough
4-Oh this shit is pretty good
4.5-I would watch this a million times over, loved it
5-I would inhale this over and over again like drugs
My favorite anime include: FLCL, Panty and Stocking, Ouran high school Host Club, Fullmetal Alchemist:Brotherhood, Mushishi, Tatami Galaxy, Spice and Wolf, Arakawa Under The Bridge, and the Monogatari series. My favorite ever manga include: Naze Da Naitou and XXXHOLiC.
My favorite TV shows are Invader Zim and Gravity Falls and my favorite music groups are The Pillows and Gorillaz.
(If you ever wanna talk, dm me man. I'm always up to making new friends.)
~~~~~~~~~~~~~~~~~~~~~~~
"Being happy is not a right, but a duty. A duty to youself. Waiving rights is one thing, but failing in your duty is downright irresponsible."-Yuuko Ichihara