Hello uwu
I think anime had always been making its way into my life with Kingdom Hearts, Final Fantasy, and Pokemon, but I really became a full blown weeb in the summer of 2019.
My first anime was Naruto and the first anime I ever completed was Ouran Highschool Host Club.
My favorite animes of all time are Kakuriyo Bed and Breakfast For Spirits, Black Clover, and Fruits Basket.
I prefer to watch dramatic shonen with lots of action, but it's also nice to slow down with a good shojo.
Ginji is my #1 husbando and I will steal the knee caps from whatever soul dare to insult him.
Feel free to chat with me about anything anime related :)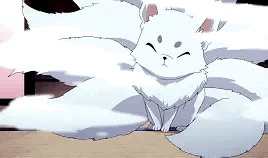 some quotes I enjoy:
"Stand tall and be proud. No matter how weak or unworthy you feel...keep your heart burning,
grit your teeth and move forward. If you just curl up in a ball and hide, time will pass you by.
It won't stop for you while you wallow in grief." -Kyojuro Rengoku
"So long as you don't stop imagining...
You'll be able to produce any number of new answers.
That is the essence of magic. Don't you see?" -Master Quifrey
"To be born is a blessing. Please do not forget to smile. When you cry, it's unbearably sad. Do not look back in remorse. Just remember that we were here...fighting together and laughing together...like brothers and sisters, or like parents and children. Be proud. Meeting you was most fortunate...and it brought happiness. Your existence saved me...and drove away loneliness. Thoughts of you...cause strength to rise from deep inside, like a fire. If possible everyone would desire...to live and stay by each other's side. But they had to make a choice. Live or die. Win or lose. But to have any choice at all is fortunate. True suffering is like an avalanche. It swallows a person in an instant and offers no choice. They just wanted to protect others. Other lives were more important than their own. Happiness isn't about the length of your life. I want you to see the depth of this happiness I have. I have never thought for a moment...that I was unhappy. We never gave up or ran away...and we kept the faith. And we always...gave it everything we had. Many strong feelings became an immense blade...and defeated the enemy. That was due to everyone's strenghts victory would have been impossible without even one of us. Life itself is a miracle. You are important. Please live the best you can...my most beloved friends." -Koyoharu Gotouge -Demon Slayer Kimetsu no Yaiba