║╔╝║║║║║║║║║║║╚║║╝║╔╝║╚╝║╚║║╝║║║║║║╔╗║ ║║║║║╚║║╝║║║║║║║║║╔╗║
╔╦╗╔═╗╔═╦╗╔═╦╗╔══╗╔═╗╔╗╔╗╔══╗╔╦═╦╗╔══╗ ╔═╦═╗╔══╗╔═╦╗╔═╦╗╔══╗
║╚╗║║║║║║║║║║║╔║║╗║╚╗║╔╗║╔║║╗║║║║║║╠╣║ ║║║║║╔║║╗║║║║║║║║║╠╣║
╚╩╝╚═╝╚╩═╝╚╩═╝╚══╝╚═╝╚╝╚╝╚══╝╚═╩═╝╚╝╚╝ ╚╩═╩╝╚══╝╚╩═╝╚╩═╝╚╝╚╝
║╔╝║║║║║║║║║║║╚║║╝║╔╝║╚╝║╚║║╝║║║║║║╔╗║ ║║║║║╚║║╝║║║║║║║║║╔╗║



Hello, and welcome to my profile. You can call me Ophelia; I'm a 15 year old sophomore in high school. I take seven classes and am in five clubs, and I am gifted in all subjects except for math. A lot of people are intimidated by me because of my scary looking default facial expression but I actually really like talking to people that aren't jerks, so chat me anytime. I really love memes and K-pop.
In terms of personal life, I want to be an immigration lawyer and a polyglot. The languages I am going to learn are Spanish (in progress), German, Greek, and a little Chinese. The latter is really hard so I just want to be conversational in it, but I want to be fluent completely in all the others. I love fashion, linguistics, music, culture, and politics, and I am extremely well informed on the events of my country.
Other Things Worth Knowing:
Religion: Buddhist, Agnostic
Tags To Describe Me: Pacifist, Teenager, High School Student, Singer, Actor, Writer
Political Orientation: Socialist, Green Politics, Independent, Pro-Choice, Pro-Marijuana, LGBTQQIA Rights, Gun Control
Sexuality: Panromantic, Demisexual
Gender Identity: Androgynous, Female Dominant
Relationship Status: Single, Crushing
Favorite Food: Macarons, Strawberry Mochi, Mushrooms, Zucchini, Rice, Mexican Lime Soup (I'm vegetarian)
Favorite Color: Red
Favorite Music: BTS, BLACKPINK, Kesha, Meg And Dia, Melanie Martinez, Sabrina Carpenter, Ariana Grande, Kana Nishino, Linkin Park, Three Days Grace, Starset, Vocaloid, Rei Yasuda
My happiest moments are when the following happen: trying new foods, eating Mexican foods loaded with beans and cheese and pico de gallo, saying gracias to Hispanic people who can't speak English very well, analyzing history and how it ties into today's political psychology, and laying on top of my mom's car on freezing December nights all geared up and stargazing while listening to ambient music
I love psychological anime the most, but I will try any genre except for hentai or mecha. Here are some of my favorite anime:
And here are my favorite characters: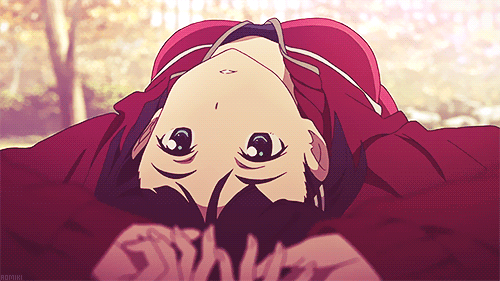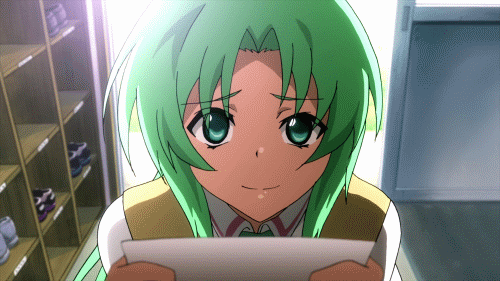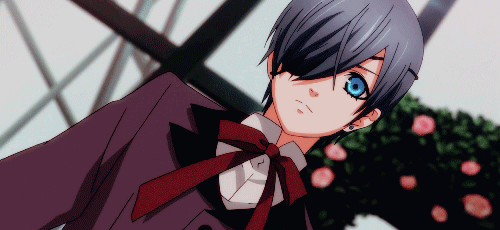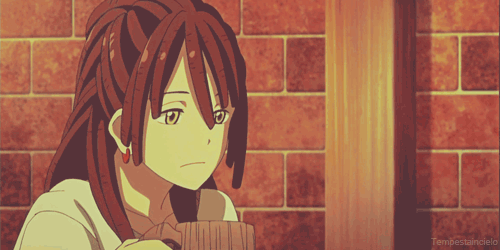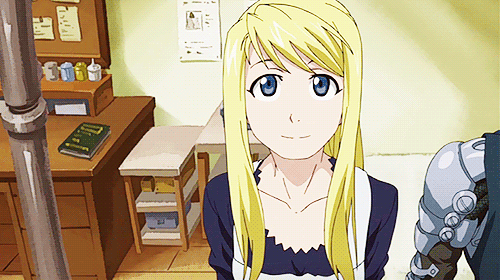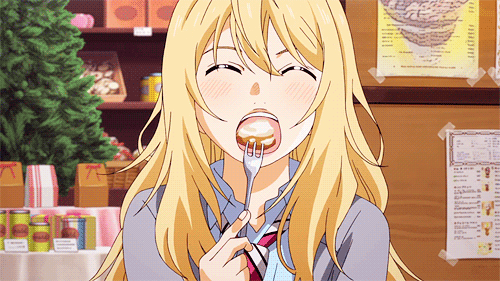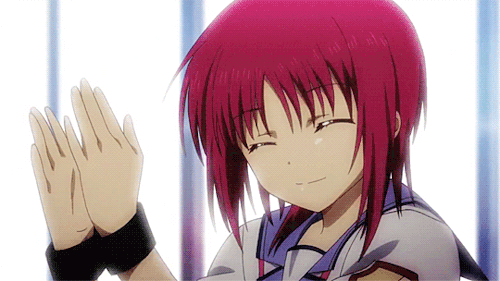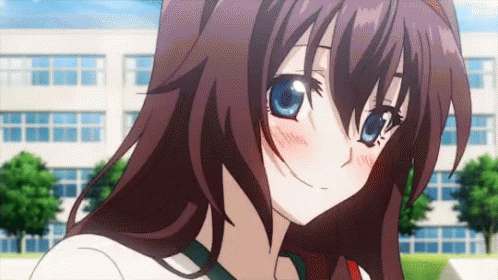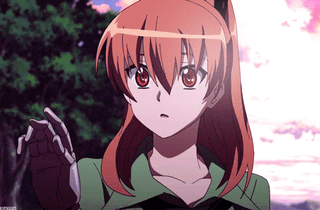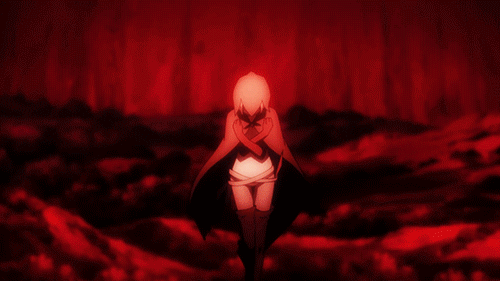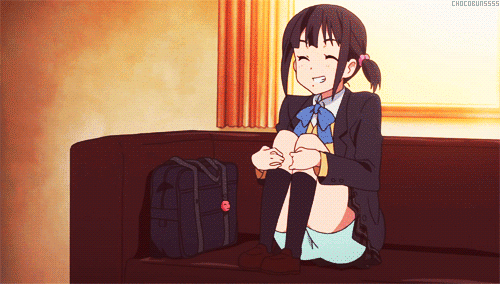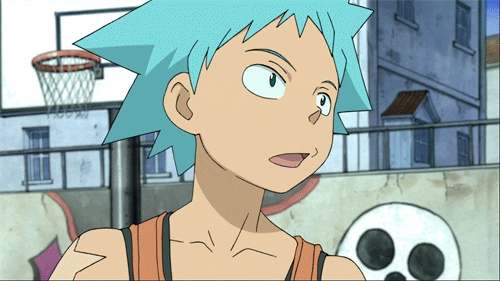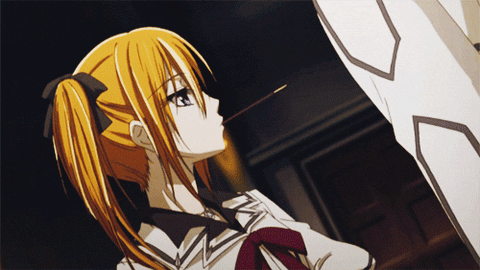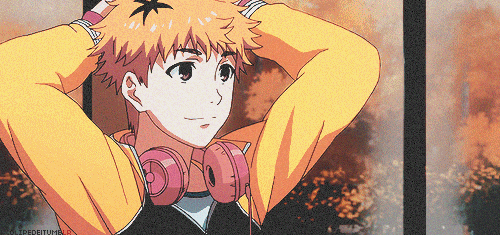 The other four are so obscure that I cannot find gifs for them. (Zelda from Chao You Bing, Maki Tokitou from Karin Chibi Vampire, Kanon Kougami from Battle Girl High School, and Ai Senou from Natsuiro no Sunadokei.) I tend to like unique characters that most people hate, and I normally hate kuuderes, but there are a few exceptions, like Homura Akemi from Puella Magi Madoka Magica and Ryuu Lion from DanMachi.
Finally, I have a strict one character per anime rule on my loved characters list. It's an OCD thing, and I don't want any biases I have towards a show to compell me to love a bunch of characters in it I don't actually love. I only add the characters I truly, truly adore. I rate my anime very critically, solely based on refined tastes, but I still enjoy shows even when they're bad. I have the capacity to partake in both shows I deem artsy and those I deem deplorable, oftentimes in equal amounts.
Finally, here are my K-pop biases: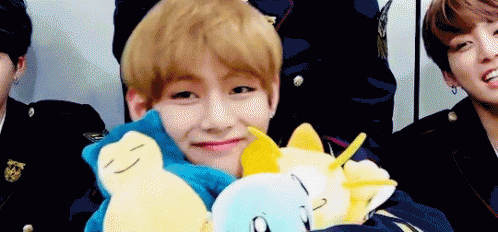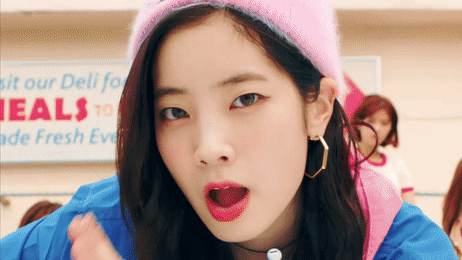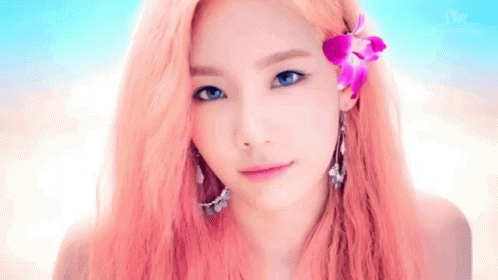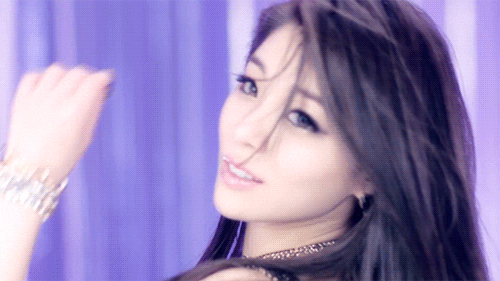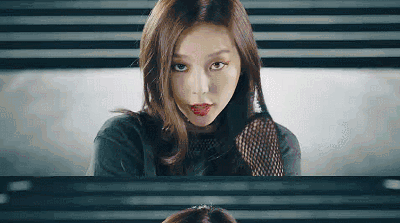 ~K-Pop Opinions~
People who only support one gender of K-Pop groups and ignore the rest can choke
People who say idols' names wrong knowing that they are not saying it properly can choke
There are other members of TWICE besides Sana and Tzuyu
I'm personally not a fan of Seulgi from Red Velvet
J-Hope should get more lines
RM should sing more often
Suga should be given more positions in the group
People who get angry or jealous towards the thought of their favorite idol dating can choke
People who whine over how they'll miss the music when their favorite idol is sent off to the military instead of being scared for them like a decent person can choke
Nothing tops the classics
While I am a BLINK, I acknowledge that TWICE has been around longer and should be recognized for that
People who spend time arguing a lot over which groups are better can choke
G-IDLE is just as great as BLACKPINK and TWICE
While BTS was not the first to have a global cultural impact with the K-Pop industry, BTS had a stronger effect in the long-run and should be applauded
Adding new members to a group is almost always a recipe for disaster and should be avoided unless absolutely necessary
People who expect idols to undergo strict diets and exercise regimens and/or wear makeup can choke
That is all. Thank you for reading. I hope to see you messaging me soon enough.
║╔╝║║║║║║║║║║║╚║║╝║╔╝║╚╝║╚║║╝║║║║║║╔╗║ ║║║║║╚║║╝║║║║║║║║║╔╗║
╔══╗╔══╗╔═╦╗╔═╗╔═╦╗╔══╗╔═╗╔══╗
║══╣║╔╗║╚╗║║║║║║║║║║╔╗║║╬║║╔╗║
╠══║║╠╣║╔╩╗║║║║║║║║║╠╣║║╗╣║╠╣║
╚══╝╚╝╚╝╚══╝╚═╝╚╩═╝╚╝╚╝╚╩╝╚╝╚╝
║╔╝║║║║║║║║║║║╚║║╝║╔╝║╚╝║╚║║╝║║║║║║╔╗║ ║║║║║╚║║╝║║║║║║║║║╔╗║