Watching anime is one of my favorite things to do in my spare time, to be able to escape from realtiy and submerge myself into the creation of a whole new world, whether it be big or small, is an amazing way to get away from everyday life. It is so entriguing and very exciting to watch, it brings me so much joy when im sitting and watching anime because there is something for everyone for every mood, with a multitude of genres and all kinds of stories that are unique to one another.
Steins gate is a rollercoaster of emotions, with a very light hearted comedic start with suttle hints of the dark undertones that this story consists of as we watch a self proclaimed mad scientist stumbles upon the means to time travel with his lab technology, yet little does he know, this will have huge implications for him and his friends. This story utilises great characters and amazing plot twists to keep you on the edge of your seat the whole time. It manages to really captivate the pain Okabe goes through and makes you feel his struggle over and over again. This story is definiately unforgettable and is a must watch for anyone who likes a little bit of science, whilst not being over bearing for someone who doesn't quite get the science.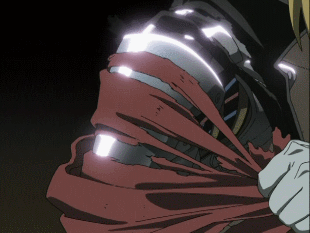 Fullmetal Alchemist is one of the greatest stories of all time, which follows the events of two young talented alchemsit seeking the knowledge and ability to get their bodies back after a tragic event that lead to them doing the unthinkable to try and bring their mother back, only to end up losing their bodies to the powers of alchemy and equivilant exchange. This world emmerses you from the beginning with the lives of the Elric brothers as they struggle to oppose the approaching tide, as they seek the knowledge to right the wrongs of the past, uncovering the dark secrets of the alchemy that they cling onto. Although this story has two enterpretations, they are both equally brillant depictions of the Elrics story. The early 2003 series I believe tells a story of the relationship of the two brothers, and the 2011 series having a much larger scale, which goes much further than just the two brothers journey, leading them to make friends and enemies along they way that all come back towards the end of the story. This anime really makes you have to think whilst watching it, making you think about your own core beliefs as you question whats right and wrong and what can be justified in the usage of ones life is a reoccuring theme in both stories, and you can really feel the struggle of the brothers as they try to do what is right whilst also always walking forward towards their own goals, with obstacles in all kinds of forms constantly getting in their way.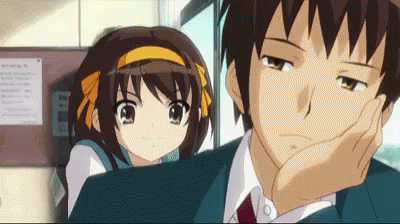 The first anime I ever watched and still to this day, my favourite has to be The Melancholy of Haruhi Suzumiya. A simple story following the mundane life of a new high school student going by the nickname Kyon. Coming to terms with the reality where things like Aliens, time travellers and espers don't exist, he leaves behind middle school and matures to except the mundane reality he would continue to live with. However, he eventually meets someone who will change that reality upside down, entering his new high school class he meets his new classmates, one in particular who stands out above all the rest. Haruhi Suzumiya. Slowly the two become friends as Haruhi uses Kyon to help make high school life more exciting they create a club together, The SoS Bridgae. The two slowly begin to be surronded by the exact things they are looking for all without Haruhi's knowledge, Kyon's life now at the centre of universe, and everyones existence all in the palm of Haruhi's hands, with Kyon there to keep her emotions in check. This story is extremely captivating as it starts off as what seems to be a standard highschool story, but then enters a complex world with Kyon thrust into a completely new reality beyond his own comprehention. The relationship between all the characters and the adventures they go on really make this show easy to watch as something is always happening and Kyon being an easy character to relate to as a normal high school student who just wants to get by, doing as little as he can along the way.
Something that I've become more accustomed to recently is reading more and more manga. when I first started getting into anime, I never seemed to have any interest in getting into reading manga as I could usually find what I was looking for as an anime anyways. However, I have started reading some of my favourite stories to either get ahead of the current airing shows or to find new enjoyable content that hasn't been produced in an anime form. To my surprise, my little experience so far has been so uplifting and amazing. The few stories I have read are amazingingly captivating whilst also having great illistrations. I've read a few from shows I was already watching like the likes of Attack on Titan and Demon slayer, but even branching out to mangas that aren't animated yet like Chainsaw man. I am thrilled to say I want to keep finding and reading more whilst I expand my tastes onto more Mangas and animes.
Even though I love so many different animes, there are plenty of others that I like and I am yet to encounter, with the world of anime always expanding and getting more exciting. Anime is something I will always appreciate and be able to watch whenever I need to be alone and just go to another world of epic, intense, sad or thrilling experiences, with a wide variety to choose from.
If you are someone who also likes anime/Manga in the same way I do, leave a comment on my page, I would love to talk about some of my favorite animes/Mangas and hear what makes you like them so much :)) Welcome to my page and I hope I could explain my experience for you.