Alrighty, I'll try make an effort on my Bio.
I'm a shorty at around 152.5cm? It's heartbreaking that I know my specific height. I try to check if I've grown taller, but in the end the results are just bullshit. My friends are all tall, which just saddens me even more.
Born in August, I thought I was a Sagittarius because I was told that was my star sign, my friend also mistaken me for an Aquarius but I checked on Google and I'm a Virgo. Another useless fact about me is that apparently I'm an INFJ-T?? Whatever the T means.
I am a Filipino Australian! Main language is English though. Sorry. I understand, just can't speak it for some reason.
My favourite things to eat are chili chips and anime boiiiiiiii . Favourite drink is Iced Coffee.
Stuff I like to do:
Draw digitally
I'm still starting out, but hey, maybe I'll improve, who knows... The hands! Omg, don't get me started. I have trouble drawing them every. single. time! They don't look human! Tutorials. Yes they help, but in the end, it doesn't change nothing! I don't have the patience to watch them, so I just bail.
Listening to music
I love vibing to it! My type of style is the chill pop beats. Well, any song that has a good beat in the background. You can find me vibing with the beats on while reading manga.
Looking at hot anime boi's both in manga and in anime.
When I was a bit younger I told myself I wouldn't do this, but we all know things change. Right now I'm at the point where I have to hide this because we all know the ecchi scenes exist. They just had to play when your parents walked in!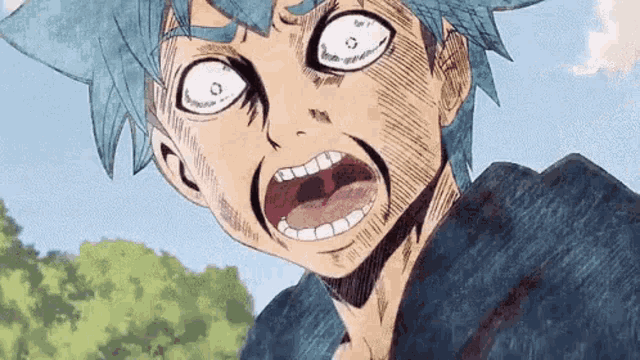 And no, I do not watch hentai. I will not reach that point, but I read Yaoi and I'm debating myself on whether I should beg my Mum for a body pillow.
I can't choose which ones are my favourite eye candy, but I must say that I have recently simped for Shinsou. He looks so cool in season 5!
And also Raphaelo Kedrey from 'The Princess Is A Marionette'.
Yeah, that's all.