【 He/Him | James | Canadian 】
Hello~! I am James, I also go by Croak on most sites I use! Some older friends call me Ita sometimes due to a past username. I usually answer to anything people call me though, so long as it isn't rude or meant to hurt my feelings!! I love to make friends so don't hesitate to leave me a comment below! However sometimes I forget to respond to comments here due to there being no notification for when someone posts. I try to check if there is anything new but if you don't get response from me within a few days it means I am busy and forgot to check!!
I'm a big homo so I usually can be found shipping many men from the anime I watch. I love to talk ships so don't hesitate to start a convo with me about your ships if you want! (I don't typically ship straight pairs though, just a warning if you don't like gay/les ships then I am not the person to start a shipping talk with.)
I'm really bad at finishing manga I start, but I always try to finish anime in free time I have!! If you see I am not finished a certain anime please no spoilers on it if you start chatting with me!! > v <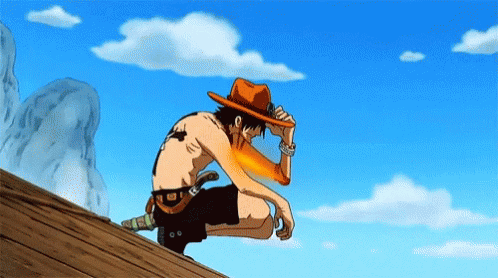 Ace is my favourite boy. Do not mention... it.
My favourite hobby is creating original characters. Sometimes randoms and sometimes for certain anime or cartoons I really really enjoy!! If you are interested in seeing my Toyhouse simply click the link~ If you have a toyhouse as well, I am always interested in seeing other peoples amazing OC ideas~!!
Just a few of my favourite anime below (No specific order)
One Piece
My Hero Academia
Nanbaka
Osomatsu-San
Miss Kobayashi's Dragon Maid
Haven't You Heard? I'm Sakamoto
Devilman: Crybaby
Interested in seeing more?? Most of the anime in my list that have been rated with 4-5 stars are some of my top favourites to have watched!! Anything from 3-4 are pretty cool, anything less than 3 was typical just eh for me and not something I would want to see again, but even so some of the titles I wouldn't mind a little chat about uwu
Honestly though I am super friendly and would love to make some friends on here to talk to. I love to share recommendations with friends on anime and love to find new anime to watch in general. So never hesitate to chat me up > v <!!
My profile photo is a picture of my own ferret. He is my son and I ask that the photo not be used without my approval!