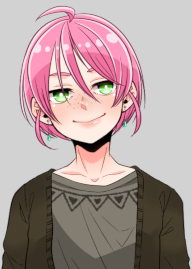 CaptainSlow is an old wench from Australia who reads too much manga about teenagers and watches not nearly enough anime about people her age.
She likes to write reviews from time to time in a format she calls "Short and Sweet". They've become few and far between in recent years. Her most recent review was on Giovanni's Island.
She is a manga database moderator, and likes adding obscure manga that force her to use her middling Japanese skills. This includes being a part of a project to make A-P one of the leading databases for Omegaverse works.
She is also on the anime/manga tag team, and is proud of the fact that she helped create the Comic Essays tag.
TAGS





Character profile idea from HKBattosai and Karin84.