This OVA, though barely five minutes long, has more emotional depth and impact than many longer anime.

Animation: (10/10) The animation is, simply put, incredible. Beautifully drawn black and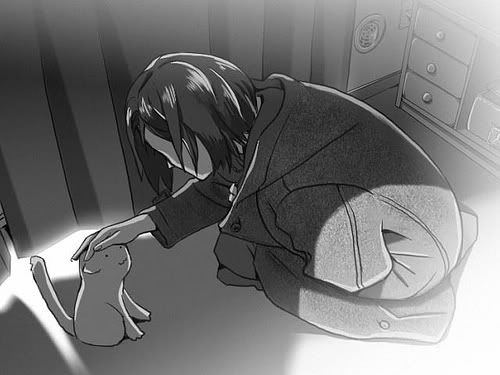 white scenes that are contrasted against detailed backgrounds - this could even remind someone of an old live-action film (as improbable as that sounds, just watch it yourself). Everything looks incredibly realistic except for the cat, but it was purposefully drawn in a simplistic way to put emphasis on its persona and plight.
Sound: (6/10) There was very little music that I can remember but I liked the cat's calm, quiet, maybe even melancholy, voice. Although the main character is a cat, he speaks like a wise scholar.
Story: (7/10) The story...well, there's actually none, but that hardly matters since the fluid, interesting narration was the meat and bones of this OVA and more than made up for its lack of plot. She and Her Cat is about a cat's romantic love for its owner and how it sees life. Sounds a bit boring to you? You'll be surprised and impressed at how much thought Makoto Shinkai put into this. The cat's remarkable intelligence and subtle narration actually made me contemplate about my own life, and all the mistakes I made throughout it. For such a short piece, it is nothing short of astounding.
Characters: (7/10) There are only two characters here: a cat and its owner. You'll learn an impressive amount of information about these two, even though this anime is so short. I was actually able to relate to, and feel sympathetic for, the cat's wistful love for his owner, and his heartbreaking desire to have a lover that was more like her. For everyone who has ever loved someone who was unattainable, this will definitely strike home. As for the cat's owner, you'll learn through the touching monologue why the cat loves her so.
Overall: (7.5/10) An excellent use of 5 minutes. You will not be dissapointed in the slightest. If only a third of all anime series were as profound as this...