~~ ✿ My name's Alice, nice to meet you! ✿ ~~
˜"*°• ヾ(*'▽'*) I'm an 15 years old girl who lives in the cold, sad, mysterious land also known as Poland. If I had to describe myself in a few words I'd say I'm a quite boring to talk to, introverted, sarcastic person with a very dry sense of humour. The first anime I've watched, of course except for Pokemon or Bakugan - which at the time I thought were just normal cartoons, was Attack on Titan.
I'm a big fan of video games, especially the story driven ones or Visual Novels, since I'm not too good at shooters, action games or RPG's. Unfortunately when I was a kid my parents wouldn't really buy me games, so I missed the fun of playing Pokemon (I never even had a Nintendo or PS Vita.), Final Fantasy, Legend of Zelda and many other games that most people played when they were young. First video game I got to play was Telltale's The Walking Dead. My favourite video games at the moment are 'VA-11 Hall-A' and 'Witch's Heart'.
~!!ALSO!!!~
DO NOT interact with me if you're: transphobic, homophobic, racist, sexist, pro-life, a TERF, MAP (aka pedophile) or a Trump supporter. If you are any of these - you're gonna get blocked. Understood? I'm glad <3
Other sites you can find me on:
•YouTube: x
•Tumblr: x
~I always follow (and unfollow 👀) everyone back~
Feel free to writ me if you want to, though I may not respond for a few days, weeks, months, or at all. Please, don't take this personally, sometimes I just can't come up with a good response (or I'm going through a depressive episode HAH). Also sorry if you find talking to me boring, I'm terrible at making conversation both online and irl (;﹏;) .•°*"˜
I'm hella gay for Bae Joohyun
If you're a Kpop fan be sure to hmu
(ノ◕ヮ◕)ノ*:・゚✧
♡˜"*°• My favourite anime endings:
Kyoukai no Kanata: Daisy · Kuroshitsuji: Book of Circus: Aoki Tsuki Michite · Zankyou no Terror: Dare ka, Umi wo · Boku Dake Ga Inai Machi: Sorewa Chiisana Hikarinoyouna · Durarara!!: Trust Me · Code Geass OP2: Mosaic Kakera · Madoka Magica: Magia · Steins;Gate: Toki Tsukasadoru Juuni no Meiyaku · Baccano!: Calling · Death Note: Alumina · Blood Blockade Battlefront: Sugar Song to Bitter Step · Tokyo Ghoul: People In The Box · Parasyte: The Maxim: It's The Right Time · Fullmetal Alchemist Brotherhood: Uso · Danganronpa 3: Zetsubou-hen: Absolute Hope Birthday · Bakemonogatari: Kimi no Shiranai Monogatari · Shiki: Gekka Reijin
My favourite anime openings:
Baccano!: Guns & Roses · 91 Days: Signal · Zankyou no Terror: Trigger · Durarara!! OP2: Complication · Kiznaiver: Lay Your Hands On Me · Mawaru Penguindrum OP2: Boys, Come Back to Me · Fullmetal Alchemist Brotherhood OP5: Rain · Death Note: The World · Cowboy Bebop: Tank! · Made in Abyss: Deep in Abyss · Steins;Gate: Hacking to the Gate · Houseki no Kuni: Kyoumen no Nami · Kaguya sama: Love is War: Love Dramatic · Shiki: Kuchizuke · Kakegurui: Deal with the Devil · Charlotte: Bravely You · Kyoukai no Kanata: Kyoukai no Kanata · Elfen Lied: Lilium · Yuri!!! on Ice: History Maker · Danganronpa 3: Zetsubou-hen: Kami-iro Awase · Psycho-Pass: Abnormalize · Mob Psycho 100: 99
Random stuff about me: •°*"˜♡
Favourite Food: Rice
· Favourite Colours: FFDEE3, FFF8E7, E6E6FA · Favourite Book: Flavia de Luce · Favourite Studio: Madhouse · Personality type: INTP-T · I like: Rain, Books, Snow, English, Cats, Coffee, Girls <3 · I hate: Fireworks, Dogs, Loud noises, Math, Sports, Going outside, Milk, Hot weather, Drugs, Alcohol, Myself lol · Favourite Bands: Gorillaz, Studio Killers, Glass Animals · Favourite K-Pop Bands: EXO, SHINee, Red Velvet · J-Pop: Fake Type, Kalafina, Reol · Favourite Candy: Dark Chocolate · Hobby: Drawing · Favourite Season: Winter · Sexuality: Asexual but also a big gay™ · Religion: Atheist · Favourite Sport: None · Favourite Anime Genre: Psychological · Least Favourite Anime Genre: Ecchi · OTP: Komahina
My favourite manga is Kuroshitsuji and Pandora Heartsヽ(>∀<☆)ノ
♡ My Kpop bias is Byun Baekhyun~
... but tbh I love all of EXO because they literally invented music

DURARARA!!
Penguindrum ♡ Houseki no Kuni ♡ Hunter x Hunter ♡ Made in Abyss
Gankutsuou ♡ Mononoke ♡ Kuuchuu Buranko ♡ Madoka Magica
Fullmetal Alchemist: Brotherhood ♡ Kuragehime ♡ Nichijou ♡ Cardcaptor Sakura
You can see the rest of my favourite anime here ★~
My *amazing and totally interesting* rating system:
· 0.5☆ - why
· 1 - 1.5☆- Bad, but still watchable, they probably fit in the 'so bad they're kinda good' category.
· 2 - 2.5☆ - Meh. Anime that could've been better and had some major flaws, but also had enjoyable moments.
· 3 - 3.5☆ - Not bad, there were some things that I enjoyed about them, but also some things that I disliked. Most of them are pretty forgettable or didn't leave a big impression.
· 4 - 4.5☆ - Almost perfect, but there were some minor issues that kept me from giving them five stars. Some of them are still my all-time favourites.
5☆ - Masterpieces, they have a gripping story, complex characters and soundtrack. Those series usually mean a lot to me and I think about them a lot.
Side note - I watch anime for fun, so the series I watch don't have to be super deep or even actually good for me to rate them 4-5 stars. As long as they aren't painfully boring, completely cliché or have too many plot holes I'll probably like them. Also if the anime is gay asf or has a lot of hot girls in it there's a good chance I'll enjoy it sghsjskaks not sorry
NAGITO KOMAEDA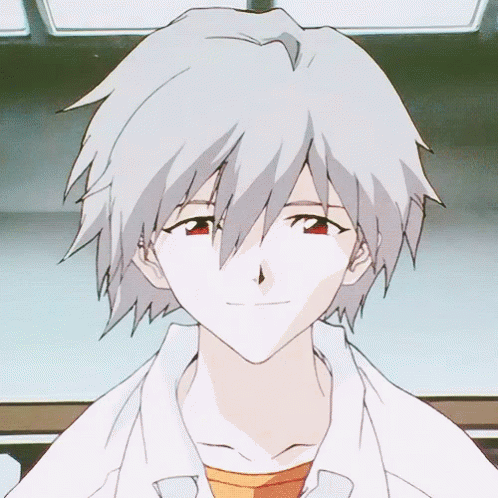 ♡ Hisoka Morow ♡ Kaworu Nagisa ♡ Izaya Orihara ♡
♡ Ginko ♡ Griffth ♡ Takashi Natsume ♡
More of my best boys here ★~
btw please don't take some of the shit I write on character pages seriously lmao
CHIAKI NANAMI
♡ Utena Tenjou ♡ Miwako Sakurada ♡ Zero Two ♡
♡ Lucy/Nyu ♡ Krul Tepes ♡ Anemone ♡
More of my best girls here ★~