Anime summer 2013
24 APR
2013
The anime chart for 2013 is out, its only version one so it will be updated more, but I thought I would talk a bit of some things that interested me on the list. Maybe you'll find something you like too.

Anime chart summer 2013
Gen'ei o Kakeru Yaiyou

There isn't such a good description on this anime, it seems to be a supernatural mystery anime about girls with power tarot cards.

I am looking forward to this since I like mystery and supernatural quite a bit, but since there isn't so much information on it its hard to be really excited over it. From the PV it looks a lot like most magical girl anime but a bit (a lot) darker.


Here you can watch the PV
Servant x Service

From the name I would guess its something ecchi, but from the description I don't really get the feeling that it is an ecchi anime. (But you never know)

The anime will follow the daily lives of a health and welfare division's group members. From that desciption I would guess that its a comedy with maybe a small (comedy) romance.

I have not read the manga and I probably won't either if the anime isn't really good. Even though I can watch almost anything when its anime I am very picky with what manga I read since I get bored much more easily from a manga.
Fantasista doll



Once again there is an anime without that much information, all we know is that they are dolls that fight and power up with the help of cards. (Sounds a bit like Gen'ei o kakeru yaiyou)
Hopefully we will get a PV or trailer soon so that it will be easier to see what this anime is about.
Blood lad

The reason I am really excited for this anime is because I love vampires, and most supernatural stuff. Even though I prefer them in horror I still don't mind a comedy as this seems to be. I haven't read the manga but will probably do now when I know it exists.

A vampire is obsessed with the human world and helps a girl to come back to life so that he will be able to go to the human world. It seems like an interesting plot so I will look forward to this one.
Inu to Hasami wa Tsukaiyou


In the description we clearly get to know that it is a mystery comedy. A young boy that loves to read is being killed and then resurected as a dog, then he ends up with a sadistic novelist that abuses him with scissors.... Its a comedy so.... it can't be.. that bad... right?

It doesn't seem like a well thought out plot, but I guess its more thought out than it seems when just reading a small bit of what it is about. Maybe they are going to find his murderer. It is mystery after all. Or maybe the mystery is just that he turned into a dog.

I will wait for the anime to come out so that I will be able to see how it is. But from the promo I get that it will mainly be about the comedy, so how much mystery we'll get we'll have to wait and see.
Brothers conflict
My guilty pleasure: Reversed harem!

It often doesn't matter if they have a bad plot, I still love them. I guess its because I just drool over the hot, awesome, wonderful guys that I will never get to date. But don't worry, I also look at the plot and the animation style, its just that the boys comes first in my book. xD
This anime is about a girl whose father remarries and she shall move into a house where her 11 new brothers lives. (Because its completely logical that someone gets 11 kids and not a singel one of them is a girl)

I was so excited so I read a bit about the characters and I fell in love with most of the guys. (Some in a brotherly way though, like one guy that was fourteen that liked to be patted. I WANT TO PAT. He's so cute) From what I have read from their personalities I think that I will really like the characters, both male and females. I can't be completely certain of the plot yet since I haven't really gotten to know anything else than that she will live with eleven guys. But one interesting thing is that one of the guys is her classmate and has a crush on her.

There seems to be serious characters, comical characters and in-between characters. Hopefully the heroine won't be as meaningless as the one in Amnesia, which I doubt since he really took it to a new level.
Danganronpa
"Waaait... Didn't you write about this one in your Anime spring 2013 post?"
... Yes... Yes I did. I checked some not so reliable charts and I got a lot of stuff wrong. So this time I'll just keep to a reliable chart okay? Okay. I'm human, I do mistakes.

Danganronpa seems to be a lot like battle royale, except that instead of a random class being chosen its 15 kids with talent that are chosen to participate in this murder game. But in difference from battle royale they aren't supposed to just kill each other, they are going to find the killer. Mystery and gore. Feels like a mix between Battle royale, Btooom and Phi brain: kami no puzzle.

This seems to be the first anime for studio Lerche and its not that unusual that the first anime for a studio has a bit lower quality because of the lack of money. Let's hope this isn't the case since it seems like this anime could become really good.
Hakkenden: Touhou Hakken Ibun season 2

I really liked the first season of Hakkenden and became really happy when they announced that the second season would come almost immediately after. Especially since there are those unanswered questions. And no, none of those questions are about Shino's previous life as a girl since it doesn't exist. How did people even mix that up? He was born sick and raised as a girl because his family believed that he would become healthy if they did that. That has been explained many times, the first time was by Hamaji in the third episode (I think) when Kaname had thought the rumours about the beautiful doll-like girl had been about Hamaji and been disappointed that she weren't as he had expected. So now no one will mix that up anymore right?

Anyway, I am really curious about Sousukes shadow, and the beads so I hope the new eason will come soon.
Tantei Opera Milky Holmes season 3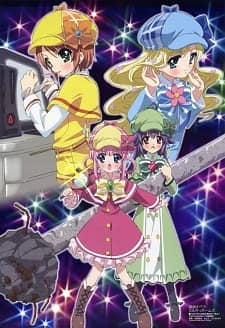 I was very entertained by the first season. It had a lot of comedy and a pretty good plot. But then it just became ridiculous when they lost their powers in the end of season one even though they just had gotten them back. Season two was much worse, very boring and didn't have the same entertainment as the first season. The plot was pretty boring in comparision.

I weren't going to watch eason three because it will start and end like the two previous seasons. They find their toys but looses them in the end. That's at least what I think. But then I heard that two new characters would be introduced (though I have only seen pictures of one so I don't know if its one or two) So I thought that I will give it a chance at least. Let's hope its better than season two.
That's all for now, I see you when I see you!