My Top Ten Anime Females: #10 Makise Kurisu
8 MAY
2012
It's been a looooooong time since I've pulled a list out of my ass, but I decided today that I'd convey to you my top ten favorite anime girls. Now, these don't have to necessarily be good characters, or even a character from an anime. As long as they are Japanese, animated characters, then they are fair game. Some I include because they're absolutely adorable, others because they are badass. Maybe you'll see someone you like!
THESE ARE IN NO ORDER! I CAN'T CHOOSE WHO MY FAVORITE IS! (Though Miku is my favorite. But I don't want to put her at the top of the list since she really isn't an anime character)
ENJOY!
10. Makise Kurisu-Steins;Gate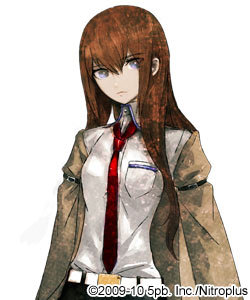 This Dr. Pepper loving tsundere is not only the most likeable character of Steins;Gate (as well as the most memorable), but also holds a special place in my heart as a very, very strong woman. As well as being super smart, she also goes through so many trials and tribulations under so much pressure yet seems to keep a level head most of the time. Her romance with Okarin is beautifully compelling, and adds another layer to her already likeable character. She's probably one of the best examples of using a female well in an anime. She's not the boobs, she's not the crux of bad cooking jokes—she is the complete opposite. She is treated not as a joke or fap material but as a genuine human being with a great depth of emotions and the equal of our hero in nearly all respects. She was the kind of person you wish was real and could hang out with, because while being ultra-smart and nerdy, she's also funny and adorable all the same.