Hello everyone i'm phoniefly but all my friends call me phonie. I have been watched anime for a few years now and i don't think i have done that bad. Most of the anime i have watched is dubbed but i just recently got into watching subbed anime again, so i am hoping to be able to add a lot of new anime to my watch list. This list i have below of anime isn't my top 5 i just can't chose my top 5 anime i love them all so much. So what i do is about ever month or so i put up 5 anime that i have watche recently that i really liked. If you have any other question about other gifs i have up on my profile just ask me and i will definetly answer you back. Also don't be afarid to recommend me anime that you think i will like i will always watch it when i get to it XD.
Woohoo More random gifs for you guys to look at I think some of them are really funny and some of them are really serious. So i tend to like a bit of all anime the only thing i won't really watch is horror. I am afarid of everything i'm a chicken and glad to be XD.
NOW TIME TO GET TO THE RECENT ANIME I HAVE WATCHED.
1) Yona of the Dawn: I loved loved thisi anime it is in my top 10 anime no doubt i just hope that there is another season that comes out
2) Good Luck Girl: I never stopped laughing in thie anime it was so so so funny it made me crack up.
3)Your lie in April: This was beautiful that is the only thing i can think of when i think of this anime.
4) Toradora: it took a me a while to actually start this anime bur once i started it i couldn't stop watching it
5) Death Parade: This was twisted and awesome just the way i like it. It was confusing but still good
This section is to Natsu Dragneel> <3 You will always be my favorite. You made me laugh cry and jump up with passion. I Love You Natsu!!! XD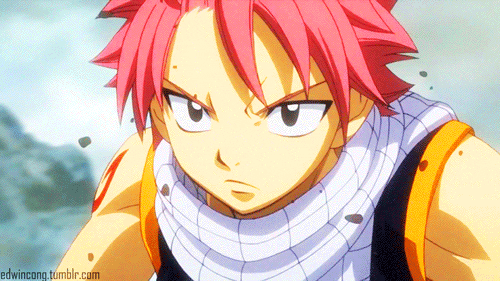 Openning i like.
Ending i like