About Me
31 DEC
2011
I've been loving anime since I was 12 and first laid my eyes on the ever-glowing hair of Super Saiyan Goku coupled with the 20-minute long yelling (or powering-up). OF COURSE I have grown to like nearly all kinds of anime, having branched from just Action. Nowadays, as I truffle and mope my way through college and try to balance the evils of otakuness, I've been able to keep up with the new seasons of series, and plan to in the future. There are still a few, or perhaps a lot, that I need to catch up on that have been completed, and as time goes by, I'll find more to add to the ever growing que that is my disappearing disk space. :)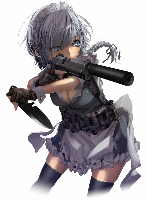 I really do enjoy video games as well. From the spawning of Halo, through the Call of Duty's (which I'm done with since Treyarch sucks and the real Infinity Ward is doing something else), up to the most recent Pokemon Black/White, I've always loved video games, but you can say I got a late start. In between FPSs, I played a few RPGs, then, recently, went straight to Bullet Hell Schmups. I fucking love Touhou Project, if I could ever beat it on hard. I just wish I had a J-NTSC xbox to play all those Bullet Hell games. I'm also on an on/off relationship with WoW. (Undead Priest - Maelstrom, Blood Elf Mage - Maelstrom, Blood Elf Paladin - Maelstrom). Lately it's been all about Battlefield 3 and Skyrim.
I passionately hate the Sony PSN, but I am an XBL member. My gamertag is Khaost.
But enough about video games on an anime website. Some of the anime that have caused me both pain and joy, ultimately cause me to keep on scouring through some of the "dirt" to hopefully find more "diamonds". With that, I'll list some off the top of my head. These are the series I truly love, since they've each struck a chord: Elfen Lied, Angel Beats!, Spice & Wolf, Toradora!, Chobits. But Don't fret, I love action too, I'm also a lame Bleach and Naruto fanboy. :P
I'm a fan of basically all music, especially trance, dubstep, and metal. No country or soul please.
I also enjoy other television programs, such as House, South Park, Tosh.0, Regular Show, Futurama and various other things on Comedy Central, Cartoon Network, and Discovery Channel.