Who is the Sister!? - Part 2
13 JUL
2012
I feel like playing the mystery buff here and figuring out who the sister can and can't be before it's revealed in the recent Kono Naka ni Hitori, Imouto ga Iru! summer anime series.
~~~~~~~~~~~~~~~~~~~~~~~~~~

Episode 2 just aired, but not much was learned, and even more was left unanswered. The two characters Rinka and Mana were introduced a bit more; so now we know their type of personality. Mana seems easy-going and clumbsy and is the Student Council President while Rinka is a "princess" and more down-to-Earth and is the Student Council Vice-President (despite being a first-year). The other girl, Mei, is actually a third-year and the owner of the little sister cafe.
I don't think it is ever said what year Shougo is in, but once Mei said she was a third-year, he asked "So you're my sempai?" This implies she is older than Shougo, so he is obviously not a third-year. This means Mei couldn't possibly be the "imouto character" unless she plays the part by acting, as she did when she met him; so it doesn't 100% rule out the possibilty of her being the "imouto" character, just slims it down.
~~~~~~~~~~~~~~~~~~~~~~~~~~
Let's start off with the pre-OP.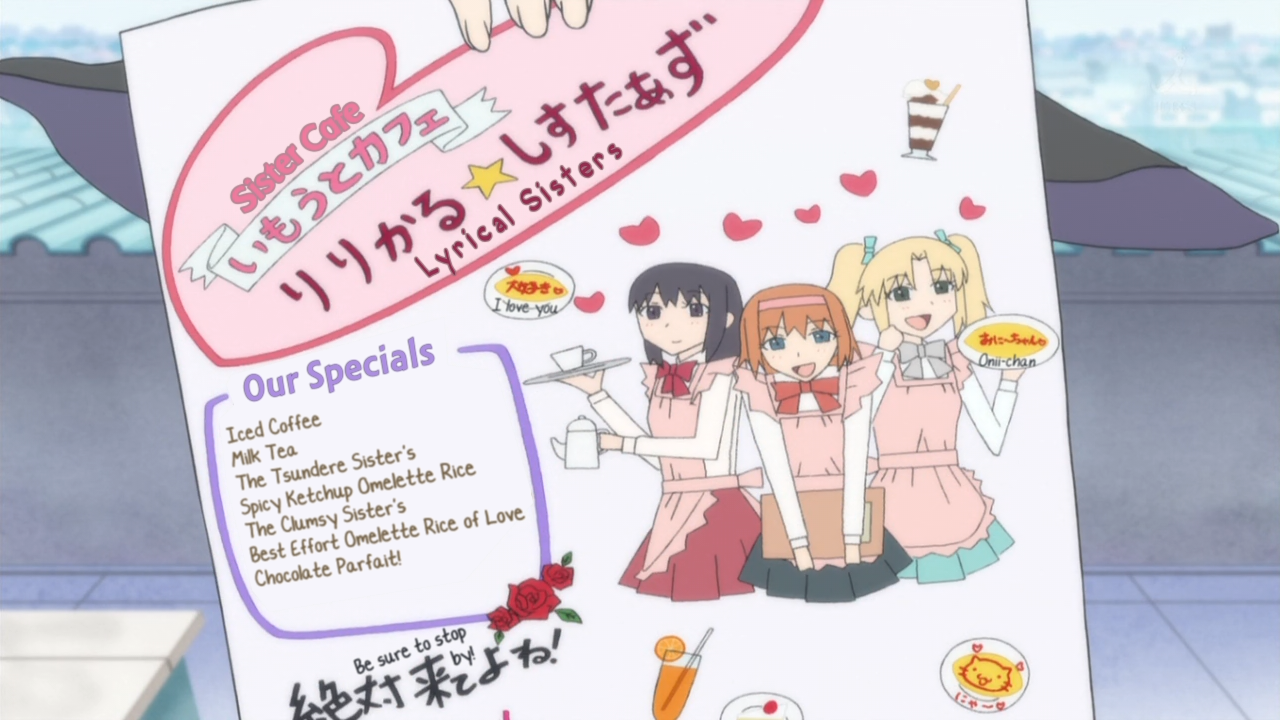 She's just advertising her store to a potential customer, Shougo.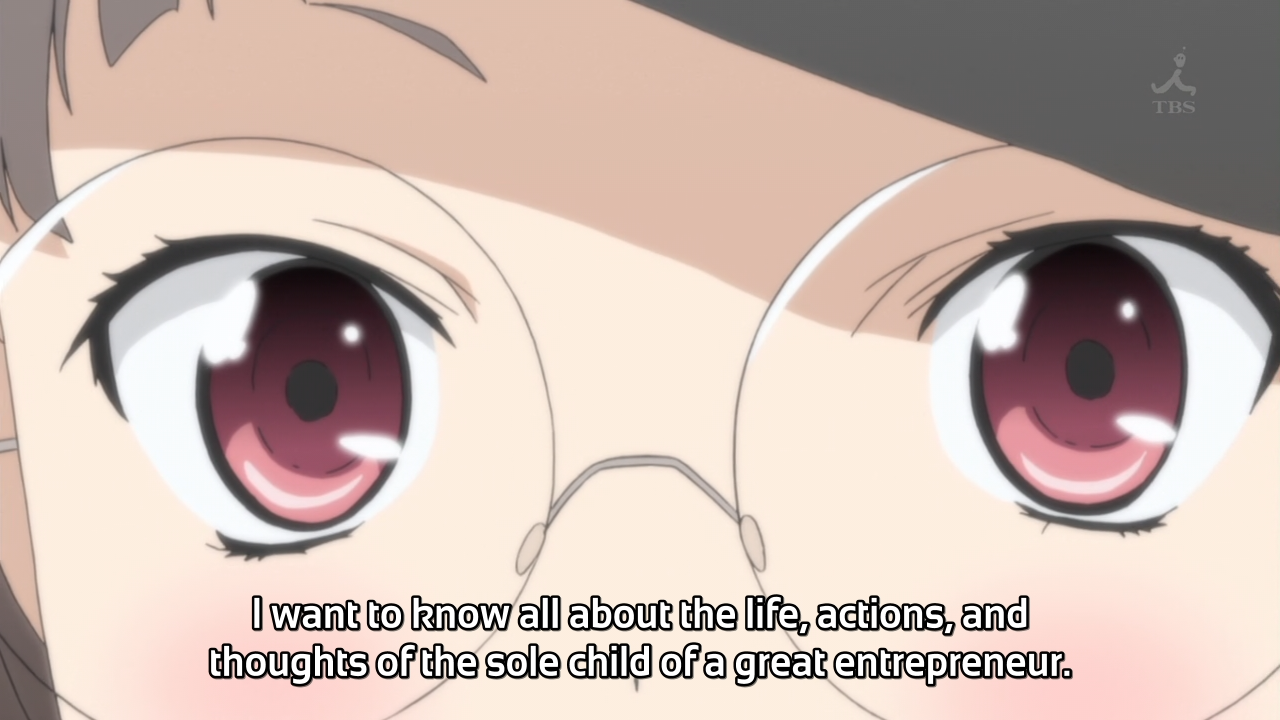 Or perhaps something deeper. This explains why she was "stalking" him and perhaps would explain any future endeavours for her trying to get with him.
So the next day starts normally, aside from being reprimanded by a "bodyguard" from his company, who will help prevent him from marrying his sister. Konoe asks Shougo if he would like to attend a dance party that the Student Council is hosting. As she does...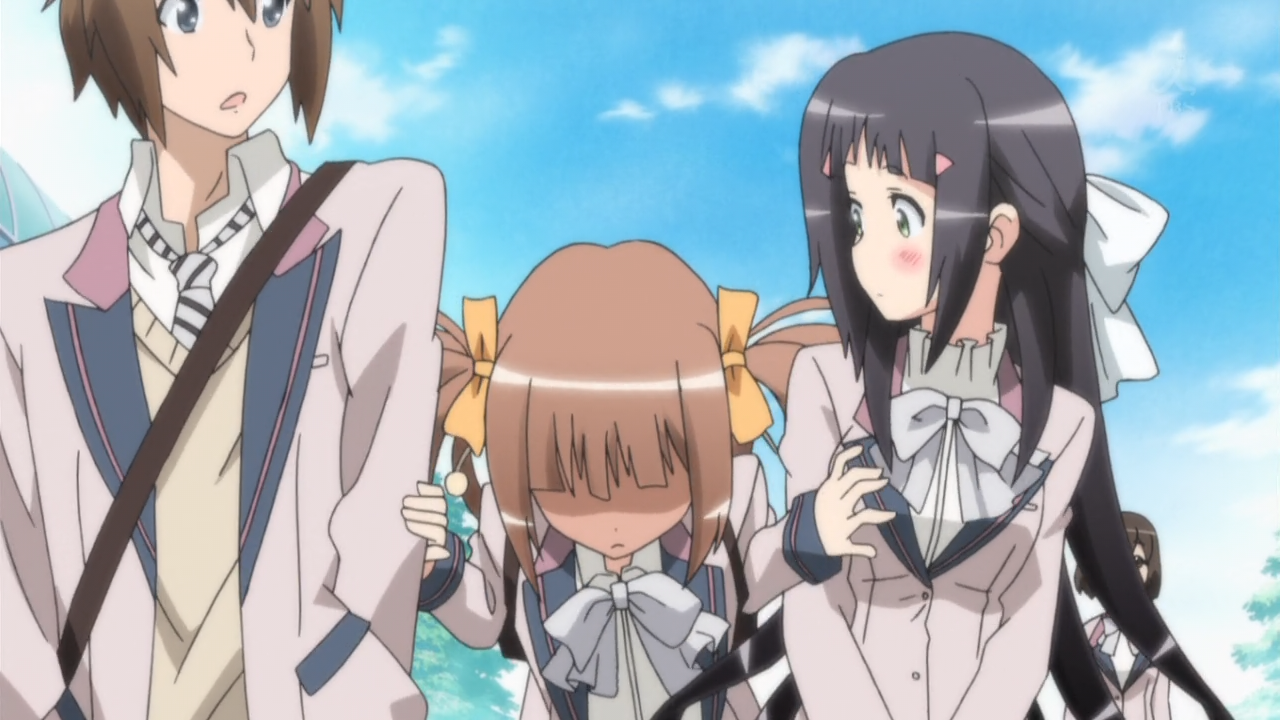 Kannagi interrupts them, says they're going to be late, then runs off in the most tsundere fashion.
In class, the bodyguard comes in as a new transfer student and ends up impressing all the girls (minus Kannagi and Konoe of course) and sits right in front of Shougo, dismissing the girl who was previously sitting there as Koneko-chan (little kitten). The bodyguard, known as Mister X, pulls Shougo aside after class to discuss methods to discovering his sister, but come to an impass; the sister would do anything it takes to conceal her identity.
Back at his apartment, Mister X takes a shower, and as with most anime these days...
is a girl. But that's a secret to everyone else.
The dance party comes and Konoe's appearance before Shougo is extravagent. In the ballroom, they dance a bit, and then the President and Vice are introduced again. Impressed by Shougo's dancing, Rinka asks Shougo for a dance. The room was impressed, as was she.
Bait and hook. Que comic relief: Mana glomps him... onto Rinka.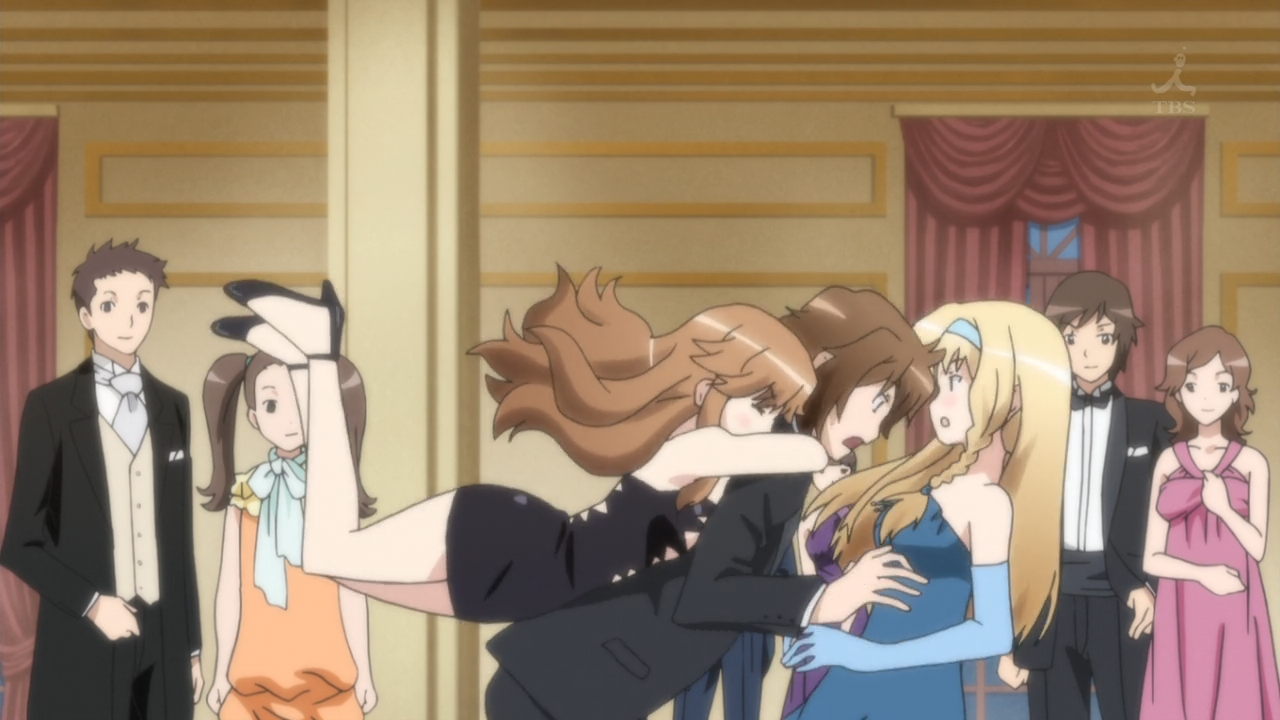 Of course there is the obvious boob grasp and roundhouse kick to the face. Time to get some air.
What's this? Shougo finds Kannagi outside by herself sitting on a fountain. Simply, she can't dance and thus she is outside. Like a gentleman, he offers her a dance.
She, too, is "hooked", but alas, awkwardness happens and her dress comes undone.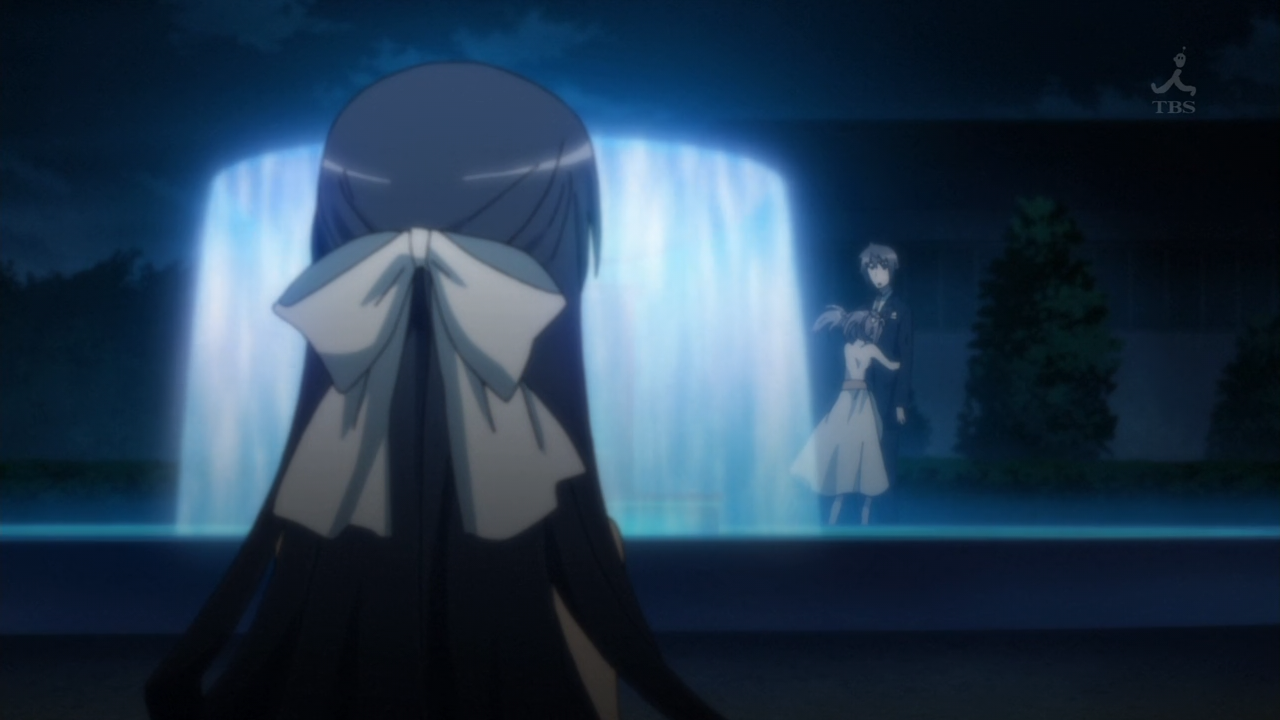 Konoe comes to the rescue. As soon as her dress is fixed, Kannagi runs away (probably in embarrassment) and Shougo can't stop her. After the party while in his apartment, Shougo once again receives a call from the "imouto" character, which reveals she was "by his side" the entire time of the party. Mei was never at the party, as shown in this episode.
What is appearing as a trend, right after the phone call, the scene skips to a girl taking a bath--this time it's Kannagi. As with Konoe, Kannagi's mind didn't seem focused on any conversation previously had that night (ie through the telephone). Kannagi was more focused on what occured that night and why her boobs are so small. But in the end she concludes to herself that she shouldn't be thinking about this because...
EPISODE END.
~~~~~~~~~~~~~~~~~~~~~~~~~~
What a great way to end another episode--on a great cliff.
Summary:
Kannagi is so very tsundere.
Mei, with almost all certainty, is not the "imouto" character.
Rinka has grown an interest in Shougo.
Konoe, Kannagi, Mana, and Rinka are all still candidates for the "imouto" character.
Hooray for ruling out one character already!! And then there were 4.