Who is the Sister!? - Part 1
6 JUL
2012
I feel like playing the mystery buff here and figuring out who the sister can and can't be before it's revealed in the recent Kono Naka ni Hitori, Imouto ga Iru! summer anime series.
~~~~~~~~~~~~~~~~~~~~~~~~~~
Episode 1 just aired and I've already gathered some clues; perhaps others can add/discuss. We are sorta introduced to all the characters (if assuming the sister is one of the girls involved in the OP/ED). There is the main character, heir to a business giant with convienient memory loss, named Shougo.
In order of appearance, the girls that were fully introduced were: Konoe Tsuruma (in front of a bakery "Marie Chocolate") and Miyabi Kannagi (in class). Rinka and Mana were introduced by name only as part of the Student Council (near the dumpsters). And finally, the "magical witch cosplayer" girl was introduced in appearance only, and as to leave off as a bridge for episode 2.
~~~~~~~~~~~~~~~~~~~~~~~~~~
Okay, let's start off with the clues we can gather from this episode. We can ignore their encounter when they were inside and outside the building, as the "imouto" character was designed to be vague, and also the events in the anime take place a year after that meeting.
Next we can ignore the picture that came along with his birthday gift. Once again, it is shown that the "imouto" character is vague and the only clues you can gather is that they were young and this picture was before his accident and that his ice cream may fall. Due to the coloring of the photo, you can't assume hair color from the "imouto" character either.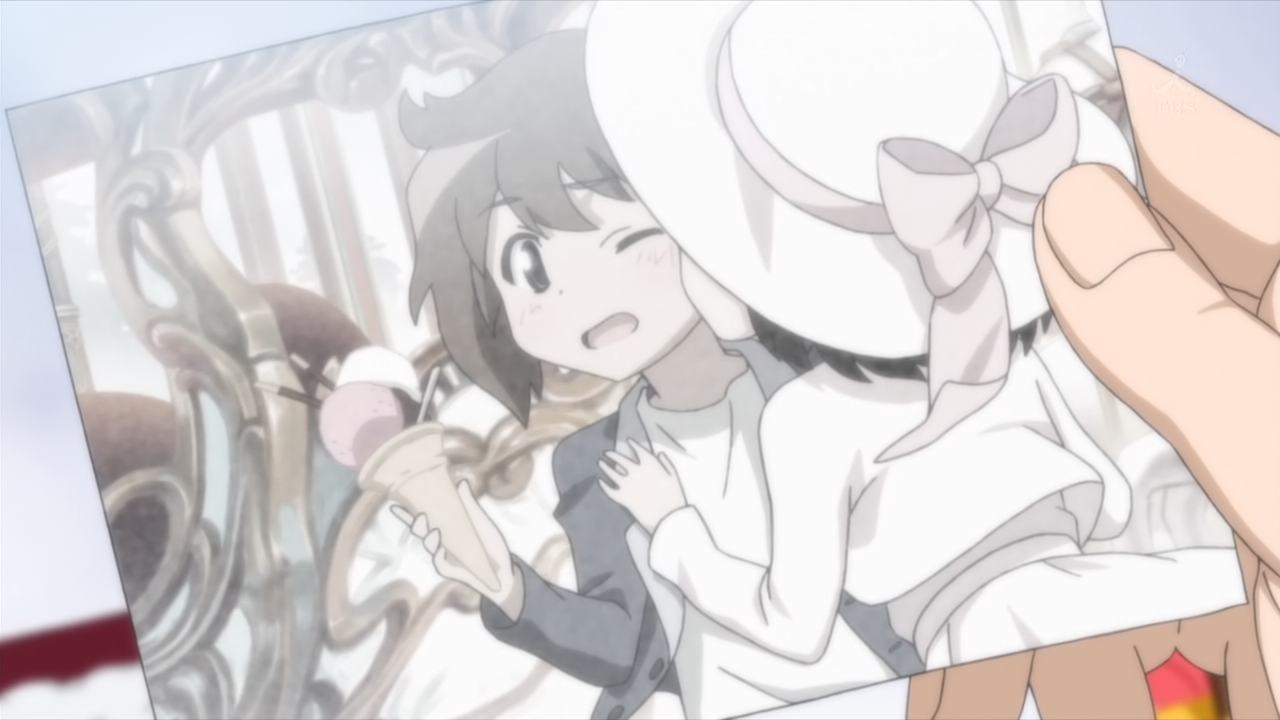 Now let's look at the solid clues we do have. First and foremost is the phone shown as the "imouto" character was talking to Shougo about his gift. Specifically the design. They are deliberately showing this to the viewers, but not to the main character himself, but it only proves that an owner of that style phone, Konoe, can be his sister. We know she's has that style phone from when she dropped it when she met Shougo.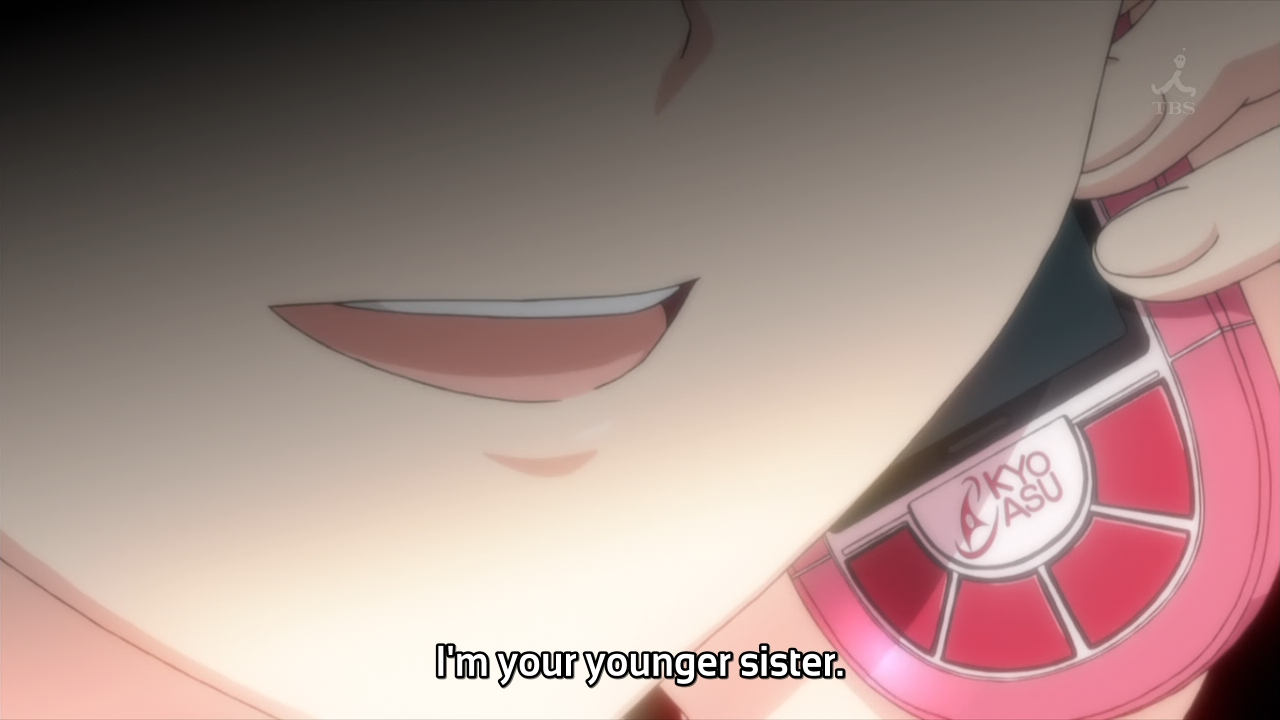 But after that phone call scene, it cuts to Konoe taking a bath and having other things on her mind, somewhat implying that she is the one that didn't make the call, but that's only speculation. Also when they met, she did comment that their meeting seemed like a "fate encounter". More speculation.
Another fact that we know is that the cake delivered for his birthday was bought from a bakery called "Marie Chocolate". The only significant piece of information we can pull out of that (as far as we know now) is that Konoe frequents that bakery a lot.
We cannot assume that Konoe is the only customer that goes to the same school as Shougo. There is a possibility that Konoe's Student Council buddies also go there, as they did mention snacks for their meeting and they were talking about how delicious it will be. But that's just more speculation for broadening the suspects.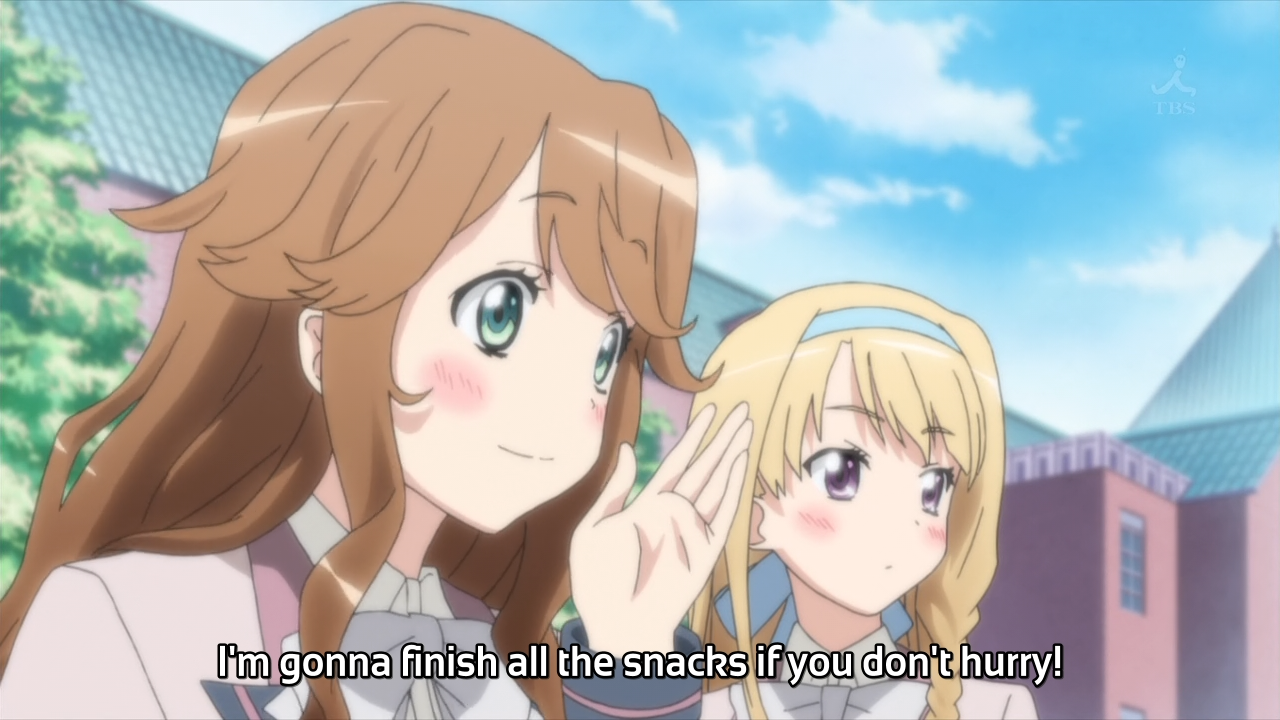 Also, while Shougo and Konoe were taking out the trash, Kannagi conveniently shows up the stop Shougo from possibly making a very huge mistake. When Rinka and Mana take Konoe away, Kannagi, who is said to be a quiet reclusive person, makes the biggest tsundere move on Shougo. Why? Because she's the "imouto" character? Or maybe she just likes him? I have no idea. I would like to point out that during introductions, when he mentioned that he was an only child, Kannagi did make an unheard grumble, possibly meaning she was annoyed by that statement. But anyway, it can't go unnoticed how much she moved in on him:
Lastly is the mysterious girl who was found spying on Shougo the next day at school.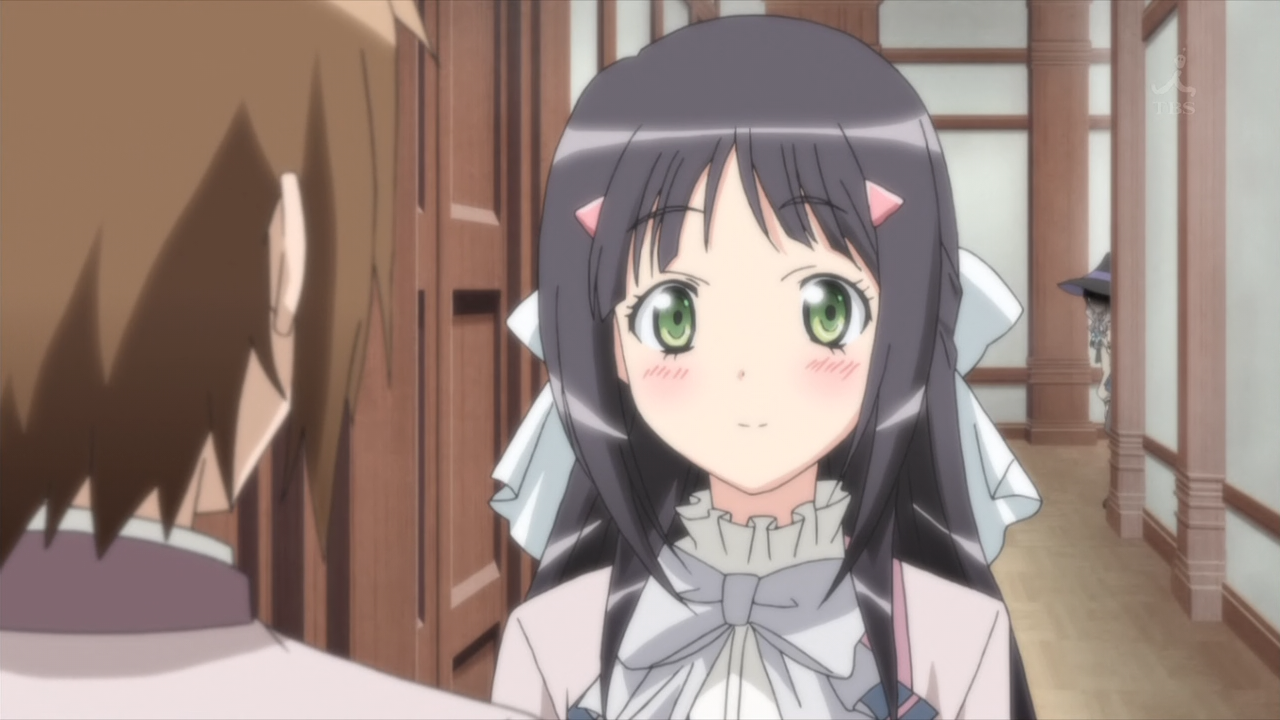 She was hinted at in between scenes wearing a cape, witch hat, and wand and saying Onii-chan. Finally when he caught up to her, he asked if she was his little sister, and that was the end of the episode.
However, you need to pay attention. Whenever Shougo's little sister addressed him, she always said "Onii-sama". This cosplay girl only ever said "Onii-chan". Drawing from this episode this is all we can muster without further assumption. But the synopsis does say that this cosplay character, named Mei Sagara, runs "Imouto Cafe Lyrical Sisters" which might be a Little Sister Cafe. This makes sense as to why she was in front of the mirror, perhaps practicing. But it doesn't explain why she was spying on Shougo. Perhaps crush? Can't really say anything until next episode.
~~~~~~~~~~~~~~~~~~~~~~~~~~
So now the facts of what we can gather so far:
Konoe, Kannagi, Rinka, Mana, and Mei can be a candidate for the "imouto" character
It is impossible for Konoe to not be a candidate for the "imouto" character
I'm afraid that's all I can 100% conclude from the 1st episode.