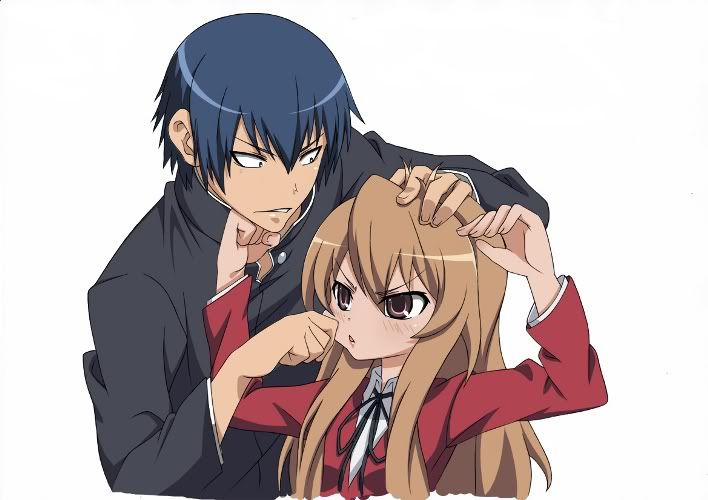 Toradora is a high school set Anime that was adapted from a light novel series which first aired in October 2008

I have watched all 24 episodes the in the series, there are no known plans fro further episodes to be made. I watched Toradora in Japanese with English subtitles by aero followed by coalguys

Of all the Anime I have watched this ones story had the most impact, the first episode lead me to believe this was just another high school drama with an indecisive male lead and a bossy female lead but this is far from the case.

The story focuses on a nice natured high school student named Ryuji Takasu who had the misfortune of being born with his fathers 'delinquent eyes' and his neighbour, a fiery tempered tiny high school girl named Taiga.

They writers have created something very real that you really feel while watching events unfold, I developed a bond with many of the leads and the lack of black and white, good and evil themes made for a truly compelling and at times heart wrenching story. This is one of maybe two or three Anime I have seen that almost had me in tears, the characters and the plot are extremely well written and the majority of the story is told with perfect pacing.

My favourite character without a doubt is Aisaka Taiga, her development in the series is wonderous to watch, other Animes could only dream of creating and telling the story of a character so well.

I highly recommend this Anime for anyone that values a well told story and interesting characters.