Tamako Market follows Kitashirakawa Tamako as she lives out her daily life in the Usagiyama Shopping District with the sudden intrusion of a talking bird named Dera, who brings about a flurry of unusual, interesting activities. An adorable story with lovable characters is truly what sums up this anime. This is a typical Kyoto Animation anime and I loved it with all my heart. (Well, I loved it with enough of my heart to give it four stars...)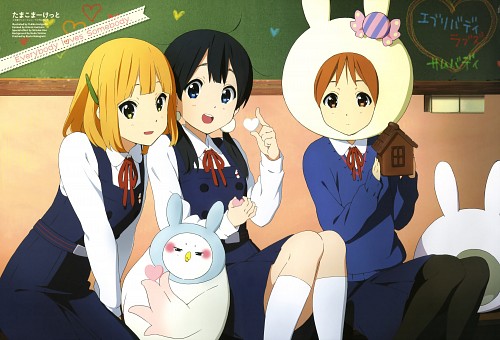 Story: 15/20 To be honest, the plot was probably the weakest part of this anime and that's still saying something because it's pretty good. The plot that was introduced in the first episode (Dera, who came from a faraway island in the south, ends up in Japan as he searches for a bride for his young prince) was buried under several other plots throughout this anime until the final episode, where it resurfaced and was like "Hola, bitches~ You forgot about me." Of course, there were numerous reminders about the fact that that's the main plot every few episodes, but that still didn't stop me from forgetting about it. One thing I particularly love about the story is that it seems very light-hearted at a glance, but if one digs deep enough or simply looks a bit further into it, one will realize that it there are many underlying feelings. (Details in Character section.)
Animation: 9.5/10 Tamako Market's animation is exactly what I'd expect from KyoAni. It's smooth, bright, and has an extra touch of "kawaii-ness" (aka "moe")! It really suits the plot and characters of this anime. I won't forget to mention that it's close to being flawless! This animation is without a doubt one of the best of Winter 2013.
Sound: 8/10 Suitable openings and endings are a must for me and Tamako Market met both of those requirements. The opening drew me in with the vivid-coloring and bright, peppy emotion within the voice. It's perfect for an anime like Tamako Market! As for the ending, I believe it represents the more mellow, melancholy aspects of the story and certain characters' emotions. They're both very wonderful. The voice-actors did a fantastic job! (I can't believe Daisuke Ono voiced Kaoru. It shattered my image of him being a 100% ikemen, but my respect for him has grown tremendously.)
Characters: 9.5/10 I strongly feel that the characters are what make this anime as great as it is. The plot is basically built on layers and layers of characters' bonds with each other. KyoAni excels at creating character bonds, and this time they really went all out and magnified the bond of the Usagiyama Shopping District as a whole. Every character contributes something to the district and when one person suffered, everyone suffered in some kind of way. That was truly amazing and it was something I've never seen accomplished so well before. Every character has unique, memorable traits and quirks that make me it quite easy for me to love all of them. (I can easily name an odd trait or two about each character on the spot, but that'd take up too much room. It's rare for me to remember the name of every single character in an anime, but it happened with this one!) I could go on and on for days about the characters of this anime, but I'm sure you guys wouldn't like that. I'll just settle with saying that the characters are easy to relate to, fairly realistic, and will make you feel some kind of an emotional attachment, one way or another.
Overall: 8.2/10 This may truly be my favorite anime of Winter 2013 because it's so cute, light-hearted yet emotionally stirring, and fun to watch. I didn't have a moment of tedium in the 12 episodes of Tamako Market! If you're looking for a sweet, slice-of-life anime, you may want to look into adding this to your to-watch list. Looking for sci-fi/action? It'd probably be best for you to stay away because you're definitely looking in the wrong place!