Example #221: Vague Name Once More
21 FEB
2013
This is the Two-hundred-and-twenty-first week of using the "Perfect Anime Girl Sheet". Notice: This Blog may contain Unmarked Spoilers.

*Topaz is playing video games*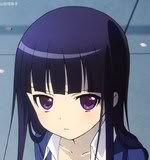 : So THIS is what you're up to! Aren't you supposed to be doing a blog!

I can't help it! Today's girl is forcing me to play!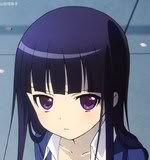 : And where is this "girl" of yours? (Y-you have a girl in your room besides me! D-did I do something wrong?).

???: That's right! Topaz is my toy in exchange for allowing him the privilege of doing ME for the blog!

*The mystery girl tightly wraps her pantyhose-clad thighs around Topaz's neck, nearly choking him. He's sitting on the floor while she's on the bed*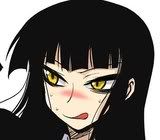 : You'd better leave, Topaz and I are going to be playing fighting games after this. We don't need YOU to help!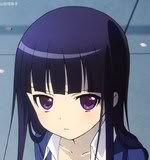 : N-nonsense! If I were to leave you alone Topaz won't get his blog done. Now release him from your legs!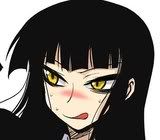 : I don't know, he seems to be enjoying this, aren't you PERVERT! *Girlfriend grips Topaz's neck tighter*

Can-t... breathe.... *Topaz smacks the sides of the girl's legs in desperation, causing him to game over.*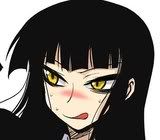 : *Sigh* REALLY? You can't handle this? Oh well, now that you're dead in the game we might as well play another.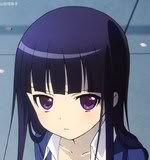 : Topaz! What about your blog!

I'm trying, but she won't let me!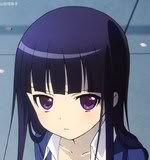 : Well then, I suppose it's time for this plan.

*Ririchiyo pulls her glasses out of her pocket and grabs Topaz's laptop*


: I'll just make it so that you can't resist working on it!

*Ririchiyo opens the laptop and places it on her lap, then sits on Topaz's own lap.*


: There, now you'll do it for sure!

I can't argue with such a cute loli on my lap, so let's get goin-BLERG! *Topaz's sentence is cut short as the mysterious girl kicks her feet against his face*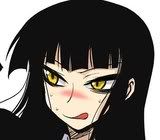 : No fair! I had him first!

I'll play plenty of games later, but let's get started on today's blog! Hopefully without more kicking...

[center]Today's girl is: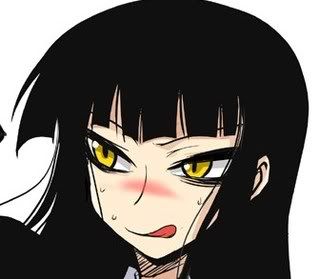 Though, once again, due to how the series works we have no idea the name of today's girl. Let's just call her:
Girlfriend
from
Houkago Play[/center]

As a side note, because I haven't read the other books in the series I can only talk about the first series. This is because they aren't translated.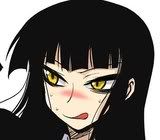 : What are you talking about? They've been translated since last year!


: Mwahaha, I guess that Topaz really DOESN'T research his girls!

Hey, I haven't looked at the series in a while. Besides, I didn't know it was translated until today so give me a break!

Head
Hair: Once again we look upon Girlfriend and see the best that hair can offer. At least, in my opinion. She has very nice black hair, which works well as Houkago Play is a manga-exclusive series. Not only is it black though, it also has a hime cut, which is required for me to give a "perfect score". Her hair is even long, straight, and usually free. It even flows beautifully down her sides as well, though then it tends to melt against her similar-covered shirt so I can't give an idea of how long it is exactly is. I expect it's as long as her actual hair and goes to her feet or so. All in all I really like Girlfriend's hair. It's long, dark, and has a hime cut. Could I really ask for more?
Yes I could. I should mention that she even wears cat ears at one point to attract Boyfriend (his name is as vague as hers).
Grade: A+

Eyes: Girlfriend's eyes are where it starts to go downhill for her. You see, Houkago Play has a very distinct art style. It's pretty choppy compared to other series and uses a lot of thick lines. There are times that Girlfriend's eyes look oddly shaped and I'm not a fan of those times. At times it even looks like she has thick bags under her eyes (which, considering she's a gamer, might be intentional) It certainly takes getting used to, which is never a good sign. Aside from that, her eyes are yellow. I'm not a fan of yellow eyes (gold is alright, but yellow is too bright), so I suppose it's good that the show doesn't have an anime for that reason. Her eyes can be compared to a snake's as well, which isn't a good sign. They do make for a nice inward slope, though. Overall there's just too many flaws I see in Girlfriend's eyes to give her a great score.
However, there ARE times that Girlfriend wears glasses. It's a very rare occasion (as she tends to wear contacts instead), but they do look great. Even though they're simple and might actually be frameless, they do at least cover her entire eye.

[center]

[/center]
*blink*

*Topaz gets out a special notebook and writes "Boyfriend" crudely under a few other names.*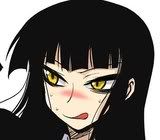 : Hey, wait. What's that for? And who is "Kyon" and "Kodaka Hasegawa"?

Just some other guys who don't know what they have and thus lose it.


: That certainly sounds like a problem. *adjusts glasses*.

Grade: B-

Face: As I said previously, Houkago Play has a unique art style. This means that Girlfriend's face might look odd in general (due to angle and such). As this is a manga, there's also the problem that her tongue is BLACK. I assume this was just due to it being a manga, but it still looks very different compared to other series. Then again, it also allows the art to make her emotions much clearer with that freedom. Believe me, Girlfriend can certainly have some cute expressions. There are even times that her face is "red", and that includes around her eyes all the way up to her hime cut. She's not exactly one of the "best" girls I've blogged about, but she does have her own style and her facial emotions are nearly unmatched.
Grade: B-

Body
Build: Girlfriend's main aspect is that she's tall and has long legs. She's about a head taller than Boyfriend, though that might be because he slouches as well. She's also pretty slender, though we don't get a good look at her body so I can't be sure. The main problem is that we really don't see her body like her stomach or butt so I can't judge her there.
What I WILL say is that Girlfriend's main "fetish part" is undenyably her legs and feet. She always wears pantyhose, and occasionally high heels to show them off. Not only that, but she's always kicking him, using his head as an footstool, or even rubbing them over his face, neck, and shoulders at one point. There's even a scene where he gives her expired milk and, when she spits it out, forces him to clean it off her pantyhose as if it were "something else". As for if *I* like her feet...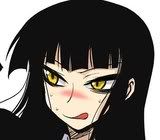 : You'd better.

I do. Though I can understand others not enjoying the simplistic design.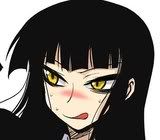 : YOU'RE the one with the "simplistic" MIND! *Slams foot down on Topaz's head*
OW!
Grade: B

Breasts: We don't see much of Girlfriend's chest due to how the panels are usually set up. However, she does seem to have a fair set of breasts on her. I wouldn't quite go calling her "busty" (that would be her Club Leader), but she's not flat either.
Grade: B-

Clothes: Girlfriend's main outfit is DEFINITELY in my tastes. She usually wears her school uniform which consists of a black jacket, necktie (!), and a white (or purple) shirt with a matching skirt. That's great by itself, but as I said before she also wears pantyhose which of course shows off her legs even more. She also wears high heels, but I'm not a fan of those (not that they look bad, of course). She also said that she'd wear a maid outfit, but disappointingly she never does (as far as I know).
Grade: A-

Mind
Personality: First things first, Girlfriend is a tsundere. As if you hadn't known from all the kicking she seems to enjoy doing.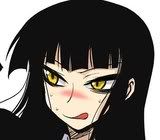 : SHADDUP! *kick*

She does have a very cute and easily accessible "dere" side though, so she's not as bad as other tsunderes. She's more "annoyed" than tsun as well, though that's probably more due to how demanding she is. Not only that, but she seems to love gaming in general, both modern AND retro. I'm sure that her and I could talk about SNES RPGS for some time, though she'd probably kick me and say that something like Street Fighter is better (she likes fighting games). She's sort of a sore loser as well, but is even worse at winning. She seems like a fun character to hang around with and play games.
Grade: B+

Libido: Girlfriend has higher than average libido. She gets in "moods" sort of what I expect from an actual girl, and her and boyfriend eventually do share a romantic kiss. This is a romance series, even if it is a 4koma. And that's just normal libido, I should mention once more that she seems to know EXACTLY what to do to show off her best point (again, her legs), not to mention that she's the dominant one more often in their relationship. In the first few chapters she DOES shy away from romantic scenes in a dating sim, but she gets over that quickly it seems.
Grade: B+

Age: It's unknown Girlfriend's exact age, but I'm assuming that she's in high school or something.
Grade: B

Total Grades: 77
Average score: 8.6
Final Grade: B+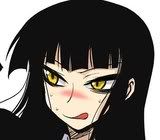 : There! Now that your stupid blog is done can we FINALLY play the fighting game I picked out? I've been waiting!

Sure, just one more thing. Ririchiyo...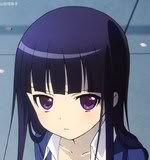 : Huh? Oh...

: I mean, what do YOU want, you pathetic internet blogger?

THIS! *Topaz hands Riri a wrapped box* Happy birthday!


: Harumph! And here I thought that you forgot. (he remembered! how thoughtful!). I suppose I'll leave you two here and open your gift in my room.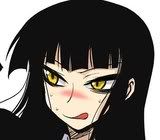 : Good! Now get going so Topaz and I can play fighting games.

You can open it here, Riri.


: I suppose I SHOULD grace you with my reaction. *opens* A glasses case?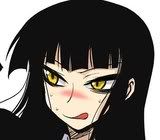 : You shouldn't expect anything else from him, I suppose. *squeezes Topaz with her legs*


: No, no. I'm happy *smile*.

That's good to hear. As for our readers, catch us next week!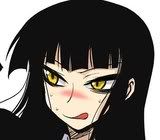 : Good, now that it's over take a controller. I want to beat you in a brawl match.