Example #164: Bloodsoaked shrine maiden
19 JAN
2012
This is the Hundred-and-sixty-fourth week of using the "Perfect Anime Girl Sheet". Notice: This Blog may contain Unmarked Spoilers.

Welcome welcome everyone. Now, I should inform you of one thing: I dislike gore shows. I don't like seeing blood, guts, or other insides suddenly no longer being inside. Yes, I'm extremely squeamish and kind of a coward, but my personal tastes go for more cartoony or relatively "safe" violence. That said, if there is one thing that I will watch an anime for, it's an awesome meganekko. As for what the goriest show I've seen is?

That's what we're looking at today.

[center]Today's girl is: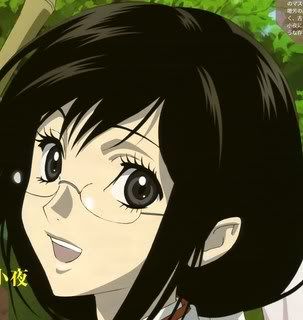 Saya Kisaragi
from
Blood-C
[/center]

Head
Hair: Saya has very nice hair, nearly perfect for my tastes. Her hair is long, black, and very silky looking. It looks great released because it looks great and pretty much perfect. However, she rarely wears it free, usually keeping it in very wide twin tails. She ties them using white bandages (or at least look that way), and usually get dyed red through her "actions", so to speak. During the bath scene she puts it up in a cute way but still I prefer free hair. She does have "red hair" in the OP, but again... "actions" caused that and it's not her actual hair color.
Grade: A-

Eyes: Saya's eyes are somewhat realistic, being smaller in comparison to many other anime characters. No that they aren't large when she's in her "normal" form, they are nicely sized and rounded. They're also a nice shade of grey as well, and give off a good "innocence" look. This is all in contrast with her "evil" side, of course. Here, her eyes become a lot narrower which looks nice. However, they also turn red, and the pupils look thin as well so I don't exactly like them. She also gains a "ring" around her pupil as well. Either way, her eyelashes are also a minor problem as well. Finally, while her glasses look simple, that of course doesn't mean that they're bad. In fact, seeing her with such a simple pair really brings out the "traditional miko" in her design.


However, the worst thing is of course what happens at the end of the last episode. While Blood-C is a gory show, Saya wasn't as effected outside of cuts and getting generally beaten up. However, this is made up when, while chasing the "mastermind" of the show he shoots her.
Blowing over half of the left side of her face straight off. This includes her eye, and I HATE eye injuries. She wraps part of her skirt in a makeshift eyepatch for the remainder of the episode. Fortunately, it looks like she's fully healed in time for the movie. HOWEVER. She IS missing another very necessary thing!

Grade: B+

Face: Saya's face is very cute. Like I said, it's in a somewhat realistic manner but she's cute in her normal form as she's "supposed" to be. She has a noticible nose. She loves to smile as well. In her other form, she's far more serious and determined, but that's great as well. In my opinion she's a very cute girl but the art style isn't one of my preferences. Also, her face tends to get bloody from her "actions" as well on a fairly common occurance.
Grade: B-

Body
Build: Saya has a very nice body. While it's not shown off as this isn't a "fanservice" show (excluding a single bath scene) the times it is shown prove her attractiveness. She's got an hourglass figure, complete with a shapely bottom. In addition, her skin is pale, which provides a nice compliment to her dark hair.

Blood-C is created by CLAMP. Because of this, Saya has a long and thin body as well. Her arms and legs look great, if a bit longer than you'd expect (with the legs this isn't a complaint of course). Finally, it's unknown exactly what Saya is. I know that she's apparently not human, and I'm pretty sure she's some type of vampire. Yeah, I probably should have understood if I had seen the other BLOOD series but yeah I'm not going to.
Grade: A-

Breasts: Saya is a pretty busty girl. It fills out the top part of the "hourglass" very nicely. She's busty without being too big, a very hard thing to do with most girls. Unfortunately we don't actually see her "topless" until the DVD release, but she is certainly very nice.
Grade: A

Clothes: Occasionally Saya wears a miko outfit, with a white shirt and red "pants". She also has a very lovely pair of green pajamas as well that she looks cute in. However, for the majority of the series she's wearing one of my favorite school uniforms. It consists of a red shirt with a pocket on the right chest. The adornment on the sleeves and color is a red which works well combined with black. There's also a chain on her collar, and she also has a red tie (I love girls in ties). Her bottom is a red miniskirt with black frills. Finally, she also wears black socks but unfortunately they aren't thighhighs and don't even reach her knees. As much as I really like the school outfit I would have preferred a greater variety. And yes, I realize that Blood-C wouldn't make sense to have a multitude of outfits, I just meant in general.
Grade: A-

Mind
Personality: Saya is a cute and innocent character most of the time. She seems like the kind but somewhat ditzy type at first, and her "normal" form usually is. She's nice but naive at the same time, and enjoys singing what she's doing (such as "Such nice weather today" or similar things). She also lives with her "father" as well, keeping busy with shrine maiden duties as well. Her favorite meal is a dish called "Guimauve" that is served at a local restaurant (though I wouldn't suggest eating it yourself).

However, like I've been saying Saya has a "dark" side. She's considered a slayer of "evil", and is told to protect the townspeople from creatures called Elder Bairns. Her favored weapon is a "holy katana". Whether she's a vampire or not, she does get much more powerful and acrobactic when in this "mode". She's also a lot more focused in this form, and even... eats some of the Elder Bairns she kills. However, this form can't be activated at-will, usually she goes into it when either she's getting in bad shape or someone else gets killed. And let's just say that there gets to be no shortage of "sacrifices" either... Let's just say that for someone whose job is protecting people Saya didn't do a good job, but I don't blame her either. It's just that the show wasn't very good and it's unfortunate that such a great meganekko got put into it. And yes, much of the plot revolves around how people are trying to "manipulate" Saya, such a sad story...

I should also mention that Saya has an excellent Voice Actress as well. Nana Mizuki is great at portraying cute but troubled girls, and since Saya sings a lot you get to hear her wonderful singing voice plenty.
Grade: B

Libido: Saya seems fairly oblivious to the advancement of love. She does have others confess to her, but she is quite dense.
Grade: C+

Age: To be fair, Saya's actual age is unknown. However, she is able to at least look like a high school student despite actually being "supernatural" (again, I'm thinking vampire).
Grade: B

Total Grades: 80
Average score: 8.8
Final Grade: B+

You might be asking me if I'm going to watch the Blood-C movie. All I can say at this point is maybe. There's a good chance I won't, but on the other hand I don't like leaving series half-finished either. But in more current news, join me next week as we push into the Final week Meganekko month and review one from the Winter anime line up!