Example #143: A very Birthday Episode
25 AUG
2011
This is the Hundred-and-forty-third week of using the "Perfect Anime Girl Sheet". Notice: This Blog may contain Unmarked Spoilers.

Welcome back readers! Today we have a birthday blog for one of my friends, and it looks like I'll need both of my assistants today. Are you two here?



: Yeah, I'm here.



: I'm an assistant now? I suppose that I've helped you once or twice, so sure.

And we've even got a good sized cake today for the celebration! Y'know, because it's a special day and everything.



: Yes, now stop stalling now and just get on to this blog.

Okay, but first... POTATOES!



: Wait, what?

Errr, hey, Topaz... POTATOES!



: Stop fooling around!



: *turns around* Hmmm, what?

ARE YOU ALREADY EATING THE CAKE?



: OH FIDDLESTICKS I AM!


: But er, you know my weaknesses for cake and sweet stuff....

I suppose having you carry it in wasn't a great idea.. But anyway, POTATOES!



: Eh? Wha-


: OH! *grabs Rika*



: Get your grubby perverted hands off of me! *struggle struggle*

Oh no, you see, today is also August 25. There was a specific reason I waited until today to do my friend's blog. It's also the birthday of a certain character he favors. Now, Rika, do YOU know anyone with this birthday?



: FINE! I'll let you do your stupid blog on me! Just let me go!

Er, are you sure? I was expecting you'd put up more of a fight. And you can let her go, Topaz.


: That's good, I prefer to grab with girls that are chestier, if you know what I mean.



: So you don't grab yourself then? You're as flat as I am. Plus I think you were rubbing my butt on your leg on purpose.



: I am taken aback by that accusation!



: So you weren't attracted to my firm yet supple buttocks?



: Just because I was taken aback by it doesn't mean it was false... However, my budding lolicon aside, let's get back to the blog!

That we should!

[center]Today's girl is: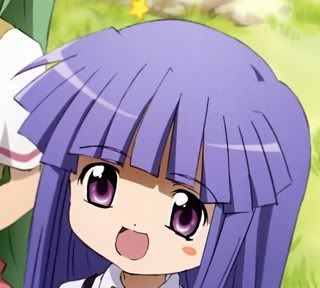 Rika Furude
from
Higurashi no Naku Koro ni
[/center]

...You are actually Rika this time, right?



: I suppose it's only proper to ask. Yes, yes I am...

Head
Hair: Rika has extremely awesome hair. It's long and usually kept down, and a great dark blue color. Not only that, but she has a great hime cut! She's overall really adorable and great. What keeps her from getting a perfect score though is the fact that rarely she has it up (in rings or twintails). Not that I mind them, sure, but I love her loose look more.
Grade: A

Eyes: Rika has cute, vivid eyes that are a great shade of purple. They're so sweet and rounded, but can become pretty fierce if necessary. She does have a few "crazy" scenes where her pupils shrink that I dislike, but overall she has great eyes.
Grade: B

Face: Rika has a very adorable, semi-squishy look to her. Squishy meaning that you can't help but rub against her cheeks!



: I hope you mean my face...
Yes, yes I do... But anyway, Rika's a BIT too young looking for my tastes, but she's still really adorable! Her cute small features also help as well. She'll have you liking her at the first Nipah~!



: Nipah~ And you know what I say to that?

What?

[center]

Nyah-pah![/center]
ALDJKL:FHKA:!



: Is.. is he okay?



: Don't worry, he just choked on the moe a bit. It's a natural reaction, so don't worry.



: I was so moe in a bad way he choked.... I feel bad now...



: Naw, I meant that it overrode his regular limits and not anything bad about it.
Grade: A

Body
Build: Rika's body is something special. I mean, she's loli, and because of that I "shouldn't" be attracted to her. Not that there's anything wrong with that, I just mean that due to other tastes I have, it wouldn't make sense to be attracted to her. However, Rika is probably the most attractive loli I've seen thus far. She's got a pretty good body, as shown in the first Rei episode. She's small and compact as well (which means she's easily carried).



: Incidentally, it also gives her a -4 to resist grapple checks!


: Fool, no one actually READS the grapple rules! Besides, tripping is a much better combat maneuver...

Anyway, as said before her moment to shine is definitely the first episode of Kira, where she washes a window. With her BUTT.


: Not one of my proudest moments....
And what did my friend say in response... Oh yeah..."DELICIOUS RIKA BUTT GRINDING <3<3<3 "
So overall, while she doesn't have a body that appeals to my more mature tastes, I still like it for what it is, and she's definitely attractive.
Grade: B+

Breasts: .....


: Don't say a word...

.....
........
..........
...........

[center]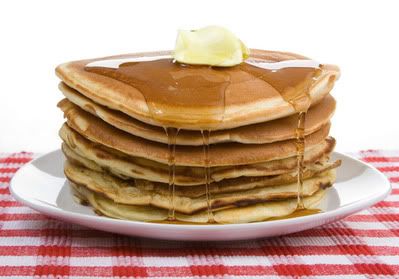 [/center]


: I WILL FRIKKEN BEAT YOU WITHIN AN INCH OF YOUR LIFE WITH A CHAIR FOR THAT!


: I guess a picture is indeed worth 1000 words....

Grade: D

Clothes: Unfortunately, the school in Higurashi doesn't enforce a uniform like many other schools (then again, it's a fairly rural town, so it's explainable). This means that she doesn't have a school uniform. However, her normal attire is fairly suit-like (consisting of a white button-up shirt, black overalls and skirt, and red bow tie. As said before, I do like ties but prefer neckties. On the other hand, she doesn't have the "reasons" I like girls in neckties, so it's more forgivable.) She's adorable in this outfit.

However, due to penalty games and the like, it's not the only outfit she's worn in the series. As I said before, in Rei she has on a fairly skimpy pink bikini, but other official works are better due to her wearing suzumizus (always a great look for girls who... aren't mature enough for bikinis, to say the least...). She's also worn the Angel Mort outfit (though the front was a bit loose...), a maid outfit, a gym uniform (red bloomers!), and even a cat-eared nurse. A lot of her art gives her cat ears, which is adorable. Also, in the upcoming Kira episode she'll wear a magical girl outfit. And I can't finish this without talking about her miko or sundress outfits, both of which are adorable as well! Her sundress is probably the biggest weak point, as while her other outfits are DEFINITELY fetishy, just having her propped up wearing just the sundress (as in, she's barefoot while wearing it. She's probably wearing panties, after all) sleeping against me sounds like a great event. Especially if one of the straps is ever so slightly falling. off....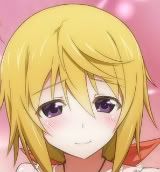 : TOPAZ NO ECCHI! See, this is why Rika is your lolicon taken form!

.....My mind works in logical yet mysterious ways...



: Indeed, now you and those... things.. get out of here. It's my birthday, and unless you want me to shipskin them I'd suggest you leave.

I could stand watching that...


: I WASN'T BEING SERIOUS!
Grade: A

Mind
Personality: Now for the meat and potatoes of the blog!


: *Picks up Rika*



: HEY! Put me down!

I didn't mean it like that, Topaz!


: Oh, er. My mistake then *sets Rika down*

Anyway, Rika is pretty much the main protagonist of Higurashi. She's a miko, and is revered by villagers as the heir to the shrine. Her parents unfortunately are both dead, and she lives alone except when Satoko is over (and excluding Hanyuu, but I'll get to that later). She's a quiet and nice girl as well, definitely a good choice for me. She even uses sound effects as words (hence the "Nipah" smile which is adorable). She's overall very cutesy.

However, how much of that is obscuring her true nature is unknown. As we find out, she's lived through hundreds of time loops and is living the same week over and over again. She's the only one that retains  knowledge of these loops, with the exception of Hanyuu, but my blog on her will explain about her better. Rika eventually becomes very defeatist and pessimistic due to all the time loops that she has died in. However, she becomes encouraged by Keiichi's optimism, and eventually with the help of her friends she breaks free of the loops. She's also the queen of the virus, and her death means the destruction of the village. She's a jaded girl with a great background that explains it, and for that I greatly respect her.

Plus she's adorable!

Oh, and we can't forget her voice. Yukari Tamura is a great voice actress and I love the way she does Rika. Her cutesy side is a lot lighter than her more serious and jaded version, as it should be. I especially love her Character songs in this voice.
Grade: A

Libido: It's not very obvious, but she can probably be perverted. Especially in her "older" form I could see her being like that. She also has a "cute" crush on Akasaka, but it's not too serious. And there's also the admiration of Keiichi, though most girls in Higurashi have that so it's not that surprising either. Overall, she's mainly seen as a cute innocent girl (that may or may not be hiding a dangerous pervert). She does have an interesting reaction to a certain "scene" in Kira, but that's largely non-canon.
Grade: C+

Age: Due to the centuries of time travel loops, she's mentally very old. However, she still has the body of a 13-14 year old girl and I'd feel odd being with her...
Grade: C

Total Grades: 74
Average score: 8.1
Final Grade: B

So you see, it's not that bad to have a blog done about you.



: Indeed, but it's still pretty exciting. I feel a bit tired by going through it. I'll sit down right here...



: NO! DON'T SIT THERE!

*Squish*



:... Why did I just sit on cake...



: Er, I didn't put that on the chair because I was eating it....

Don't worry Rika, I'm sure that someone will enjoy it...



: Your friend is a huge pervert and he should feel shamed...