Example #141: Illusion
11 AUG
2011
This is the Hundred-and-forty-first week of using the "Perfect Anime Girl Sheet". Notice: This Blog may contain Unmarked Spoilers.

Today I have a special gift for a certain friend. You see, for a while now I've had a certain girl hanging around that has refused to blog herself. While I've tried to get her to let me blog about her, it's mostly been one excuse after another. And now, I bring you...

[center]Today's girl is: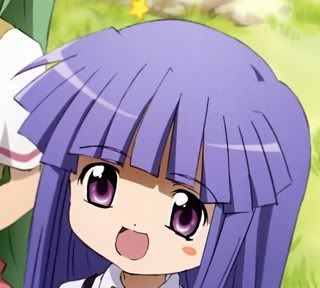 Rika Furude
from
Higurashi no Naku Koro ni
[/center]



: Wait a minute! I never okay-ed this!

Yes you did, the other day...



: Indeed, and I stand by my decision! Blog about me, Topaz!

Wait a minute!



: IMPOSTER! Who are you and why will you let this fool blog about me!



: I'm obviously the real Rika! You're the imposter Nipah~

Well obviously one of you is an imposter! There's only one thing I can do...



: Pick another girl?



: Blog about the lovely Rika Furude?



: NO! Well, I'll accept that I'm certainly lovely, but I refuse to be blogged about! It's just a perverted guy talking about his tastes, and I don't fit them.

I'm going to blog about you...



: Mwahahaha...



: Noooo!

After I cast this spell! Go forth Dispel Illusions!



: Wait, my illusion! Noooooo....




: Well, I hope you're happy.


: Uuuu... I was hoping I could trick him.



: What do you think you are, some kind of monster that lives in a pocket or something?


: I'm actually a fox deity.



: Yeah right, and I'm a queen of an ancient biological weapon...

Ladies ladies, it's time to get on with the blog. So, in reality...

[center]Today's girl is: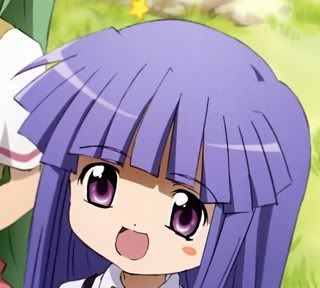 Chizuru Minamoto
from
Kanokon
[/center]

Head
Hair: Chizuru has very awesome hair. It's long, black, and great for me. She has two antenna, which further makes it better. Not that it's necessary, but it's like a bonus. She has air intakes as well (the style of hair where she has "triangular" holes in her hair). She does have a few hook-type styles as well, but I don't mind those either.

No, what makes her take a penalty is her spirit form. Much like a Saiyan, her hair turns blonde when she transforms. She also gains fox ears, and that's where the metaphor ends. It's not like I mind her hair, it's just... Well, let's just say that it's the first thing in a long list of things that I like about Chizuru that gets taken away...
Grade: B+

Eyes: She does have very nice sweet eyes. I do like this style of art, it's one of my favorites. Her eyes are a purple/blue color, and I do love dark colors. It's a gorgeous combination in my eye tastes. She's also certainly seductive with her eyes as well.

She DOES wear glasses at one point, to make herself look teacher-y, but that was in the middle of the "sealed" arc (I'll explain more about that). It was a minor scene as well, so it's easily missed (like I'd miss it, though). Unfortunately, even in the DVD specials and OVA she doesn't seem to want to wear them again...
Grade: B

Face: Kanokon is made by Xebec, and was the first series they did in their "fluffy" art style. Well, it's the first one as far as I know... Due to this, Chizuru has a very cute puni-style face. I love it, especially as they don't draw things like noses.
Grade: A

Body
Build: Chizuru's body is EXTREMELY SEXY. She has large breasts, a tiny waist, and wide hips. She's very generous with showing it off as well. There's also a meme where she offers her "delicious cake" to Kouta, the male lead. The cake is actually her butt, and it certainly does look plump and delicious... So do her thighs for that matter. She does get tanned in the beach episode/special, but it doesn't stay for long (it does look good, but I'd rather have her light skinned). She also gains a yellow fox tail in her deity form, but it doesn't spend enough time in that form to be much of a difference.

Oh, and I should mention that sometimes she possesses the body of the male Kouta, so I should consider that as a small problem. On the other hand, he's a cute small boy with the voice of Mamiko, and he only gains whiskers and fox ears/tail when transformed, so it's not much of a problem. Well, I suppose there's the whole "sexuality" of myself that gets hurt, but he is still adorable...
Grade: A

Breasts: Now, you might look at my score and be puzzled. How can a girl THIS busty not get a great score? She certainly is busty, and perky as well. She's a bit too busty for her body shape in my opinion, but I don't mind. The word "Melons" could certainly apply for a reason, though. Overall, a great pair for my tastes. Not only that, but she LOVES to give Kouta a "Marshmallow Hell" as I've heard it called. That is, he's about the right height that every time she hugs him (almost all the time, if she had anything to say), his face lands RIGHT BETWEEN HER BREASTS! I'd love to be him /jealous.

Now why would I give this wondrous girl such a poor score here? Well, first off some art (and official art as well) tends to make her appear with large nipples as well. but that's okay, as I'm fine with that. Also to note is that her nipples are *not* heart shaped, those are pasties that allow her bare breasts to be shown without being censored for nipples. However, what damages her entirely is that in a certain arc her power gets sealed. What makes this unusual is that this apparently includes her huge chest! She become flat until they figure out how to solve this particular problem. As a guy who likes breasts, I became seriously worried about how this would be solved. But fortunately it does (the arc only lasts 2 episodes at most). However, this does mean that I can't give her an A, unfortunately.

...Rika, what are you doing?



: ...Trying to seal her power away...

Might I ask why?



: I THINK YOU FRIGGING KNOW WHY!!!


: I think that's actually making them bigger, my little friend... Oooo <3.

*drools



: CURSE YOU AND YOUR FLABBINESS! WHERE DID THEY GO WHEN YOU WERE ME?
Grade: B+

Clothes: ...Ahem... Chizuru wears a variety of outfits in the series. She's worn a gym uniform (with bloomers), a kimono, a swimsuit, and a (cursed) school swimsuit, all of which are nice outfits. Her main is a school uniform though (I suppose "Naked" could also be valid for her most common outfit, but that's only in the specials xD). Her uniform consists of a short plaid skirt, a white undershirt, and a yellow blazer with the school symbol on the left breast. It's suit-like, which is an advantage, and has a bow tie to top it off.

There's something about her outfit that reminds me of... someone...

(spoiled for NSFW panties)
[spoiler]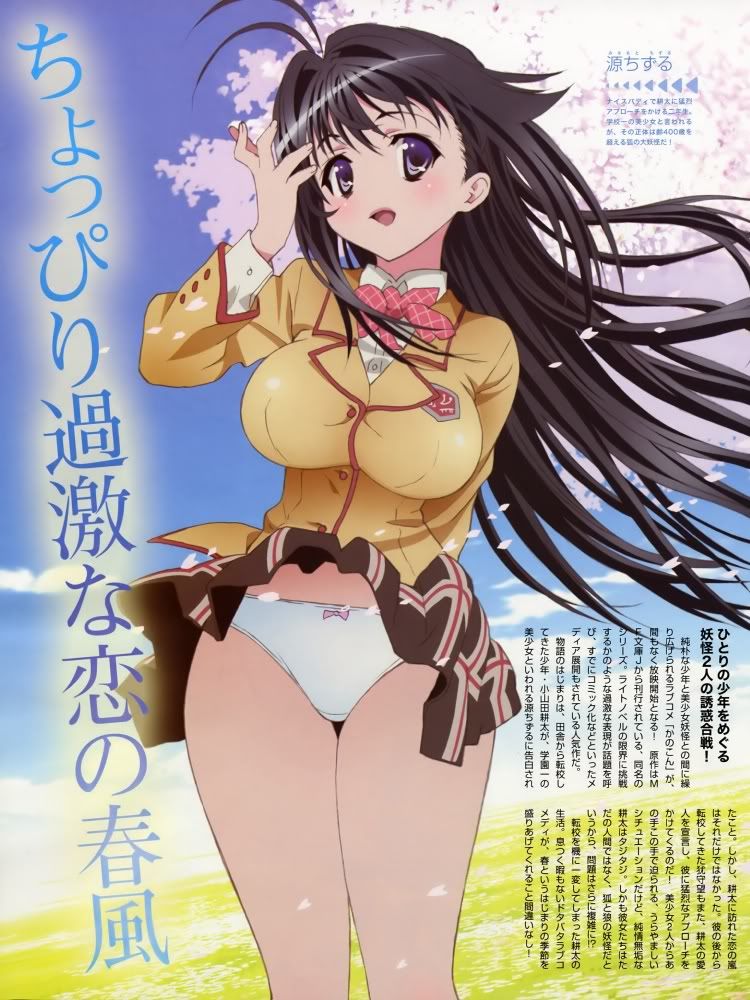 ....

....

That actually makes far too much sense as to why I like her outfit so much.

Grade: A

Mind
Personality: I'll talk about a major part of Chizuru (and the part the anime seemed to focus on) in the next area, so read that first. 

Still here? That's fine, I'll talk about other parts of Chizuru then. She's an extremely powerful spirit, and could be an actual fox deity (her mother is implied to be the one that created the Kitsune myth). She gets jealous when others are getting attention, and often pouts when away from Kouta. She also seems to have difficulty in cooking, though in the anime she has a "feed the male lead" contest with Nozomu.
Grade: B-

Libido: As I said before, this is a big part of Chizuru's personality. She's extremely aggressive in her pursuit of Kouta, and tries to "consummate" their relationship anywhere. Even in the middle of the street on the way to school (don't worry, as nothing really happens, and she puts up a magical shield to make people not look). She's a bit too aggressive for my tastes, but I definitely like Kanokon for having the female lead be the perverted one (many harems have the male lead be the pervert, after all). She also loves to "spoil" him, and gives him the aforementioned hugs (which he eventually enjoys). It's a cute relationship, and probably one of my favorites (the male being voiced by a female VA that I love may have something to do with it...).
Grade: A-

Age: Chizuru is a spirit creature, so her age is a bit unusual. She's 400 years old, but looks and personality wise she's more of a teenager. I suppose that I can still count her actual age, though.
Grade: A-

Total Grades: 86
Average score: 9.5
Final Grade: A-

Well, it seems that little ms. Illusion has earned herself an image. She's a good example of how things I enjoy can be taken away, though (unfortunately...). But enough of that, have some bikini fanservice: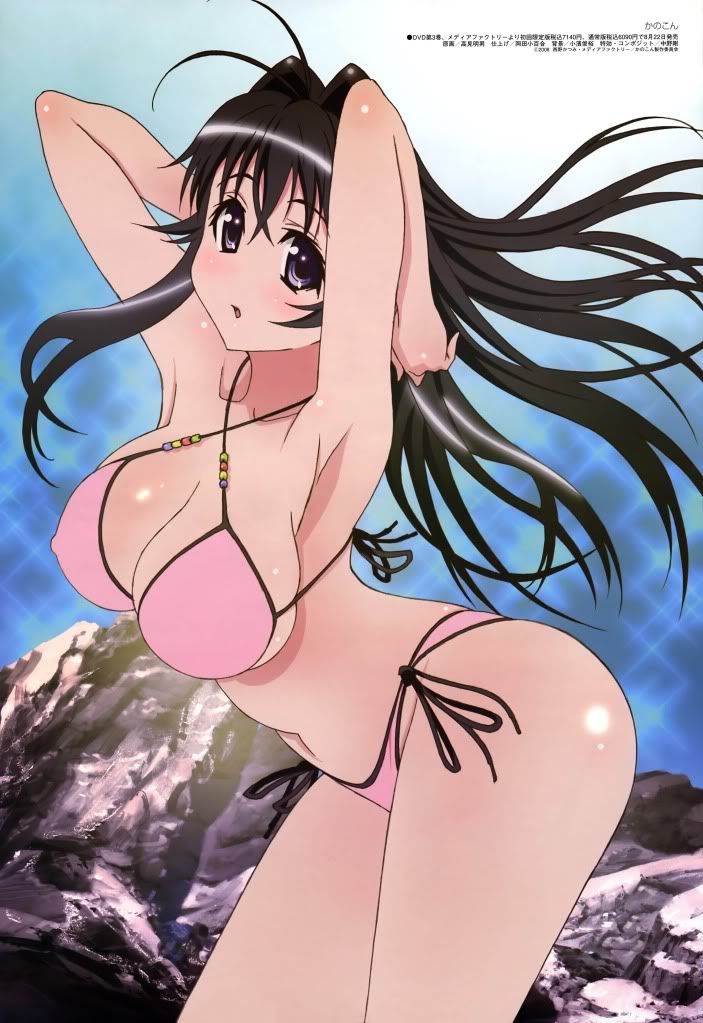 I know, I could've easily found nudity, but I'm sure someone wouldn't enjoy that...


: See Rika, it's not difficult to have a blog about you done! Just do it!



: ... I ESPECIALLY don't want to follow you, ms. flabby illusion...


: I suppose I tried, Topaz...

That you did. But who told you to come and impersonate Rika?


: That's a secret....
[/spoiler][/spoiler]