Example #134: French-fried Mecha Trap
23 JUN
2011
This is the Hundred-and-thirty-fourth week of using the "Perfect Anime Girl Sheet". Notice: This Blog may contain Unmarked Spoilers.


: OooooOOOOoooo.... This is a dream....

Merry, what are you doing?


: Setting the mood? Anyway, for the next few weeks, the blogs will have an insight into your mind... OoooOOOO...

Aren't most of the blogs in my mind? And I don't think that you need to go all "OoooOOOooo"


: Darn, it was fun. But anyway, these women you will be blogging on will have a somewhat deeper meaning than usual. They will embody something important to your mind...

So in other words, for these girls I'd "have to go deeper"?


: And to think I was proud of you for not making an Inception joke about me... Anyway, allow me to introduce the first "girl"...


:[center]Today's girl is: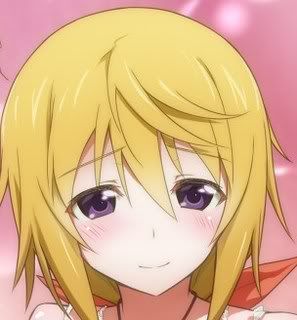 Charlotte Dunois
from
Infinite Stratos
[/center]

So what are you supposed to represent, Charlotte?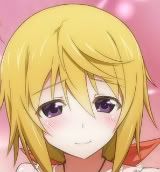 : Apparently, I'm supposed to represent your repressed homosexuality.

REALLY, Merry? I've done traps before, and Charlotte's the one you get for... Hey, where she'd go.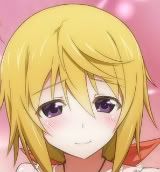 : She said that we needed to be alone for a while and jumped out the window. I hope she's fine.

But you're still a girl! How can you represent my repressed homosexuality?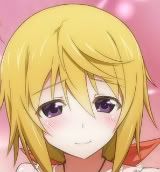 : Either the fact that you're actually a girl...

I think that ship's sailed already...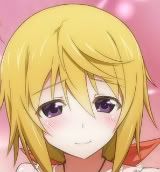 : ..Or more likely, as I'm a product of your mind, it's because you think that all characters, outside of a few archetypes, could possibly be female.

Hmmm, that is definitely my beliefs. So, how shall we continue.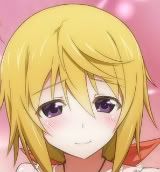 : I think we just do the blog as normal, and that all of this is an elaborate plot to make it more interesting for the readers.

....Curse you being a product of my mind and thus able to know my plots...

Head
Hair:  Charlotte has blond hair, which is usually a downside. However, I don't care, even if my preference is for darker hair. Her hair is just that cute in general, so the color is ignorable. It seems that it's short at first, but that's only because we don't see that it is tied with a ribbon behind her as part of her "boy" disguise. It's about waist long, and is very beautiful when it's untied. Not that the ribbon makes her any less cuter, of course. She also has a sort of "wave" in her bangs, making her look even more boyish, which is also cute.
Grade: A-

Eyes: Her eyes are very submissive. Extremely attractive, I think. They're also a great purple color, and are just cute in general. She does have large eyebrows, but they're not that distracting and just add to the cuteness. As far as "cute" eyes go, Charlotte's got some of the best (as opposed to "cool" eyes, which is more Minami's trait). I might even say that she's perfect, so she'd definitely get a huge bonus if she wore glasses.
Grade: B+

Face: She definitely has a cute and wonderful face. Such a cute art style, and a small nose definitely helps. She has a slight blush, and a wide smile (and smiles often). So ADORABLE!
[center]

SO ADORABLE FJLSJKA:JWFKJA:!![/center]
Grade: A

Body
Build: For a reverse trap, Charlotte is definitely surprisingly attractive. Even while hidden as a boy, she has a sexy body. She's definitely got a great body, though not overly "curvy" as some would say. Still, I'd take her xD.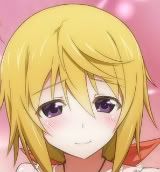 : Topaz is a pervert... (Topaz no Ecchi...)
Grade: B+

Breasts: Again, this is probably something most reverse traps don't have. She's about average in her universe (out of the main five girls, she's in the middle). She is busty, but without being distracting or too big. Unfortunately, while spending time as a guy she had to bind (?) them, making her look flat. I still have no idea where they went xD.
Grade: B

Clothes: The outfit that we see her in most commonly is a white uniform. It consists of a white jacket and shirt with a tie (though unfortunately the wrong kind (tied rather than a necktie)). She also wears shorts underneath (regular shorts I should specify. After all, I have done Strike Witches girls, so...). Her stratos gear consists of a combination of a black skin-tight half-shirt and shorts. In the beach episode, she wears a very sexy yellow bikini and a matching sarong. And for the people who like cute things, she's been seen wearing a pair of Frog pajamas and strawberry-patterned underwear. Overall, while she doesn't hit many of my true fetishes, it's hard to not be turned on by Charlotte's outfits.
Grade: A-

Mind
Personality:  As I've said, NUMEROUS times no less, Charlotte is a reverse trap. She came to the school to learn to be an Infinite Stratos pilot as a guy (guys cannot drive them, with the exception being the protagonist), so her entrance got a bit of fanfare. It soon becomes revealed that she did this by order of her father, who owns his own Stratos factory that is losing money. Not only that, but as an illegitimate daughter she was raised far away from him and didn't meet him until her mother died. Because of this, she was sent to the school as a guy for publicity matters. However, she exposed the truth a little too soon. I don't mean when the guy walked in on her showering, I mean the more public reveal soon after. I would've rather had her continue to be a trap...*sigh*.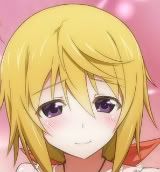 : So you would've rather me stayed as Charles, then?

At least publicly, and be a sort of trap-dere and only be "girly" around Ichika (the male lead). There could even be plots between the two (I wanted to see one where "Charles" has to fake having male parts).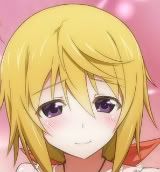 : And you wonder why I represent your repressed homosexuality now?

... Dang, you've got me there, I suppose...

But to get back to her personality, she's a very sweet and quiet girl. She's definitely the type that is hard to hate. She's just so adorable, and Kana is even her VA so I love it even more! She can't use chopsticks (she is French, after all), so the male lead has to feed her (which is sooo cute). I could make fun of her name (namely the fact that "Char" is a fairly big name in the Gundam industry), but I won't. She's just a hug-gable type of girl.

The type of mecha/stratos she uses is a Rafale Revive Custom II IS. Now, to those who don't know Infinite Stratos this isn't a big deal, but those that have know how impressive this is. To elaborate, she drives a Generation 2 IS. Most of the other girls have Gen 3 IS, and one even has a Gen 4 prototype. AND CHARLOTTE KEEPS UP WITH THEM. Despite the difference in technology, she's just THAT impressive in battle! So not only is she a cute and shy girl, she's an accomplished fighter as well!
Grade: A

Libido: She's pretty low here (Ichika no Ecchi, after all). Once she gets revealed, she starts getting closer to the male lead, and it seems to be quite the loving and caring relationship. Probably his most "normal" one. Though, as male leads often are, he's completely dense about love.
Grade: B-

Age: Since she's in the same class as the fifteen-year-old male lead, I can only imagine that she's also fifteen.
Grade: B

Total Grades: 83
Average score: 9.2
Final Grade: B+

Ugh, I suppose that they just didn't want you to get an image, Charlotte. But because I make the rules, I can always bend them a bit.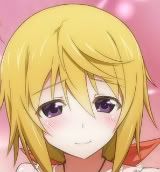 : *blushes* Topaz no ecchi!