Example #129: Main Star of Fuso
19 MAY
2011
This is the Hundred-and-twenty-seventh week of using the "Perfect Anime Girl Sheet". Notice: This Blog may contain Unmarked Spoilers.

After a short break for the week of Mother's Day, it's back to Strike Witches month! Who else better to describe today than the main star of the shows?

[center]Today's girl is: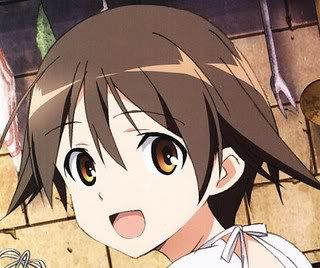 Yoshika Miyafuji
from
Strike Witches
[/center]

Head
Hair:  Yoshika has short brown hair. It kinda looks boyish to me. She also has odd "fins" on either side of her head. They make her hair look wider than it is, and though they are cute I want to see them clipped down for comparison's sake.
Grade: B

Eyes: Her eyes are very cute and expressive. They're a light brown/golden color. She does have a bit of Tareme, so she looks somewhat sad or innocent most of the time. She has quite nice eyes.
Grade: B

Face: She's youthful and has a fairly constant blush. Such a soft looking face as well, I love the puni style. She's adorable!
Grade: A-

Body
Build: Yoshika's main problem in this area is that she's definitely a loli. Not like a overly youthful one, but the kind that are in their teens but haven't quite developed yet. Puni is always appreciated, though. And to her credit, what she does have is a delicious lower body. I mean, just look at that BUTT! (may be NSFW).

When she transforms, she takes on the properties of a mame-shiba, a type of dog. Now, I may not be a dog person, but this also means that she has pointed ears and a short, but thick, tail, so she could be mistaken for a cat. Well, the ears, at least.
Grade: B-

Breasts: While she does not have large breasts, it's probably for the best. For one, with her build they would look bad. Second, due to her clothing choices (see below) a flat chest is as fanservice-y as large breasts would be. And finally, if she did have large breasts, she'd spend all of her time fondling them (joking of course). Unfortunately, I have to grade her based on my overall ideals rather than completely objectively. Happens in these blogs occasionally, and I do feel bad.
Grade: D+

Clothes: Yoshika's main apparel consists of a sailor schoolgirl top over a suzumizu. That's it. The suzumizu is her underwear, and she doesn't even wear anything protecting her legs or bottom. So in other words, she's got a fairly sexy outfit xD.
Grade: A

Mind
Personality: Yoshika is an earnest and naive girl, though that does make for a good lead character. She is friendly, which makes meeting all the characters less of a chore and more enjoyable. She enjoys cooking, but as she likes having nutritious meals this includes natto, which I've heard is smelly and not very tasty.

Her power is to heal wounds, which is quite useful in combat. I do have a soft spot for healing characters, so she got some points there. She knew about her power due to her family line, who are all physicians that run a clinic by using the same power. Her father worked with Sakamoto, so Yoshika is often told stories by her. Her father may be dead, but Yoshika joined due to wanting to find him.

She's not one for fighting, either. She'd rather negotiate with the Neuroi than just blow them up. Not that she doesn't kill some, of course, but she does attempt parley. That's not to say that she's unskilled. She was one of the most defensive characters in the Witches, and had very strong shields. Her power starts getting uncontrollably powerful in the second season, requiring a new, improved striker unit to compensate. Unfortunately, due to plot reasons she does lose all of her magic....

Technobabble: She carries a 13mm Type99 Machine gun along with a M712 in battle. Her Striker Unit is modeled after the A6M Zero and she is based on the ace Kaneyoshi Mutoh. Due to events in second season, she gains new Striker, J7W1 Shinden, based on Kyuushuu J7W plane.
Grade: B+

Libido: She's only "secretively" perverted. She did enjoy getting a love letter from a male, but her commander forbid them from meeting. As for the other hand, she does have a lot of er, "interesting" scenes with her roommate. Not like pure yuri, but breast fondling and ogling are common. Let's have her speak for herself (spoiled for length):

Let's start with something simple: What do you think of last week's May 5th's girl, Mio Sakamoto?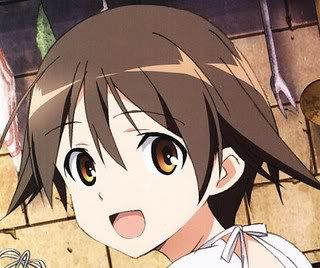 : "Sakamoto-san? She's kind, but can be pretty strict sometimes. She told me about the work my father had done, and I'm very grateful for that. Although it surprised me when we met for the first time and she told me that "I would come to her sooner or later"!"

And what about your roommate, Lynette Bishop?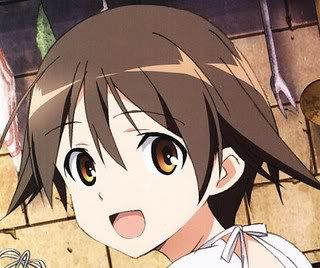 : "Other members of the unit? Lynne was the first friend I made after coming here to Britannia. She showed me around in the base and was very kind! That made me happy... And... that big bosom.... wah! Nothing! It's nothing!"

I see, what about the girl in glasses, which is one of my personal preferences?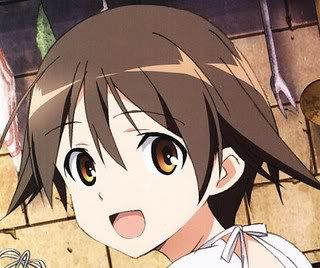 : "Perrine? Yes, it feels like she's always mad at me. I wonder why...? I know I make a lot of mistakes all the time, but I still don't think she has to be that hard on me... Sakamoto-san told me being strict on someone is a way to show you have hopes for them, but I wonder..."

I don't know if you know this, but I live in America, or "Liberion", as it's called in your universe. And I happen to know that one of your allies also comes from that are. I believe her name is Charlotte, though I've heard she's called Shirley to her friends.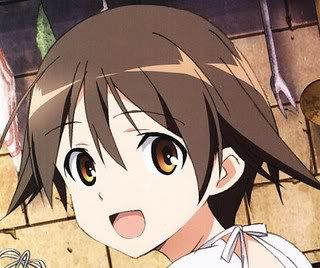 :"Shirley is a really kind person! She seems kind of slack, but I think she actually really looks after everyone. She's bighearted and broad-minded... What? I'm not talking about her breasts! But... well... they sure did feel nice..."

I believe that that's all we have time for, and I'm sure that the readers have a fine idea of your... companions, let's say. And for those of you who are skeptical, this is indeed her words
Grade: B

Age: She is only 14-15.
Grade: B-

Total Grades: 71
Average score: 7.9
Final Grade: B