Example #237: Melancholy of a Samurai Girl
13 JUN
2013
This is the Two-hundred-and-thirty-seventh week of using the "Perfect Anime Girl Sheet". Notice: This Blog may contain Unmarked Spoilers.

*Topaz runs onto a sidewalk and attempts to catch his breath.* Phew... Well, that should be far away enough to make Topaz forget that she was mad at me. And welcome back everyone. Last week we looked at Irisviel von Einzbern, but when Topaz, my assistant, began to question me on other girls from visual novels I decided to make a break for me. I'm not good at beating them, if you couldn't tell. Now the question is more who I want to do for this month...

*A cute cat crosses Topaz's path and lets out a meow.*

Aww, how cute. *reaches down to pet it.*

???: Hut One! Hut Two! Hut Three! HEY LOOK OUT!

What?

*The unknown girl crashes into Topaz, her breasts pressing on his face and knocking him to the ground. Luckily the cat is still safe.*

mmmph! Who are you?

???: I am...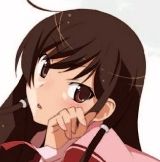 : Kusunoki Kasuga, of the Kasuga dojo! Mai High's Sapphire Princess!

Wait, a "Sapphire" Princess? Well, I'm Emperor Topaz! It seems that fate has brought us two gemstones together so that we can make sweet jewelry together...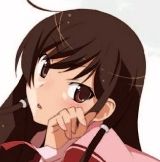 : Nonsense! You're a pervert, aren't you! *Kusunoki moves back, getting off Topaz's body. He then gets off the ground and brushes himself off.*

Well, it's not a lie that I am, but in this situation I shouldn't be blamed!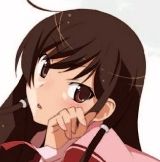 : Well, I suppose that I was running absentmindedly, but you should have seen or heard me coming!

Sorry. I was distracted by this cute cat *points*.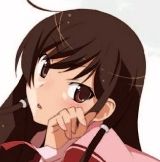 : I see. No wonder you're so weak then, being easily distracted by cute things!

There's no reason you can't be both strong and like cute things! I'm a bad example as I'm not very strong, but no one should deny another things they like. And one of those things I like are cute girls!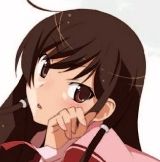 : Cute girls?! You ARE a pervert, aren't you! *Kusunoki pulls her arm back, getting ready to punch Topaz.*

Listen, just let me do today's blog on you. Then you'll see that I'm not really all that perverted!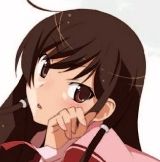 : I'm not too sure about...

I'll let you pet this kitty! *holds up cat and smiles.*

Cat: Myooowwww.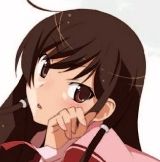 : *blushes* W-well, since your hands will be busy with your... blog, was it?... that this feline shall need some types of distractions herself. Hand her over!

How could you tell it was a girl without even holding her? *hands cat to Kusunoki*.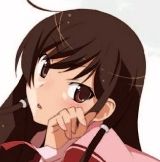 : Er, Martial Spirit, of course! But enough of that, it's time to start your silly blog!

That's correct, so let's get started...

[center]Today's girl is: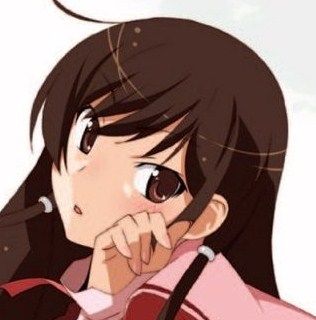 Kusunoki Kasuga
from
The World God Only Knows[/center]

Head
Hair: Kusunoki has long hair, and it's almost always kept free. It's actually a bit surprising as many martial artists or honor blades usually have their hair in ponytails, but Kusunoki is a good exception. It even spreads out nicely behind her back. Speaking of the back though, I'll mention that her hair is so long it reaches past her waist. It's also a nice brown color, one of my personal favorite hair colors. She also has beads (or something similar) in the hair behind her ears, bringing it forward into miniature tails. Her bangs are nice in both versions, leaning more to her right, but I prefer her manga hair (as it looks "solid" in a way). Finally, I'll add that it looks really soft. It might just be the sheen in images, but it looks like it would be really cool to run my fingers through it.
Grade: A

Eyes: Kusunoki's eyes were originally much fiercer, but as her arc went on they got softer and more gentle-looking. Though "gentle" for her, at least. She still has a tsurime but the slant becomes more curved (or maybe it's more curved in the anime in general). As an additional bonus, her eyes are brown like her hair. A really nice, dark brown that meshes with black as well.
Grade: B

Face: Like many characters I've been doing lately, Kusunoki's face has an art style that I approve of. The lines are soft, her cheeks are gentle and only partially pronounced. Her nose is also really small, making it nearly unnoticeable at a glance. In series she's also known for her beauty, and I agree. Though I'll add that she doesn't look much different from the other characters, but it's not a bad design.
Grade: A

Body
Build: Kusunoki's body, on paper, is pretty stellar. She's 175 cm tall and weighs 55 kg and her measurements are 89-57-90. One interesting fact is that she's ever so slightly taller than the male lead Keima (at 174 cm) and I like when the girls are taller. Her legs are alright, but could be better or emphasized a bit more (and I also wouldn't want to get on the wrong side of them either). She's also very strong yet still has a feminine body which is something I appreciate. She's so strong that she can punch holes in bricks without otherwise cracking or breaking them.
However, SEEING her body is another thing. As I'll talk about later, Kusunoki often hides her shape in clothes. I would have liked to have given her a higher score but I don't recall her showing off her 90 cm (and thus slightly larger) butt. There IS a shower scene, but it is only a single panel and the scene is in an arc that hasn't been adapted yet.
Grade: B+

Breasts: At 89 cm Kusunoki is one of the bustier girls in the series. And she isn't one to hide it either. While the rest of her body is (mostly) ignored, her breasts are almost always front and center (well, more like one left and one right, but that's a poor joke and I feel bad xD). We haven't actually seen her nipples as this isn't that kind of series, but what we have seen makes me very pleased. Also, when sparring with her sister she makes the comment that Kusunoki may have been off-center due to her breasts getting bigger, but as they hadn't seen each other in years the measurements are likely the same as the official data. Though I wouldn't mind her having a 90 cm chest as it's a nice round number.
Grade: A

Clothes: As I said prior, Kusunoki's clothes are her main problem. She commonly either wears a martial artist outfit or her school uniform. Her martial artist outfit is just a white gi with a black belt and is easy to move around in (presumably). I'm not a big fan, but I understand why she wears it. The school uniform is one that I'm not a big fan of either. The uniforms are red sailor-like shirts with a pink collar and undershirt (both are long sleeved) while the skirt is a short one that's more of a raspberry color. There's a gold badge on the left breast of the shirt as well and a pink ribbon in a bow around her neck. She also wears regular tight socks, which is unfortunate as both pantyhose or thighhighs would make her legs look better.
She has a few rare outfits that are better. The dress that Elsie (another character) lent her is very frilly and feminine, but I'm not a huge fan of it. I understand what they were trying to do, but I don't think it looks especially good on her (a more low-key feminine look would probably work better). Probably my favorite outfit that I've noticed is when she's in the locker room changing and has on her school skirt but is wearing what looks like a dress shirt on top. It looks sexy without being overly so.
Grade: C

Mind
Personality: Kusunoki is essentially mixes the archetypes of a tall dark beauty, a martial artist, and an upperclassmen all in one character. While this sounds generic, know that The World God Only Knows is VERY trope-based and relies on easily understood characters in odd situations.
If you're not familiar with any of the terms, let me explain a bit. Kusunoki is pretty, tall, dark-haired, aloof, and imposing. Because of this, she has both admirers and people who fear her. More importantly it also means that I really like her personality though. She also She does seem a bit of a tsundere (which was also played up more in the anime, putting focus on her actions and blushing) but I wouldn't say that she is one. She does smack around Keima a bit, but that's not that unusual. She's more of a tomboy than anything else.
In fact, calling Kusunoki a "tomboy" is probably the best way to describe her. She shut out all "cute" things in her life and focused on her martial arts. This is because her elder sister pretty much abandoned her family's dojo and she wants to be good enough to defend it. She is, of course, and later on in the story she proves herself to her older sister Hinoki. She does feel a lot of pressure to be masculine (though she doesn't use "Boku" unfortunately). However, as Keima started to court her (to get rid of the lost soul that took residence in her heart) he had her start acting more feminine. This includes doing things like going on dates with him while wearing dresses! Eventually she even faces her feminine side (literally) and eventually realizes that she can be both feminine and still be a martial artist. Probably the best symbol of this are a pair of scenes: in the beginning of her arc she nearly throws a cat out of her sight (literally, once more) as she had the mentality that cuteness leads to weakness, but when we see her again (during her older sister's arc) it's seen that she's come to take care of the poor stray. She's finally able to like cute things like cats now.
Kusunoki's voice actress is Ami Koshimizu. While I wouldn't call her one of my favorites she does voice a lot of characters that I like (Kusunoki of course being one of these). I do prefer the medium-pitch masculine version more than the higher-pitched feminine version. That shouldn't be surprising, though. I do appreciate giving her some difference
Grade: A-

Libido: Kusunoki wasn't interested in love at the beginning. It took a bit of work from Keima to open her up on the idea. Luckily it wasn't as bad as he was imagining as he didn't have to defeat her, just became her pupil. However, after all that work SHE was the one that had him go on a date with her. She even shared an ice cream cone with him. However, her memory was formatted due to plot and she forgot most of their romantic interactions. She has some feelings still but not as strong (though she does seem jealous when Keima is going after her older sister Hinoki. This might be both parts her feelings for Keima as well as her idolization of Hinoki).
Grade: B

Age: Much like Saeko and Ikaruga before her, Kusunoki is a senior/third year in high school and is a full eighteen years of age. Also, for added padding her birthday is April tenth.
Grade: A

Total Grades: 84
Average score: 9.3
Final Grade: B+

And with that, the blog is complete!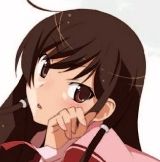 : Harumph. If it wasn't for you talking about me like some kind of meat you might have received my respect. But other than that, this wasn't as bad as I thought it would be!

Thanks for letting me blog on you then.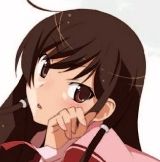 : I'll be taking my leave then, I wish you a happy life.

You too. *waves*

*Kusunoki waves as she continues to run off into the setting sun.*

*looks down* Hey, what's this?

*Topaz bends over and picks up an envelope.*

This looks important. Kusunoki must have dropped it when she ran into me. Let's see...
"All-Girls Martial Arts tournament". Yeah, that definitely sounds like something that Kusunoki would be carrying. I'd better run after her to give it back!