Example #235: I'm Wet!
30 MAY
2013
This is the Two-hundred-and-thirty-fifth week of using the "Perfect Anime Girl Sheet". Notice: This Blog may contain Unmarked Spoilers.

*Topaz continues to run from an attacking beast, panting as Himari's continues to chase him. Her eyes are bright red and her body seems to be more shadow than anything right now.*

pant pant... I've got to find a place to c-catch my breath! *continues to breathe heavily.*

*Exhaustively, Topaz takes a corner too tightly and falls into the room on the other side. Luckily Himari doesn't see the swinging door and continues to barrel down the hallway. As Topaz staggers further into the room he notices a delicious scent.*

T-this is a lovely scent.

*After saying this, Topaz falls face-first on a soft, padded area.*

???: Heh, you're like your one friend aren't you? That's my butt, it probably doesn't smell that good.

*Topaz looks at this girl he unfortunately fell on to apologize and sees an extremely beautiful woman cooking.*

[center]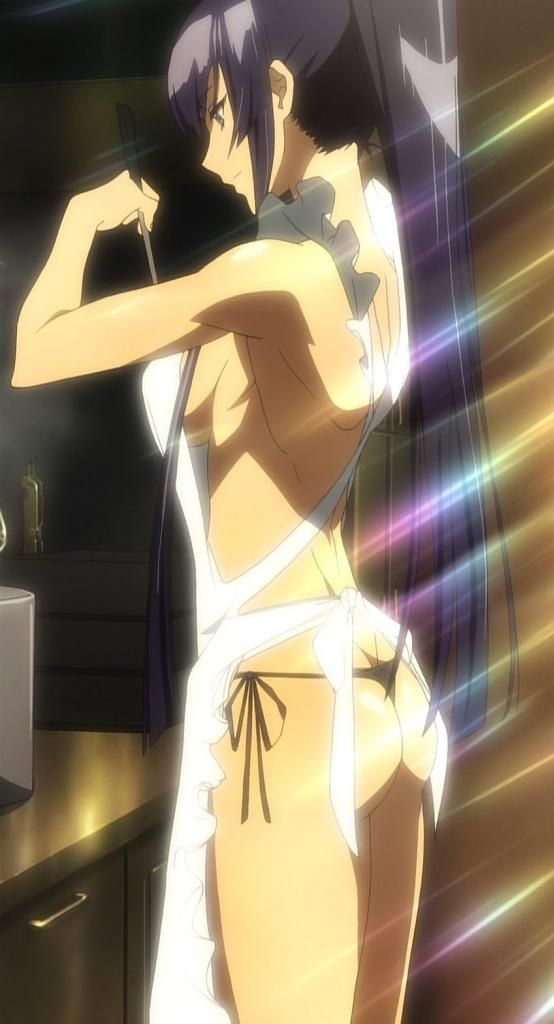 If you'd like, I'll make you something to perk you up! Though perhaps my backside is enough of a "pick-me up" for you.[/center].

I'm sorry! I'm sorry! *Topaz pulls away from the girl's exposed buttcheeks and bows for forgiveness.*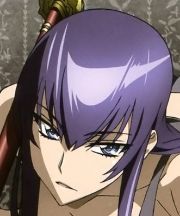 : No need to bow to me, though I appreciate it. Now, I wonder what a person like you are doing at a high school.

*Topaz tells Saeko the story involving his blog, the villains, and Himari currently going after him.*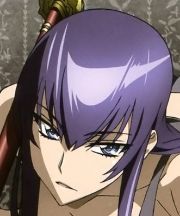 : Sounds like you've had a lot of problems recently. However, this "blog" thing intrigues me. From what I've heard it's pretty painless and actually quite fun.

Where did you hear that from?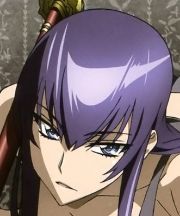 : Saya.

Well that does make sense. And really? It's been since 2011 that I had written a blog about a Highschool of the Dead girl? I suppose that it's been a while since the show aired and I'm not reading the manga, but still. With a girl like Saeko that I really like I should have done her sooner!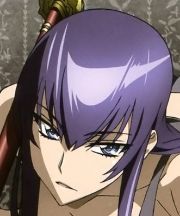 : Now is the perfect chance to correct that mistake.

You're right, and that means...

[center]Today's girl is:



Saeko Busujima
from
Highschool of the Dead[/center]

Head
Hair: Saeko has very beautiful hair. It's long, flowing, and dark-colored; all things that I'm very interested in. Her hair goes about to her waist, if not a bit further. It is also usually kept free, waving around as she goes into battle. Especially because it's a pretty purple color as well (with the anime being at least a bit darker than the colored manga). That said, there are times where she has it up. I'm not a fan of (hair) buns but with hair this long it makes sense to put it up in the bath. She is also known for having a ponytail. I don't mind this AS much, sure I don't like it as much as when she has her hair down but TDBs like Saeko can easily pull off the ponytail look so I won't complain. I will complain about her hair looking somewhat dome-like. The sheen of light doesn't help either. I can see why they have it in the first place but it makes her bangs seem too solid. Speaking of her bangs though, I'm not a fan of those either. It might be personal taste but I could imagine Saeko looking even better with a hime cut (yes, I know that my love for that hair style is eternal, but seriously. She's got all this samurai background and personality that I can see that she'd pull it off well). Maybe it's because the middle of her triangle-shaped ridge points at her nose. Her sides are a good idea, but they don't frame her face as well as they could. They seem to stick into her face. The hair directly in front of her ears is better though, going down to her chest. When all is said and done though, I am a fan of Saeko's hair even if I brought up a few flaws.
Grade: A-

Eyes: Saeko's eyes are really nice. They're very narrow but at the same time they're also fierce-looking. It's like she has a constant state of glaring at someone (though it fits her well). She also has a very noticeable tsurime, another plus. Her eyes can also look pretty seductive. Finally, her eyes are a bright blue in the manga (or at least the covers) while in the anime they seem to have been darker (much like her hair, and the colors are even somewhat similar as well).
Grade: B

Face: This is probably Saeko's weakest area. Not that her face is terrible or anything, it's just that I'm not a huge fan of the faces by this artist. As you can probably tell, he makes very noticeable facial traits, including noses, which is something I'm not a fan of. She's also known for her pink lips, at least in the manga. Saeko also has a pointed chin. Otherwise I can't think of many problems and Saeko is a pretty gorgeous girl. However, I can't say that she's A-quality or even B+. At least her embarrassed face is cute, though.
Grade: B

Body
Build: Did you see that image earlier in the blog? The one from behind, with Saeko in the near-naked apron? Do I really need to say more?
*sigh* I suppose that I should. Saeko's body is nearly FLAWLESS, and whatever small flaws she has are mostly ignored. Heading down from her head we start with her neck. While she has her hair in a ponytail we can see her beautiful nape, and even with her hair down her neck is probably the most perfect one I've noticed as far as width and height go. Her collar and shoulders are equally as nice, though you start to see the one flaw I can see Saeko having. She's a somewhat muscular girl, but in a good way as she completely retains her feminine form. Heck, in some images her abs are even muscular which isn't common in anime. I prefer a flabbier middle, but I wouldn't say no to Saeko's firmer belly. Lastly, while they aren't as focused on as other parts of her body Saeko's legs are pretty lean and have a nice shape to them, and her feet are pretty as well.
"But aren't you forgetting-" All in good time my fans. You'll notice that I didn't mention her figure at all. I was waiting until now to say anything. Height-wise Saeko is 174 cm tall (about 5'8½") which also makes her taller than even the lead male Takashi. Not by much (only about 2 cm), but I do prefer girls to be taller than the guy. She also weighs 56 kg (or about 123.5 lbs), though I don't have a preference as far as weight goes (as long as it doesn't impact the body figure itself). Now for the moment you've likely been waiting for: Saeko's B/W/H ratio is 83/56/86 and she wears a D-cup (that's about 33-22-34). Surprisingly enough, Saeko's HIP measurement is her largest. And what a hip measurement it is. In fact, I would say that Saeko's big butt is in my top five of ALL ANIME. It just looks so soft and round that I'd love to use it as a pillow. Not only that, but in the OVA her butt jiggled and twitched in such a beautiful way at one point. Even Saeko's waist seems to emphasize her backside, making her hips curve very beautifully between her chest and hips. Seriously, Saeko's butt is PERFECT and thanks to that I couldn't give Saeko anything worse that a perfect score for it.
Grade: A+

Breasts: If you don't know, despite being called "Highschool of the Dead" the series is probably known more for the busty girls in the series than anything else. At least, that's what got me to watch it. Saeko, as a female character, definitely doesn't disappoint here. Her artistically-sized 83 cm breasts look wonderful in both medias. I do prefer the anime though, they look a lot softer. ESPECIALLY in the OVA where the lucky lead gets a handful fondling of her soft breasts. There's also the bounciness and seeing them in action. It does make the "boob physics" scene look ridiculous though, as a bullet passes AROUND her breasts as they jiggle back and forth (though HotD is a silly series in general). Surprisingly, despite there being bigger breasts in the cast as far as I'm concerned Saeko is the perfect size. The others skirt (or surpass, in Shizuka-sensei's case) the limit to the size big breasts can be without looking bad. Saeko is "just right" for my tastes, in other words. Pretty much the only downside, other than her occasionally being too jiggly (as said earlier) is that we don't know exactly what her nipples look like. The OVA just gave us a short glance at them and even looking back it's hard to tell what they look like (as her swimsuit was still on, just moved slightly).
Grade: A

Clothes: Saeko originally begins with her high school uniform. It consists of a white shirt with green stripes and collar, black bow tie, and long green skirt. She does tear the skirt though to make it easier for her to move around. Underneath she wears very erotic underwear, as seen when she gets soaked at one point. Her bra is a lacy black one that not only supports her well but makes her breasts look even more delicious. By all means, I prefer that part in the anime more JUST because you can see her bra easier. However, the "real" star is a bit lower. You see, Saeko also wears a THONG. With a butt as good as she has the combination is nearly deadly. Not only that, but at one point in the series she wears JUST that thong and an apron, probably one of the most erotic outfits EVER. Though she did leave where she was staying wearing it, something I don't approve of (as it's more an outfit to wear in a more private situation). Currently Saeko wears a more customized version of her uniform, keeping the top while changing the skirt to a black one that shows off her entire right leg. She also wears a belt for her sword and female boots with heels.
Finally, there's a few temporary outfits that Saeko wears. First is a tank top, given to her when her clothes get wet. Because her bra also got wet its a great outfit and looks nice. She also wears a kimono at one point, a very beautiful blue one. There's also a variety of official art or other outfits, but really the main important one is thongapron. That trumps nearly any other outfit, but I would like to see it return as well as Saeko wearing more outfits with that much punch.
Grade: A

Mind
Personality: Saeko has many traits of a TDB. Things like being cool and collected for one, even in the face of a zombie apocalypse she acts like the mature "adult" of the group. She's also very skilled with her sword and is the captain of the kendo club (at least, when it existed). She even is able to retain her grace in battle (well, boob physics aside). At one point in the manga she throws her umbrella up, cuts a zombie and catches it again before it hits the ground. She didn't even get wet despite it raining at the time. THAT is how graceful she is. In other words, she's a TDB and an honor blade, so why isn't she higher?
Because she's not really an "honor" blade. She's more of the pragmatic and vicious type of anti-hero. She really REALLY enjoys cutting up zombies. That said, if I was in that kind of situation I'd be glad to have a woman like her beside me, but it's still frightening. She's made some attempts at learning how to use a gun (from what I hear), but her main weapon is still her sword. It helps that "they" are only attracted to noise so a sword is easier to use. The reason she likes being in combat is because she was nearly raped as a child. She was able to beat the attacker off with her wooden sword, but injured him severely and awakening the side of her that is a bit sadistic. Saeko needed Takashi's help when she felt that she shouldn't be allowed to go on as she can act mindless herself. The psycho side of her is what lost her points, but I still really like Saeko's personality. Humorously, the English dub actually pronounces her name like "Psycho" which is a pretty funny touch.
As far as voices go, I really liked Saeko's. I say "liked" as it was one of my first encounters with Miyuki Sawashiro's voice and it was a really elegant and beautiful one. It's a perfect voice for TDBs, at least in my opinion. However, now that I've seen a lot more I can't think of Saeko as being "unique" anymore. Especially because I've noticed a certain trait of Sawashiro's in that she sometimes sounds like she has something in her mouth (like marbles or something similar). Still, it's a great voice and is probably the most perfect one Saeko has. I can't say much about Taylor Hannah, but from clips I can see that she did a fairly good job (not outstandingly so, but enough to keep me interested).
Grade: A-

Libido: Saeko seems to have a fairly high amount of libido. However, she also has a sadistic side. And not necessarily in the dominant style; there is a meme where she became "wet" from fighting and killing off zombie attackers. She's the type of girl that seems to enjoy giving pain is what I'm saying, and I'd be partially scared of that.
That said, Saeko DOES have a lot of good points. She's the main rival in the romance between Takashi and Rei, even though many more fans would prefer her with him. But even if they don't get together Takashi is Saeko's reason to continue fighting.
That's also not counting the OVA, but to be fair I don't know about how canon that is, both for Saeko's personality and it's place in the timeline. It's also unknown what really happened in the shrine where she and Takashi were alone, but who knows if that has something to do with this area.
Grade: B+

Age: Well, the title is "Highschool of the Dead" and Saeko is a student. Thus, she can't be much older than- wait. You're saying that, like last week, Saeko is a stunning EIGHTEEN years old? That's right, we did TWO high school senior girls that turned out to be 18 in a row. I wish that more series gave out ages like this.
Grade: A

Total Grades: 90
Average score: 10
Final Grade: A-

Congratulations to Saeko for getting such a high score. This means that she'll be awarded with a lovely image!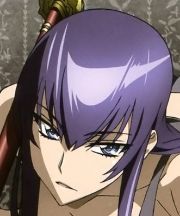 : Let me guess then, you want me to bend over and show cleavage, don't you.

As appealing as that sounds, if you don't mind I'd rather take an image of you bending over the... other way.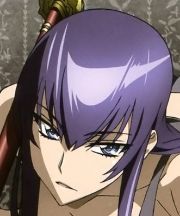 : I see then. Well, enjoy this image then!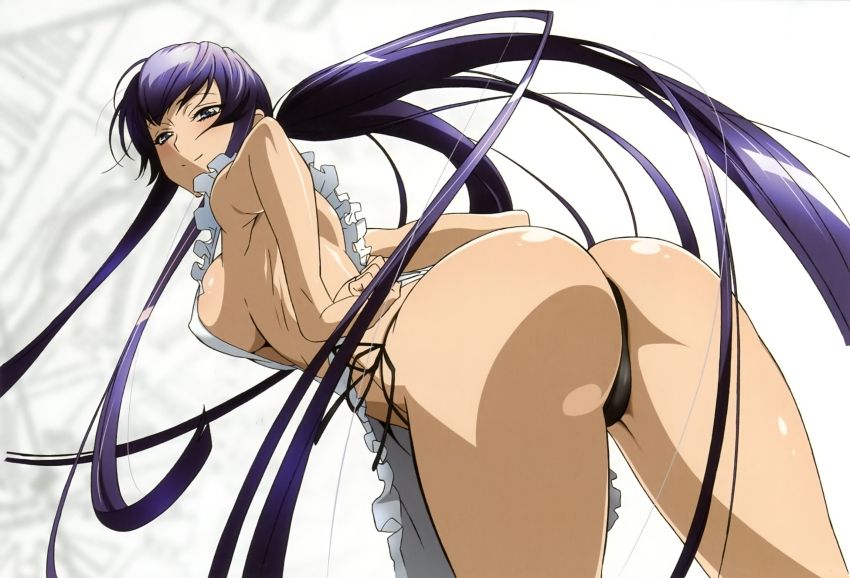 *nosebleeds*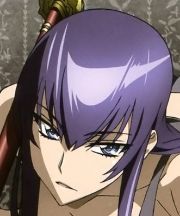 : A-are you about done? Just because I offered to show you remember I'm still a girl.

Don't worry, with a body like that it won't be hard to forget.

???: What shan't be hard to forget!

*Suddenly Himari appears in the doorway.*


: I had regained my senses by doing what I THOUGHT was pursuing you Topaz. Little did I realize that you were actually HERE, gallivanting with another busty girl! When will you learn, or shall I have to educate you?

*Saeko shoves herself between Himari and Topaz, her sword unsheathed.*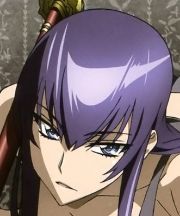 : Don't worry Topaz, I'll keep this girl away from you. YOU THERE! Himari -was it?-, I had heard that you were after Topaz so I'm here to defend him from the likes of you.


: *Draws sword* Ohoho? It seems that Topaz has found another foe for me to defeat. Hopefully you'll be a better opponent than that foolish shinobi from last week!

Girls girls! Both of you are beautiful and likable! *Topaz steps between them and spreads his arms out to block them from charging. However, his hands accidentally grasp a breast of each.* Excuse me! I'm sorry!


: I see now! Topaz doth not want to see such females like us to battle with our steel. Instead, shall we engage in an encounter of a more "carnal" nature?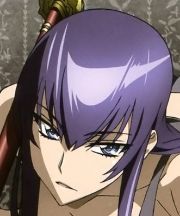 : But for me, fighting is "carnal". *smirk* But I can see what you mean. Perhaps we'll tease Topaz here to see which one of us is better. *blows into Topaz's ear while hugging him close and putting his arm around her body*.

I-I don't think that's a good idea!


: *starts hugging Topaz as well* I think that it is a glorious idea. Or art we not beautiful enough for you?

No, both of you are tall, dark, and beautiful girls...


: Ohoho! I knew you'd say that!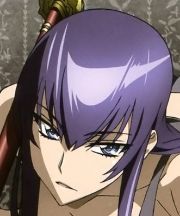 : Well then, off with THESE!

*Saeko and Himari strip the pants off of Topaz. However, he seems to disappear the minute they take them off his body.*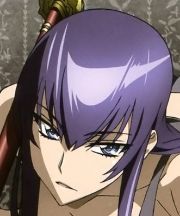 : Eh? That was unusual...


: Our target appears to have been spirited away by some type of sorcery. A shame as I'm sure he'd enjoy our sexy and busty bodies.

*Elsewhere*

*Topaz materializes in the room that Rika and Ririchiyo are.*



: That's good. At least the transportation factors are still working.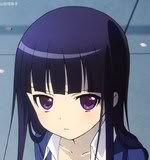 : Phew, I was worried. Though oddly enough the Topaz alarm is still going off. Are you alright, Topaz?

Yeah, I'm a little banged up and I'm still feeling dizzy from the teleportation, but both should wear off in a little bit. *Stands up*



: Well, that's good to he-KYAAHHH!!! *turns away*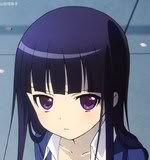 : What is it Rika? *turns towards Topaz* OH! TOPAZ! *covers her eyes.*

W-what happened?

*Riri pulls her glasses out of a pocket and puts them on.*


: Hey, IDIOT. Did you forget you're standing there in your underwear, or are you just "happy" to see two of your favorite lolis.

OH GLASSES! I forgot! *covers crotch and runs out to change*


: *sigh* That pervert...
*takes off glasses.*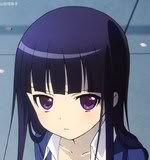 : (under breath) I'm just glad to see him alright...



: That's it for this week folks. Join us next time when Topaz finally gives out a "mother's day blog"!