Example #220: Bear-able Meganekko
14 FEB
2013
This is the Two-hundred-and-twentieth week of using the "Perfect Anime Girl Sheet". Notice: This Blog may contain Unmarked Spoilers.

*Today's blog starts out in a field of flowers.*

E-eh? How did I get here?

???: Tooooo-paaaazzz...

*A beautiful girl starts running towards Topaz*


: Come! Spend Valentine's day with me!

Senne? What are you doing? Wait no, I'm asking too many questions. I'm coming my love!

*Topaz runs towards Senne, eventually hugging her busty body.*

I love you Senne! You're a perfect waifu for me!


: I know, dear Topaz. I could hold you forever! In fact, I'll hold you tighter so you can never leave!

*Senne hugs Topaz tighter into her large cleavage.*

S-Senne... I can hardly... Breathe...

*Suddenly a terrible odor whiffs across Topaz's nose.*

Senne, your breasts stink for some reason! But I'll love you no matter what...


: Since you've shown me such great love, how about I show you your favorite "time"...

*Senne slowly unbuttons her top. However, just as she would expose her breasts a loud CRASH TINKLE sound occurs followed by a scream of "TOPAZ!". This awakens him, though a strange adult foot in pantyhose is pressing on his face!*

Uggghh... What happened and why is this strange girl in my bed?

*Topaz tries to squirm out from underneath the woman, but beer bottles fall to the floor. He watches as one rolls over to the door. There, he sees Ririchiyo with a broken tray of food, as if she had dropped it.*

Riri! I can explain! Well, I can't, but it's not what it looks like!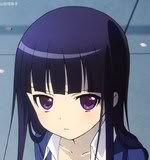 : I'm sure it isn't, but I bet that you don't even know who that girl is! She looks passed out! Y-you PERVERT!

*Riri's angry words awake the woman, who was (mostly) under the covers finally shows herself.*


: I'm sorry that I ruined your romantic get-away...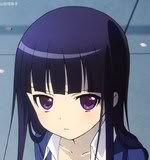 : I-IT was NOT romantic! I-I assure you!


: Anyway, I was looking for a place to crash for the night after drinking, saw this bed, and decided to climb in.

Why my bed?


: No particular reason. I suppose I was pretty assured that a man of your... "caliber" wouldn't try anything with me. Besides apparently smelling my foot.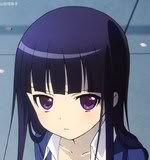 : W-WHAT! Pervert Topaz! (D-does he have a foot fetish? Is THAT why Rika told me to act so dommy?)

Well, I suppose that since Margery is here, I can do her blog today!


: *HIC* Whatever you say, s'long as you keep me drunk.

[center]Today's girl is: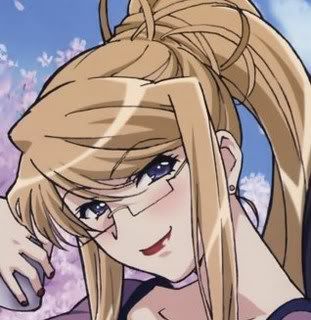 Margery Daw
from
Shakugan no Shana[/center]

???: Kyahahaha! It seems that you're finally doing my beautiful mistress, aren't you!

Who said that?

???: I did!

*Topaz looks around the room until he sees a book lying on the ground. He identifies it immediately.*

Marchosias...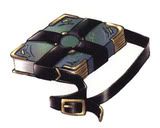 : The one and only, Kyahaha!


: And believe me, it's fortunate that I only have to deal with ONE of him.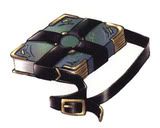 : Alas, my sweet and intoxicated mistress Margery Daw, it is I who is fortunate that there is only one of YOU.


: Shaddup! *throws an empty beer bottle at Marchosias*.

I suppose that this is as good a time as any to start this blog!

Head
Hair: Margery's hair is nice, but not as perfect as some other girls. I mean, it's long, which is always nice, but she rarely has it down. She prefers to keep it up in a high pony tail, and a neat one at that (even with her hair seeming to go whichever way, though I assume that's the style). To be fair, even with her hair put up goes past her hips AND since she's a fighter I can imagine that if she had it down it would mess with her fighting style. So I understand, but that doesn't mean that I have to like it. She's also a blonde, and while it's more of a "sandy" blond I'm still not a fan of her hair color. It is a pretty color, but it's not one of my favorites. I do like how mature-looking her hair style is, and it matches her "office worker" outfit. In addition, while her hair is up she still has long sidecurls, reaching her chest if not further.
Grade: B

Eyes: In a contrast with Riri's eyes last week, Margery's eyes are quite narrow. I still like them though. They have a nice slope to them and a very nice blue color as well. Just one look at Margery's eyes and you can see her maturity. She also wears small square-framed glasses, making her look even more mature. She didn't always wear them though, in a flashback she's glasses-free, but I'm glad that she made the decision to wear them. Even if it's purely for looks.
Grade: A

Face: Once again, Margery's face is mature-looking.


: Can't you complement me in another way? It makes me feel old. And as a timeless person, that's saying something.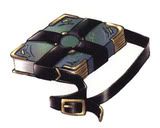 : He likely doesn't want to call you "old", my ancient yet still beautiful Margery Daw.


: Stupid Marco! *Margery punches her book*

I wasn't meaning "old" when I'm calling Margery "mature-looking". It's more something I'd use to talk about an older sister or young aunt. It's a big difference between her and Shana, after all. Her cheeks are soft looking, but they're more slender than Shana's. Margery also wears lipstick, something I don't usually enjoy but it does look good with her outfit. Her nose is also fairly notable, though this might just be due to her wearing glasses. It does seem to be a sign of maturity as most of the adults in Shana are the same way though.
Grade: B

Body
Build: Margery's body is a very beautiful one. First off, she's tall and slender (where it counts), being 173 cm tall and weighing 57 kg. She's well endowed bust-wise and has wide hips. A great example of an hourglass figure, she is. She also has long, narrow legs which are usually covered with stockings or, even better, pantyhose. I suppose that she does wear heels as well, but I'm always jealous of Marchosias as she stands/kneels on him to fly around. Her arms are about as narrow, but since they're not shown off as much as her legs I don't have much of an opinion. Though I should mention that she has somewhat long nails and I'm not a fan of those (though they're also not really something I'd look at anyway).
Grade: A

Breasts: Margery's bust is, as said prior, is nicely endowed. That said, her bust is usually covered. She doesn't bounce around too much either, though both of those can be waved as Shana isn't exactly a fanservice series. It's an action one with some fanservice sprinkled in. I've also heard that her bust is 93 cm, though I can't find any official statement.
Grade: A-

Clothes: Margery's main outfit is a blue business suit with a white shirt underneath. Then she wears a business skirt with it, complimenting her usual pantyhose. Occasionally she wears stockings and garters, but I like the pantyhose better. Unfortunately she doesn't wear a tie, instead opting for a collar around her neck. She also wears high heels, making her look even more like a business woman.
Other than that, Margery doesn't have much of a wardrobe. We do see her in a few bikinis (one strapless meaning I'm not fond of it, one other having a more stringy front (with X's) that I'm not fond of, and two other "normal" bikinis in official art that I like more). She also wears a yukata for a festival which looks nice on her (despite the fact that she has more of a Western Europe beauty than a Japanese one). That might be biased as she does bounce once or twice while wearing it. She's also been seen in very elegant white dresses, though that's more in flashbacks.
Grade: A-

Mind
Personality: Margery is a hard-drinking battle-loving character. When not battling, she's usually sitting around being lazy and drinking. The reason she cares to battle is that she "lives" for vengeance against a particular character known only as "Silver". You see, she's been a flame haze for many years and her history starts in medieval times. Her father was a landlord and eventually got killed, eventually making her end up in a brothel. She gained a chance to avenge for her misery and humiliation on her enemies, only to see them be destroyed by the Silver. Her fury from being stolen of the last reason to live had attracted the attention of Marchosias (a Crimson Lord who takes the form of a book). They have a great relationship, even if Marco insults lead to Margery punching him. It's very funny. Speaking of Marco though, Margery is a powerful spell caster, especially with his help. One of her favorite spells is to turn her into a blue (as her flames are Ultramarine) werewolf. I say "werewolf" as that's what everyone seems to think it is, but I am, to this day, thinking it looks more like a bear than anything else. Anyway, this power is called "Claw and Fangs of Violation". She also has a duplication spell, though she only seemed to use it commonly in her introduction. She also produced the bookmarks that various characters in the series use for communication or to walk through Fuzetsu (among other things). Finally, the last battle thing I need to add is that Margery and Marco tend to rhyme impromptu to cast their spells, being called the Chanter of Elegies because of it. This is probably a reference to a children's poem called "See Saw Margery Daw. In fact, it seems like she even quoted the poem (though I didn't know of the poem until I started looking up information on Margery).
As far as personality goes, I already explained why Margery might drink and like to fight so much. She's also a loner until Shana and the others come and slowly warm her up to the thought of fighting as a team. Surprisingly, for being so brash and outspoken Margery doesn't want to get close to people. She's just jaded and cynical (understandable as she's been alone for so long and probably saw many people die as a result). Though she's also mature and wise, helping girls out with love problems as well as acting similar to what an older sister would be to Shana.
There are three voice actresses for Margery (well, ones that I'd listen to anyway). I'd say that Hitomi Nabatame, the Japanese VA, is the best. That may just be because that's how I came to know her though. Anyway, the first English VA, Janyse Jaud portrays her a bit more catty or seductive than I'd enjoy. The second, Colleen Clinkenbeard, I can see myself liking more. She just sounds like a good older-sister type of voice, which is what I can see Margery as. That said, it's not like the voices don't match her either, they're all great ones. And in case you didn't know, the reason for two English VAs is due to Geneon originally having the rights to Shana but then Funimation bought it when they went under.
Grade: B

Libido: There's possibly two great "loves" that Margery had. The first, Yuri, was more of an admirer of Margery's. Their love was tragically cut short though when he used his body to shield her from a powerful rival. And yes, "Yuri" is a male. A cute glasses wearing shota, in fact. The reason that Margery wears glasses might even be due to him!
The other character that Margery is intimate with is Keisaku Satō, a "normal" human. He's her main place of residence while in Misaki City. However, due to the two spending so much time together (and Keisaku helping out as support) they eventually fall in "love". Keisaku's feelings were known from the beginning, but he wasn't able to admit it until the third season. However, this seemed like the best time to do so as it woke Margery from a coma and, afterward, they "consummated" their relationship. As far as the anime is concerned, at least. Glad to see that Keisaku got his "reward" for watching over Margery for so long. I mean that in a completely pure way, perverts.
Grade: B+

Age: It's unknown how old Margery actually is. It doesn't actually matter though, as she's a ageless flame haze. To her credit she DOES look like she's in her twenties or even thirties (I say it's more the former), placing her in a wonderful area for me.
Grade: A

Total Grades: 85
Average score: 9.4
Final Grade: B+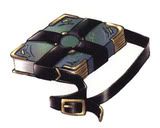 : Kyahahaha! It seems like you have another admirer, my beautiful and voluptuous Margery Daw. Perhaps he can take over for me sometime.


: That's enough from you *punch*.

Well, I suppose that it's time to call this week's blog. Hopefully you all have a nice Valentine's day!