Example #213: Bodacious pirate in a Miniskirt
27 DEC
2012
This is the Two-hundred-and-thirteenth week of using the "Perfect Anime Girl Sheet". Notice: This Blog may contain Unmarked Spoilers.

Here we are everyone. The year is once again at an end and we'll soon welcome 2013 with open arms. That said, we can't forget about everything that happened this year. While I could talk about deaths or a "apocalypse" that never happened, I'll just talk about my favorite girl of the year, one that seemed to be so directed toward my tastes that I had no other choice but to add her to my favorites on this site. That's right...

[center]Today's girl is: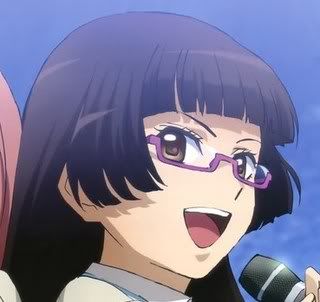 Chiaki Kuriihara
from
Mouretsu Pirates/Miniskirt Pirates/Bodacious Space Pirates[/center]

As a warning, I mayWILL fanboy. Excuse me if I do.

Head
Hair: Chiaki has wonderful hair for my tastes. First off her hair is a black color. She also has my favorite bang-style in a perfect hime cut. Her hair is just PERFECT in that way, eeee. Her hair is usually kept loose as well, which is another bonus. It is kept up or contained at times, but those are during times that having long hair would be detrimental (such as wearing a space suit). However, there are some downsides. Her hair's length only goes to her mid-back. In addition, her side-locks (I finally found a word for the hair by the ear!) don't reach past her chin. While neither of these are that terrible, together they prevent her from getting a "perfect" score.
As far as the light novel is concerned, I much prefer her anime version (Hime cuts > all). I should still talk about it a bit though. Rather than having a black hime cut she has blue hair with a part in the middle. Her hair appears a lot fuller, but again I do like the anime's beautiful hime cut more.
Grade: A

Eyes: Chiaki's eyes are wonderful too. They're brown and narrow. They're wonderfully slanted as well, making her look fierce (just how I like eyes). Her eyes COULD be taken as being too small/narrow but I don't have a problem with that. And of course, there's no way that my favorite of the year WOULDN'T be a meganekko. Chiaki's glasses are one of her strongest points, I like to think. Her glasses are purple/pink underframe glasses and rectangular. They give her face the PERFECT compliment and make her seem a lot more intelligent than otherwise. Not that I know, because as a good meganekko Chiaki NEVER is seen without her beautiful glasses. Clearly she's a girl for me.
In the Light novel her eyes are more blue while her glasses are oval shaped. Her glasses also don't have as thick of a frame so I'm not sure if you'd always notice them like you would her anime version's.
Grade: A

Face: Now you might not think that I'd like Chiaki's face that much. She's often bitter as well as being emotionless (though if you've read my blogs before you'll see that I love that look). However, that's not her only emotion. While often stoic, Chiaki becomes nearly orgasmic whenever she sees sweets (in particular her favorites are chocolate parfaits). Her cheeks flush and she gets one of the happiest smiles you'll ever see when she sees one. That look of satisfaction, I can't describe it. Her singing face is also wonderful, and THAT WINK!
[center]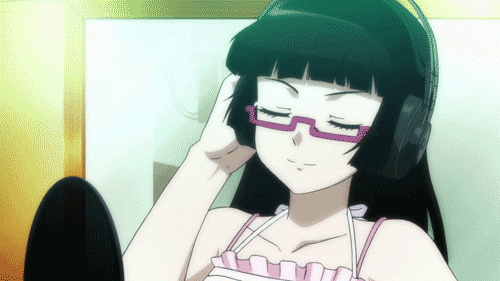 THAT WINK! I could watch that all day...[/center]
*ahem* Back to a more descriptive view of her face. Her skin is slightly on the pale side, bringing out her bold black hair well. She probably has a larger nose than what's shown (due to where her glasses are), but I don't mind the fact that she has a small nose visually. Like I said before her glasses also bring a togetherness to her face as well. Overall Chiaki has a wide range of emotions and I can't help LOVING her beautiful face!
[center]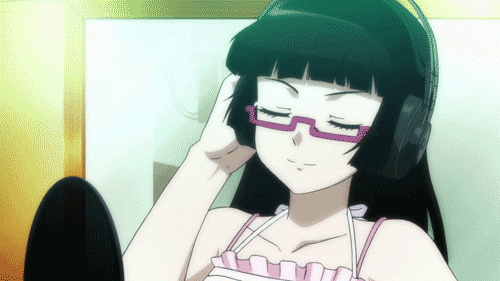 Seriously. All day. Not only is her face great but look at her hair move so gracefully with every movement of her head.[/center]
Grade: A+

Body
Build: Now we head into Chiaki's not-so-great area; her body. However, even then she's above average for a high school student. You also have to remember that Bodacious Space Pirates isn't exactly a fanservice series either. For a more "innocent" series Chiaki is pretty shapely with a modest hourglass figure. Unfortunately I can't make "pirate booty" jokes as Chiaki's butt isn't that spectacular, mainly because it isn't shown off all that much (in official art at least, fan art sure likes it). What is probably Chiaki's strongest point would be her legs. Her legs are shapely and are further enhanced by her nearly-flawless zettai ryouiki.
Grade: B

Breasts: Again, Chiaki doesn't have huge breasts. That said, she's probably "average" if not slightly above. At least in-universe. In addition, because it isn't a fanservice show Chiaki's body and breasts aren't played up as much as I would like. Though that's my perverse side talking so don't listen to him.
Grade: B+

Clothes: Now here's something stronger for Chiaki. Chiaki is mostly seen wearing a black school uniform (with matching skirt) with a green handkerchief around her neck, white collar and an emblem on the left shoulder. I re-e-eally love dark school uniforms like Chiaki wears. And as sad before, her outfit is wonderfully complimented by tight black thigh-highs. It made me sad when she started to wear the more "official" school uniform that consists of a dull white shirt, off-grey jacket with a light blue collar (and matching blue skirt), and a red bow tie. Overall I like the darker uniform more than the more "pastel" normal outfit. As seen she also wears a more feminine outfit while "singing", but I'm not as big of a fan of that either. When on duty aboard the Barbalusa, Chiaki wears the standard Barbalusa uniform without the cap and mask. It's effectively a green space suit and it isn't that flattering to her figure. She does have a pink bodysuit that's more skintight though. While in "pirating" mode she's also dressed up as a miko (with red pants) as well as a more traditional captain's outfit (complete with a skull and crossbones-esque hat). She's also seen in a karate outfit, though that's not as flattering either. In one official art she's also wearing a one piece swimsuit but sadly she wasn't in the beach episode so it might not be "canon".
Grade: A

Mind
Personality: Chiaki starts the show being a mysterious transfer student that has an interest in Marika Kato, an "average" high school student. However this interest is quickly explained as Chiaki is the daughter of a famous space pirate while Marika is as well (though she didn't know about it). Marika's father has "died" and left her the pirate license which, as a fellow pirate, Chiaki wanted to spy on the new "blood" so to speak. As a pirate Chiaki is skilled as both a pilot and fair at combat, though she doesn't actually injure anyone in the process of the show.
Chiaki is a perfect example of a "Spock"-type character; a character that acts more on logic and is outwardly cold and calculating. This means that Chiaki is a stoic character and that's one of my favorite types of characters. Her usually calm, cold and serious manner is a perfect foil to the more energetic Marika. However, it's soon revealed that her composure isn't perfect and it leads to her becoming angry or embarrassed. Most of her embarrassment is due to her father picking on her, while she is very adamant about not being called "Chiaki-chan" (which the girls tend to). She also loves sweets, as I've said before. Because of this, she might be called a tsundere though I much prefer calling her a kuudere due to her being colder on the outside rather than hot blooded. Speaking of being hot blooded (though in a completely different way), I absolutely LOVED when Chiaki was taking the reigns over for Marika (who was off doing something else and needed a stand-in). She was SO hammy that I can't help praising her acting skills. She even had a pretty epic noblewoman's laugh! Oh, and before I forget, for even MORE perfection they had to give the hime-cut meganekko kuudere with a lovely face my absolute favorite voice actress, Kana Hanazawa. To be fair, Chiaki does sound a lot like Kuroneko (from OreImo, another character Kana did) and with the hime cut she even looks similar. Still, Chiaki's beautiful glasses and cute parfait faces win me over every time. She never fails to put a smile on my face, and hopefully you can understand why I'm such a fan of hers.
[center]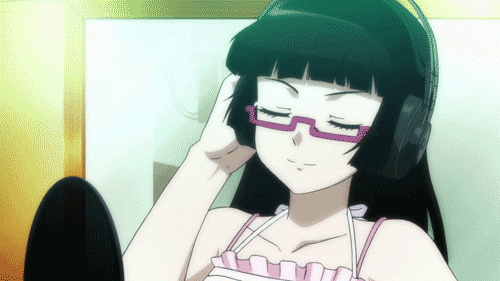 Yep, still watching it.[/center]
Grade: A+

Libido: Chiaki's libido is questionable. Outside of having a VERY "friendly" relationship with parfaits, Marika is the closest that she has. She's very interested in the new captain and lead girl, going so far as to transfer into her class. Whether or not those feelings are of "love" or just friendship are questionable. However, Bodacious Space Pirates is also a show that had a lesbian kiss so it's not like them to keep things subtle.
Grade: B-

Age: We don't know Chiaki's actual age but she's easily able to join Marika's class so she's about the age of a first year high school student.
Grade: B-

Total Grades: 89
Average score: 9.9
Final Grade: A-

So that's my favorite girl of the year. Believe me, if she's a girl that I love so much that she gets not one but TWO A+'s means that she'll be a girl I'll remember for a long time. Still, it is unfortunate that she didn't get an image though as she was short by ONE POINT. Then again, it's also difficult to find an image of JUST her rather than both her and Marika. I might have dodged a hard time. What do you think, Chiaki-chan?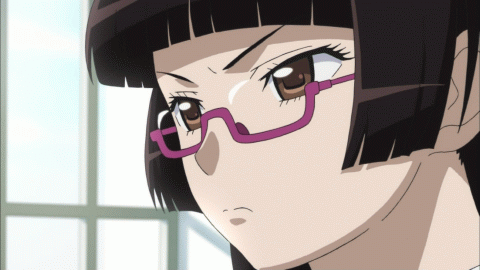 : Harumph. I have no use for your stupid blog. And don't call me Chiaki-chan!