Example #192: Masked Silver Red
2 AUG
2012
This is the Hundred-and-ninety-second week of using the "Perfect Anime Girl Sheet". Notice: This Blog may contain Unmarked Spoilers.

[center]Today's girl is: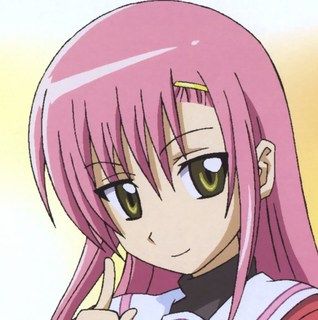 Hinagiku Katsura
from
Hayate no Gotoku!
[/center]

Head
Hair: Hinagiku's hair is nice but bad at the same time. I love how long and flowing it is. Even better, unlike a lot of characters with long hair, hers isn't exactly wide and flows like a river nearly straight down from her head. The hair by her ears is also quite cute, reaching just barely past her shoulders. The downside, of course, is that it's a bright pink color. With few exceptions, I don't enjoy pink hair. Hinagiku, obviously, is not one of those girls. Another downside is, if not for her yellow hairband, she'd nearly have a hime cut as her bangs are just about the perfect length.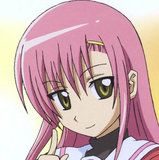 :It's a clip, not a hair band.

Oh, I was thinking that it was a hair band and you just hid the rest of it under your bangs. That's what you get for not having symmetric hair, I suppose!
Grade: B-

Eyes: Much like her hair, though not to those extremes, Hinagiku's eyes are both good and bad. I do like the shape of her eyes. They're pretty bold and fierce, the kind that always looks for a challenge. I love how they're nearly flat on top as well. However, I'm not as fond of the actual color. Yellow eyes usually make me think of some type of disease, and even though she's more yellow-green I'm still not one for her eye color. It's not a deal breaker though, especially because her eyes in the manga aren't colored in so I can just imagine a nicer color. Her hair is different as having pink hair is one of the things she's known best by.
Grade:B

Face: She has a cute face, as well as some cute expressions. She also has small features as well. However, she's not that outstanding facial-wise. She's not BAD, but I've seen a lot of cute girls in my days.
Grade: B

Body
Build: Probably the best way to describe Hinagiku's body is to call it "slender". She has a slim figure and pretty skinny arms. Her stomach isn't terrible though. I keep wanting to say something, but it pertains to the next area so I'll keep quiet until then. Still, excluding a lack of "assets" she is pretty shapely. She's got curves in some of the right places. What can I say, in anime it seems to be tradition for, er, girls lacking what Hinagiku does, to show off their booties. As for me, I also like her nice legs. Finally, while we don't have the three measurements for her, we do know that she's 161 cm and 45 kg.
Grade: B

Breasts: Alright folks. If you couldn't tell by my tip-toeing around, Hinagiku has a serious complex with her bust size. Or lack of, to be precise. She's even picked on it by characters who aren't any better themselves, and is often called boyish by other characters. To be fair, "boyish" is probably more referring to her personality, but this probably doesn't help her case.
Grade: D

Clothes: Hinagiku's main outfit would likely be her school uniform (though lately we've been seeing less of it). It consists of a red jacket with a pink dress. Both are colors I'm not fond of and even though the dress does match her hair it's also fairly long as it goes to her knees. And it is a dress; it connects to the top (then again, I don't know what constitutes a "dress" so this is an assumption). She also has a yellow handkerchief around her neck as well, not that it matters but... She tends to wear bicycle shorts/spats underneath. I don't exactly dislike spats, but rather I view them as something you wear over underwear rather than under a skirt. I hope that makes sense, though their tightness does make her butt easy to see. She also wears thigh-highs, but since her skirt is so long she has no absolute territory.
Hinagiku otherwise wears quite a bit of variety in her clothing choices. As far as "cosplay", she's worn a super hero outfit, a maid outfit, a swimsuit (a bikini, even though a one piece competition swimsuit would look better. A school swimsuit, while fitting her body type, I'd probably reserve more for Nagi). She's also worn a yukata, a kendo outfit, and a waitress outfit. I do like the outfit she wore in the first season's butler tournament as it looks like a fencer's uniform. It's quite nice.
Grade: A-

Mind
Personality: I'm torn on whether or not I like Hinagiku. I'll eventually describe why I wouldn't like her, but first I'll talk about the things I like about her. She's sort of tomboyish but cute at the same time. She does attempt to make her image more feminine, but it's not working out well for her. It's not like she's manly and dresses like a reverse trap, (she's obviously female), but she's still treated as masculine. She even has female admirers! This lead her to getting voted into becoming the student council vice-president as well, though unfortunately unlike a lot of student council members she never wears glasses. She's very dependable though, as she's had to grow up with her drunk of a sister Yukiji and manage their house. In a way, she's also an Honor Blade as well as she's in the kendo club. While she usually only swings around a practice sword, she also has two powerful weapons in-universe of Masamune and Shirosakura. She's a very skilled swordswoman even ignoring her weapons. Her reactions of breaking down when she's scared of heights are cute as well. All in all, she's a nice Tall, DarkPink, and Bishoujo character and I should really like her.
So why don't I? To be fair, outside of my general distaste for tsunderes, it's not Hinagiku's fault. And even if she is a tsundere, she's more dere and it's those around her that are such fools that cause her to turn tsun. And that's where the problem lies. The people around Hina put her on such a pedestal that I developed a distaste for her. She's seen as perfect at everything and can do nearly anything. Even her flaws (flat chest, acrophobia) are treated as good things. She's perfect to a point where it bothers me, and that's saying something. I get that she's supposed to be a parody, but I don't know. I can't seem to like her for that aspect. There's also the fact that her back story is close to Hayate's that it seems like the author nearly copied and pasted it except for the fact that Hinagiku is rich now. It's like she didn't come to the campaign prepared and just copied Hayate's player's information. This similarity is said by some fans to be the reason that they should get together, but I'm against it. Speaking of, if there's one thing that I dislike Hinagiku for, it's how LOUD her fans are. You see, in the official popularity polls that Hayate has had, she's won all three. By a landslide, no less (On the first popularity contest; Hinagiku ranked 1st with 3728 votes, 2nd place was Maria with 1586 votes. On the second popularity contest; Hinagiku ranked 1st with 4185 votes, Maria ranked 2nd again with 1814 votes. On the third popularity poll; Hinagiku received 4089 votes to rank first, with Athena receiving 2168 votes to rank second.). Her popularity even transcends the show as there was a point where she would just win moe contests and it wouldn't even be close. It's died down a bit, though with the third anime season we'll see if it builds back up to enveloping levels. I know I shouldn't judge Hinagiku based on this, but I don't quite see what those people see so much in her.
Finally, while she's not one of my favorite voices, I do have to commend Shizuka Ito for a good job bringing Hinagiku's voice out to enjoyable levels.
Grade: B-

Libido: Hinagiku does really love Hayate, a feeling not understood by that party. Hayate doesn't understand the luck he's got around himself when it comes to girl's feelings. She's scared that she might not be feminine enough for him and stays back (though it's easy to see her as masculine compared to Hayate's feminine antics). She's also a tsundere so it took her a while until she understood that the feelings she had were love. Now she doesn't really want to confess before Hayate does (to seem more "feminine"), though if that's the case she's going to have to wait quite a long time.
Grade: B

Age: Hinagiku starts the series at 15 and, through the passage of time, has had a birthday so she's now 16.
Grade: B-

Total Grades: 65
Average score: 7.2
Final Grade: B-