Example #173: March Madness 4: Maturity
22 MAR
2012
This is the Hundred-and-seventy-third week of using the "Perfect Anime Girl Sheet". Notice: This Blog may contain Unmarked Spoilers.
Welcome back everyone to another blog! Now, we're getting down to the last two characters and people have been wondering which of them I'd talk about this week. I assume that by the title everyone knows that...

[center]Today's girl is: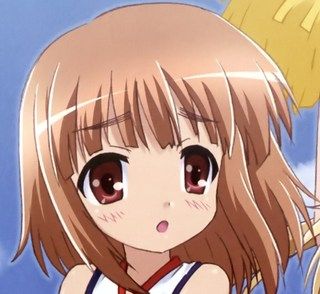 Airi Kashii
from
Ro-Kyu-Bu!
[/center]

Head
Hair: Airi has very nice short brown hair. It's not like it's too short either, for "short" hair it does extend to her shoulders and I do enjoy it. It's not "perfect" but I do really like her style as it frames her head nicely (especially the long sides). Her hair does end in about hime cut area, meaning her bangs extend almost to her eyes, but it's not quite straight enough for a true hime cut.
Grade: B

Eyes: Airi has 4 I's in her name, which for a short name is certainly impressive... Okay, I'll be more serious now. Airi's eyes are certainly moe. They're big and often tear-filled. Her eyes are very cute, and big eyebrows certainly work for her as well. However, I don't especially like the color. Sure, they're brown, but on occasion they look red. The color isn't bad, I'm just pointing it out as it's her worst eye-feature.
Grade: B-

Face: Airi has an extremely cute face. Due to her character traits she has very obvious emotions that are apparent. I'll discuss her traits a bit later, but know that her nervous looks are very wonderful.
Grade: B+

Body
Build: For a sixth grader Airi has a very mature body. It's shapely and curvy and great for non-lolicons to enjoy. However she does have a complex about that, though that complex is mainly due to her height (hopefully she doesn't read this blog). She's tall and "mature looking" enough to easily pass for a middle- or high-schooler. However, this is to her benefit playing the center, and makes her very difficult to block shots of (most of the girls only reach her shoulders).
Grade: B+

Breasts: As I said before, Airi has a wonderful non-loli looking body for a sixth grader. Her chest is no different. She has very large breasts, especially considering her age. Her friends like to grope her, but she's embarrassed by that fact.
Grade: B+

Clothes: Like most of the other girls, Airi has worn a good amount of outfits. Her usual outfit is again her gym uniform (again with spats). She's also been forced to wear a maid outfit and an apron & sukimizu as well as swim in a sukimizu. She has better assets so the sukimizus don't fit Airi as well as the other characters though. I certainly do enjoy her lovely pink bikini though.
Grade: A

Mind
Personality: Airi is a great girl for my tastes. She's a shy and quiet girl who gets easily embarrassed. She's scared of playing basketball, avoiding the ball when it's thrown at her but eventually warms up into one of the best players (due to her height). She's also scared of water due to falling off a boat as a child, but luckily Subaru (the male lead) gave her confidence to swim in time for classes. As said before, she also has a complex about her height. In the end, she's a big but gentle girl and is also cowardly on occasion.
Grade: A

Libido: Airi does have a crush on Subaru. Character wise I'd probably say that she's got the second best chance (she's tied with Aoi, who is also his age and childhood friend).
Grade: B-

Age: Despite Airi's... "maturity" and size, she's still a sixth grader. I can't score her well here because of that. It is interesting to note that Airi IS the oldest, as she was born in April.
Grade: C-

Total Grades: 75
Average score: 8.3
Final Grade: B

As you can see, Airi scored much better than the other girls. This is not only due to her mature shape, but also includes the fact that I like her personality as well. I will admit that the body is what gave her all those points though. However, next week we'll say goodbye to March Madness with the last of the main girls in lolibasketball, the precious Hinata!