~Hello~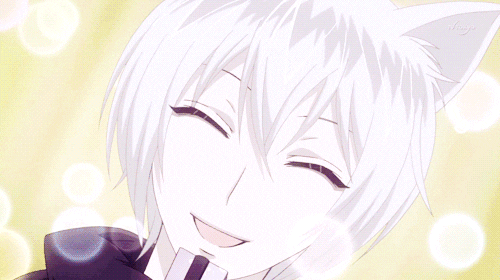 ~Welcome to my Profile~
I'm an anime fan (obviously) and started watching a few as a child such as Pokemon, Sailor Moon, Dragon Ball Z, Inuyasha, etc. (Toonami ... ahh, the nostalgia ...). I stopped watching anime about the time I hit high school and didn't get back into it until 2010 or 2011 when a friend of mine started pushing me into watching Ouran High School Host Club ... and I caved. The rest is history! xD
I have eclectic taste. Which I'm sure you'll notice if you peek at my list! I watch anything that I think sounds interesting, regardless of genre.
My favorite genres include: Comedy, Shounen, Sports, Yaoi, and Slice of Life
My least favorite genres include: Tragedy, Harem, Shoujo-ai (or Yuri), and Horror
I also have an absurd fondness for bishie anime (don't ask me why ... I just love to gawk at the pretty boys! ;D). And my love of yaoi anime, yaoi manga, and BL novels means I tend to ship boy x boy pairings in my head while I'm watching something (again, don't ask me why ... -_-")
My favorite manga is Akatsuki no Yona ... which is also my favorite anime.
My favorite book series is the Cut and Run BL series by Abigail Roux (the first book was iffy but the rest of the series was pure GOLD and I want to cry about the fact that she just ended it recently! I will miss Ty and Zane! Now a moment of silence while I cry about it ... T.T)
I'm also very much addicted to fanfiction and spend far too much time on FF.net. It's an addiction I tell you!
Favorite non-anime show is definitely Merlin ... which ended a few years back ... I still miss it! T.T
I'm also addicted to watching Who Do You Think You Are?
and also Big Bang Theory 'cause Sheldon is all kinds of awesome! xD
Other facts about me? I hate phones. Seriously! I refuse to have a cell phone and I ignore the hell out of my house phone. If my family wants to get a hold of me they have to call my house like ten times before I'll pick up! I HATE talking on the phone! I always feel like I have to keep up a steady conversation and yet want to rush off it or throw the stupid thing across the room for having to even pick it up in the first place! If something needs to be fixed I tend to put it off because I don't feel like calling someone. I'd rather talk to someone in person. Or via e-mail. Yes, I'm aware this makes me slightly insane ... but I see your sanity ... and it bores me. Crazy is more interesting ... so join me, won't you? xP
As to my anime ratings ... think of them like this:
5 Star = Masterpiece
4 1/2 Star = Near Perfection
4 Star = Awesome
3 1/2 Star = Good
3 Star = Okay
2 1/2 Star to 1/2 Star = Varied Suckage ... from Bad to Horrendously Atrocious
If you're here to chat then feel free to leave me a message and I'll get back to you when I see it.
Thanks,
~Liz
Oh, and my manga list is not updated ... at all. I go on reading binges but rarely, if ever add it to my AP list or my MAL list so ... yeah. I've read a TON of manga. It just doesn't look like it 'cause I don't keep track. My MAL actually has more ... and that one doesn't even have a THIRD of the ones I've read. In case you were wondering about it's sparsity... -_-"
My MAL account is duchessliz87 for the curious....
(for the curious, my profile theme is Tomoe from Kamisama Hajimemashita!)