Story:
The story was captivating and held my attention all the way through from beginning to end. It was well thought out and creative. The only issue is the ending ... that's the reason it gets a 7.
It began with a young high school boy named Sakurai Yuki who'd been abandoned at an orphanage as a baby, where he subsequently grew up. After nearly being killed he is saved by a mysterious man calling himself Zess. Shortly thereafter a man claiming to be his brother appears at the orphanage wanting Yuki to go live with him in Tokyo. Certain circumstances appear and Yuki takes the man up on his offer. When he arrives in Tokyo he finds himself immersed in a world far beyond anything he'd ever imagined. A world with demons and supernatural powers.
Yuki learns that he himself possesses a unique power that will help his new family defeat the evil that is trying to wipe out humanity. With a new resolve, and the mysterious man called Luka (Zess) at his side Yuki decides to assist his new family, but his resolve is quickly put to the test when he comes face to face with someone from his past...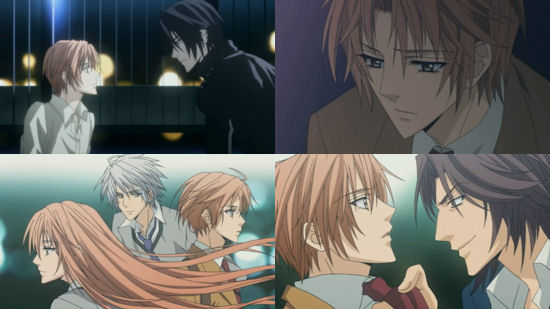 Animation:
The animation was wonderful and fit perfectly. The characters where beautifully drawn and the backrounds were fresh, clean, and infinitly lovely.
Sound:
The music in this anime was some of the best I've ever heard, especially the opening which is, quite frankly, my favorite opening EVER! The voice acting was superbly done and fit the characters to perfection!
Characters:
The characters, to me, are one of the things that make this anime so enjoyable. There are a many characters in Uraboku and I enjoyed how they interacted and how they played off one another. I have to say though that Luka was the one that stood out the most to me and is, of course, one of my all time favorites! He is a very compelling character who stole every scene that he was in. I just couldn't help but stare at him! xD
Overall:
A splendid anime that I greatly enjoyed! I highly reccommend! And on a side note, I do hope that they one day do a second season. This anime was a very enjoyable watch and deserves another season!