Gaah, I really need to edit my bio, but too lazy, ahahha...
Hello.. ~
You can call me Yaki : 3
🍀 1992 & Aquarius
🍀 Finland
🍀 English ain't native language
🍀 Speaking fluently Finnish, (hopefully) understandable English, "intermediate" French and Swedish, and some basics of Japanese, Russian & Italian. Currently trying to learn Sami
🍀 Shy, bystander, quiet person
🍀 Taken, hangin' around with bf and his Cockatiel parrots.
🍀 deviantART accounts: Ketunlieko & Nanohara

🍀 Manga has been my hobby since.. 2006 I think and I currently I have collection of +700 mangas/manhwas/global mangas. (And one lightnovel, lol) Last time I counted them, I had 714 mangas, but that was months ago.
Picture of my collection, when I had about 668 mangas.
Manga Collection

🍀 My most precious manga series is absolutely first edition of Yoshihiro Takahashi's Shiroi Senshi Yamato. (1976 – 1989)
I even got his autograph to first volume's inner cover. ヽ(*≧ω≦)ノ
🍀 I have watched anime also from 2006, after I started reading manga. =v=
Of course now we don't count that I watched couple of animes during my childhood, such as Maya the Honey Bee, Moomins, Galaxy Express 999, Pokemon, Digimon, Silver Fang...
🍀 And when it comes to anime, I watch almost everything. I watch even crappy series just to see how it ends. Or for a good laughs. Or because I just can't left series unfinished after I have started it. No matter how many years it might take to finish it. That being said, I don't drop my animes, I simply move them from my watching list to stalled section, then come back some other time.
🍀 I usually don't rate my animes, since I watch pretty much everything even thought I don't like it.
My favorite genres are: Horror, Gore, Psychological, Yaoi, Shounen-ai, Action, Mystery..
And least favorites are: Mecha, Romantic, Over-the-Top Ecchi (but I still watch it :--D)
🍀 Some of my favorite animes:
(Can you name them all? Lol it ain't too hard.)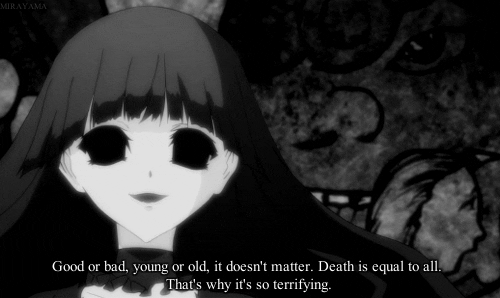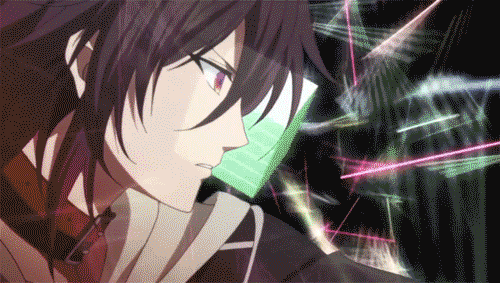 And some of my favorite characters: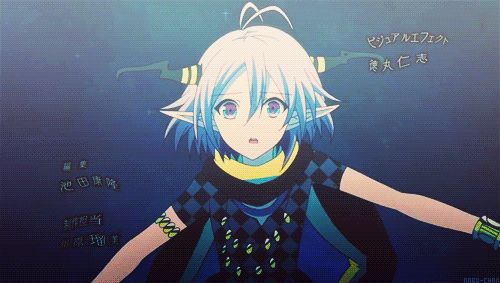 🍀My banner and avatar is Kuroha/Black Konoha aka The Snake of Clearing Eyes from Kagerou Project/Mekaku City Actors
_____________________________________________________________
🍀 Anime challenges for 2016
Larkawolfgirl's 2016 Anime Challenge- Open to everyone
Mofe info: Larkawolfgirl
40 series you must watch within the challenge: here
My progress: Here
Currently watched 17/40.


++++++++++++++++++

VampGirl's Anime Challenge 2016
More info: VampGirl
36 series & all their seasons you must watch withing the challenge: here
My progress: Here
Currently watched 10/36.
____________________________________________________________________
🍀 I play video games, current (and maybe all time) favorite is definitely The Witcher 3: Wild Hunt. I'm even squealing over its soundtrack, so freaking epic; not joking.
🍀 Other games I like includes Kingdom Hearts, Pokemon, Skyrim, OSU!, Sims 2, Assassin's Creed, Resogun, Silent Hill, Far Cry & so on.
🍀 My other hobbies are something like photographing & drawing just for fun, reading, roleplaying and collecting My Little Pony - toys. Yeah, I collect them, but I'm not so hardcore fan. If ya don't like ponies, that's totally cool.
🍀 Favorite non anime movies are: Star Wars - movies (Old trilogy's the best, havin' mixed feelings about new movie), Lord of the Rings - movies, The Dark Knight Trilogy, Battle Royale, Mad Max: Fury Road, Lone Rider and Deadpool. Yes, I absolutely love Deadpool and waited for years and months that movie.
🍀 Mangas that I have that aren't yet listed here (pretty much just a reminder for myself):
Yoshihiro Takahashi:
- Shiroi Senshi Yamato (1-26)

Yoshihiro Takahashi & Akira Ito:
- Fang (1-2)
- Ginga no Inutachi [Shōnen to Inu] Remix
(oneshot, orginal name is Shōnen to Inu, I have that re-issued 2001 version)

Hana Umeno
- Gakuen Densetsu - Hasami Onna
Naruki Nagakawa & Pairan
- Shiroi Majo Utsukushii Sniper 1 (missing volume 2; this is sequel of Shiroi Majo)
Yuu Watase
- The Best Selection 1 (missing second volume)

Some milestones:
🍀 1st manga: Inuyasha vol 3
🍀 100th manga: Loveless 3
🍀 700th manga: Weed volume 52
++++++++++++++++
🍀 900th anime: Junjou Romantica OVA 2
🍀 1000th anime: Nameko-ke no Ichizoku
++++++++++++++++
🍀 Life on Anime: 4 months badge: Jun 4, 2016
🍀 Feel free to follow or drop comment or something. I may be shy, but I always answer.
I'm more "Follow & run away" type, it's easier for me just.. to follow users and then run away.
It's easier to reply than write the first comment in some cases.