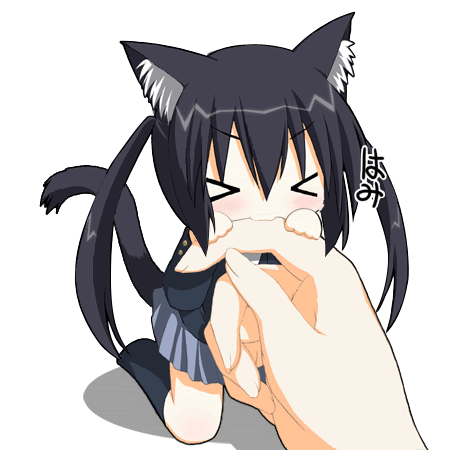 Herro fellow anime lovers! You can just call me Neko ~nyan! Now first things first, I love almost all animes and that is why most of the ones I've watched have high ratings from me. I base it on how I myself liked the anime, sometimes I'll go into detail and rate it lower if I didn't really like the plot or the animation but most of the times I'm really fair and like all of them. I do have my favorites. The ones that just stick out to me like a sore thumb, so I'll probably have more of them all over my profile. And if anyone is reading anything I do have to say in my 'about me' I'd just like to apologize for my mistakes in spelling. I'm not a pro but I'll definitely try not to be the worst! I would also like to add I'm a hermit and tend to hide in my room a lot when I get home from work or have a few days off. I don't really like interacting with people because I fear mean people. I love watching anime, reading manga, listening to Japanese music and playing LoL. I think that's all for now, baii!
Kagami Taiga & Aomine Daiki - Kuroko no Basket 2

When I first started watching Kuroko no Basket season 1 I was a little uncertain if I would like it or not. I wasn't a big fan of the shadowing they used in it but after a few episodes I kind of grew to like it. In fact I ended being obsessed with Kuroko no Basket! The intesity that builds up in this anime is just beyond words for me. Although I do love basketball, no matter if it's watching it or playing it I love it. But this series has definitely made me grow to love basketball on another level not only does it keep you on the tip of your toes after each episode but it's also seriously hilarious. I laugh so much, I even get overly excited when Seirin makes a basket! It's filled with teamwork, friendship, defeat, and also the courage to get back up and keep getting better and stronger. To me, waiting a whole week for a new episode to come is definitely worth it! Kuroko no Basket never leaves me hanging!
Mirai Kuriyama - Beyond the Boundary
Let me just say I found Beyond the Boundary out of nowhere. I wasn't really looking for anything until I stumbled on it. Which worked out great because after watching a few episodes I really liked it, I thought it was a nice change from the animes I had been watching previously. I do admit I was a bit confused at times but the anime was funny and joyfull to watch. The ending episodes definitely made me cry, it wasn't too sad but I'm a big baby so as usual I was crying about it! My favorite parts about the anime is Akihito and his obession with glasses. Oh and you can't forget about episode 6, 'Idol song' that song will forever be stuck in my head. So catchy and not to mention that Ai Shindou is a major cutie! I just loved this anime so I'm very happy I randomly found it.
Hotaru No Mori E, I really liked this song so when I came across this on Youtube by chance I was so interested into it so I watched the movie. And let me tell you, 45 mins worth every second, I cried so much in such a short film it was almost like watching AnoHana or Clannad all over again, it was just amazingly heart wrenching. It is by far one of my favorites! The song and this trailer go so well with it of course if you dont want to ruin the movie for yourself I wouldn't watch it because it does have some SPOILERS!!
"You were born with wings, why prefer to crawl through life?" - Rumi