My new Hetalia Russia plush!
5 APR
2013
A couple of days ago, I ordered a plushie of Russia from Hetalia, and he arrived today. I love him SO MUCH, I just had to write about him. He's 8 inches tall and super cuddly. He is just perfect in every way, shape, and form. I aodre Russia, so I just had to buy him.
When I checked the mail today, I got a happy surprise because he had arrived earlier than expected. (Since I go to school out of town and wasn't expecting to come home this weekend, I didn't think I would be able to cuddle him as soon as he arrived anyway.)
I ran in the house throwing the rest of the mail aside and immediately cut the package open. I pulled him out and let out a loud fangirl squeal and cuddled him for a loooong time. Lucky for me that no one was home or things might have been awkward.
When I told my mom about him she said, "You realize you're an adult in college about to turn nineteen, right?" To which I responded, "There's no age limit for loving Russia."
Also, I got a good laugh when I read the tag attached to him and saw that it says, and I quote, "Not for ages 15 years and under...CHOKING HAZARD -Small Parts. Not for children under 15 years." 15 YEARS. Make sure to remove all tags and attachments before handing over to your teenager or they might put it in their mouth and choke. Seriously, what 15 year old is going to choke to death on Russia? Now THAT would be an interesting way to go.
He may look innocent, but even plushie Russia can be fatal. Kolkolkolkolkol...
Too cute, right?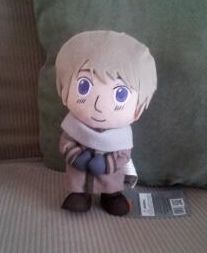 Not even kidding about that. This is serious business. xD