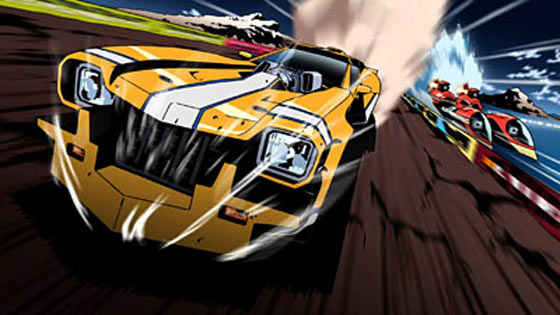 Story- Okay so Redline doesn't have the best story ever, but some of the sub-plots are somewhat interesting, but unfortunanatly are kind of underdeveloped. Like who was the dude with the pink car pimping two girls at once? We can only assume a role-model for JP and the whole thing with Funky boy and the Robo world government... Yeah this anime didn't really need such a convoluted plot a nice simple race would have been fine, but I don't think it really takes anything away from the show. Maybe setting it up for more movies/OVAs in the future for explanation =/ unlikely but possible
Animation- This is where Redline shines. This anime has the best animation I have ever seen in an anime movie hands down. I would expect nothing less of 7 years of handrawn animation. The fluidity of the animation and the complexity of the character designs are captivating and the dark shadows add a nice comic book feel to it. You must see this in Bluray if you have the chance.
Sound- Great Techno and pop soundtrack that gets the blood pumping, during those exhilarating race scenes. Could have benefited a bit from some more variety (maybe some jazz or rock?) but it might not have fit in quite as well as the techno or pop did. Most of the characters even have their own theme music, which is awesome. Oh and don't forget the main theme which is kinda sappy as hell but I still love it. Its a Redline day lol!
Characters- Lots of crazy characters with exiting personalities, JP is deffinetly a likable main character and Sanoshee is a great love interest, my favourite character has to be Machine Head though, I also think his theme is awesome.
Overall- One of the most entertaining experiences of anime that I've ever seen with none of the stereotypes that plague modern day anime (thank god for no school girls with whiny voices and character designs that resemble blobs... well except that one alien dude lol). Watch this in the best quality you can, you won't regret it.