This is an older anime, but it's on my top list of animes, even though the anime doesn't bring the justice that it gets in the manga.
The reason Air Gear is great is mainly for the imaginative, yet possible self-projecting roller blades called AT's. It's something all children-at-heart wish to have and ride.
The story revolving it is something like, "Who's the coolest skater at the skate park?" which there isn't much founded beyond, "ATs are the world." So there is no deep plot to this anime (even though it gets to such deep lengths in the manga) but that's not a downfall at all to the series.
After seeing and realizing his dream, we begin to root for the protagonist Ikki to climb higher and higher to become "Sky King." We also wish for Ringo (Ikkis childhood female friend) to confess her love to Ikki. There is also Simca (my favorite) who was Ikki's inspiration for going into the AT world, and she eventually helps Ikki climb the AT tower as well as taking him for her own.
I thoroughly love this anime, even if it lacks of the full story from the anime. Even so, I feel it has been cheated out of the spotlight. So few anime fans have watched or even remember Air Gear, and it's a real shame when it had soared so high. (Get it?) I hope if you're reading this, you can either share my pain on a loss of this great anime, or get the inching to watch it and become a new fan this wonder deserves.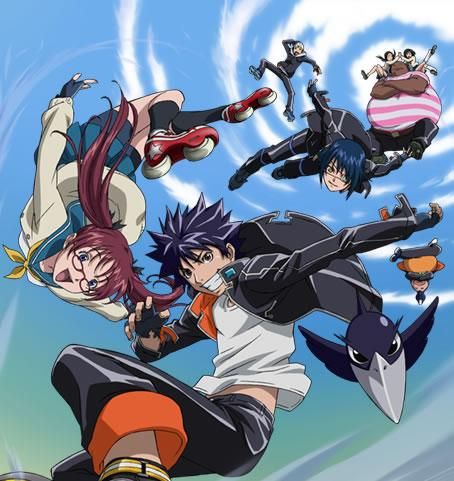 "If you have ever wanted to fly high on your own, to touch the sky with your fingertips, to become one with the wind as it passes over the earth, to live in the moment and bask in true freedom, then look no further. Let your free-spirited imagination soar while you enjoy the amazing feats that ATs could bring to this world."