Haiiii~ (ノ◕ヮ◕)ノ*:・゚✧
My name is Rory. I'm from Croatia. You can call me Nori/Role/Rory
People who call me Nori have priority.
I'm a member of A-P Welcoming Committee! And some other clubs:
I've been interested in Japanese culture and lifestyle for a while now, and I've been watching a lot of anime in last 4 years.
I like all kinds of anime but what I enjoy the most is anime which have something in them that CAN happen in real world, but doesn't happen everyday in front of your eyes (f.e. supernatural, gore, murders blah blah) . . . (  ゚,_ゝ゚)
I am very tolerant when it comes to everything basically and I don't care about stuff in general. So when it comes to anime I watched all kinds of weird titles (Pupa, Gyo, KissxSis...) and I'm not really that freaked out by them, more like ''hehe okay, moving on...'' ಠ_ಠ
I hate stereotypes. That's what I learned by watching anime, that no matter who you are, no body should tell you what to do, and no one should compare you to someone who is ''better''. And lately, that's what makes me happy. Being unique, and knowing there's no one in this world who's exactly like me. And the same goes for you! Isn't that amazing (ノ◕ヮ◕)ノ*:・゚✧
On a personal note:
My favorite colors are white and brown
My favorite animals are foxes
Lady Gaga and Kyary Pamyu Pamyu are my personal saviours
I'm a virgo and a sub virgo in horoscope, which is very important
High fashion is also important
My purple hair is important as well
Everything and anything that is cute has priority
I like vocaloids, but I'm not a ''die hard'' vocaloid fan. My favorite is Len!
My favorite season is winter
My favorite character ever is Satoshi Fukube from Hyouka... yw
BOLD letters are cooler than anything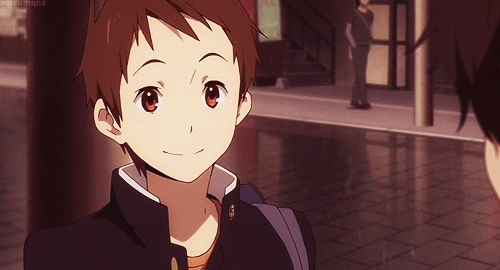 I do reviews! Check out my review section of my profile to read some. My reviews are kinda sassy and ignorant but yeah... I hope they're somewhat helpful or at least entertaining *shrug, I tried*
LATEST REVIEW:
''THE Chernobyl of the anime industry''
I watch anime everyday, unless I'm too busy to watch any, so I'll be on this website pretty much everyday. Feel free to give me any anime/manga suggestions. If they're good I'll make sure I check them out! And don't worry if they're weird or ''different'' I like all kinds of stuff! (~ ̄▽ ̄)~
My anime ratings are mostly based on my personal opinion, however they're also based on the quality of the show. The reason most of the ratings are 3 stars and higher is because I wouldn't spent time on some show that has a bad average rating.
Also if you're a music addict like me, add me as a friend on my last.fm profile! ´ ▽ ` )ノ
And to end this bio, have some Visual Kei. Schwarz Stein:

I follow EVERYONE ^^
Let's be friends! Leave me a comment! I always reply! (ノ◕ヮ◕)ノ*:・゚✧