Welcome to my profile!
You can call me Amber, I been watching anime since i was 11 years old.. :O My first anime was Dragon Ball and then thats when i was watching it all and yu gi oh XD... and pokemon. V.V I have these problems mostly lol.

My Favorite animes:
1) One Piece
2) Fairy Tail
3) XXXHolic and XXXHolic Kei
My anime ratings:

5 stars - Totally amazing, a must!
4½ stars - Also amazing though it had some flaw...
4 stars - Really good, time well spent!
3½ stars - A little better than just any time-waster
3 stars - Decent.
2½ stars - Okay if you've got lots of time...
2 stars - Might wanna start questioning how much time you actually have.
1½ star - Didn't 2 stars scare you away?
1 star - Seriously... don't.
½ star - NOOO! I died..
Loved / Hated Chatacter(s):

I tend to love characters whose personalities I really find intriguing and characters that I just simply like (a lot).
I also tend to dislike characters which I believe have poor design or annoys me while I'm watching.
"Stop Complaining About Fate And Saying How It Can't Be Changed!" -Naruto
"You Don't Die For Your Friends.....You Live For THEM." -Natsu
"If You Don't Take Risks.You Can't Create A Future." -Monkey D Luffy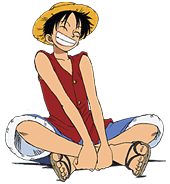 "We Might Be Scared, But Thats What Makes Us......Stronger." -Maka Albarn
Add Me Right Now!!! I Love New Friends!!! Don't be shy to have a talk or add me.... I'm really nice.