Scariest Anime/Manga Characters...
9 SEP
2012
Creepy, to frightening, to scary, to terrifying, to OMGWTF?! Yes, I actually plan to order this! The least scary are at the bottom (which, if you're reading it in the correct direction, is technically the top) and have the largest number, because it's a countdown. The name, manga/or anime, and explanation will be above the picture.
(WILL PROBABLY CONTAIN SPOILERS FOR SOME MANGA AND ANIME WHICH ARE LISTED IN THE TAGS!)
And, I add more later, I think.
Self-explanatory enough, so let's get started!
12. Kirishiki Sunako ("Shiki"): Never once is she scary, and her creepiness is often replaced by a sense of overwhelming calm. So why is she on the list? The overwhelming calmness. She addresses topics like death and turning a whole village into vampires the same way many people address getting an average grade on a math quiz. She is very unsettling.
11. J ("Bloody Monday"): He's smart, cunning, and has a creepy-ass smile, but there is a problem with a manga of plot twist after plot twist after plot twist--this guy was scary for, oh, a few chapters. After that, he become a different character. This is why he's near the bottom of the list.
10. Maromi ("Paranioa Agent"): Strictly speaking, it's a doll, not a person, but it's creepy enough. Aside from the fact that all dolls have the potential to be creepy, Maromi speaks, ambles around, and stares into your soul. For most of the series, I felt like it was going to stab me in the back after it's black eyes hypnotized me.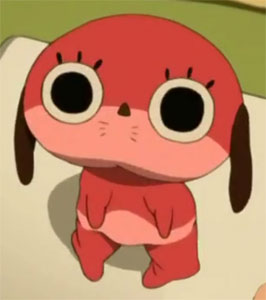 9. Katsura Kotonoha ("School Days"): As the wonderful item in her hand suggests, she is insane. Her psychotic love for Makoto (which makes ZERO SENSE) is quite scary. So why is she low on the list? Simple. "School Days" is an ecchi, and a good amount of time is spent focusing on her ample bosom. Basically, if her chest wasn't her defining feature, she would be scarier.
8. Lucy ("Elfen Lied"): She can and will rip your limbs off without hesitation. One good thing about shock-value anime is that the contain Lucys. However, she becomes very lovey-dovey with Kohta by the end, and her other personality (Nyuu) is Chi from Chobits 2.0. Nyuu is in no way a psychotic, heartless killer.
7. Xeres Break ("Pandora Hearts"): Aside from the fact that he is both creepy and a creeper, he feels like a shinigami, almost. Like he controls death, somehow. Does anyone else get that feeling?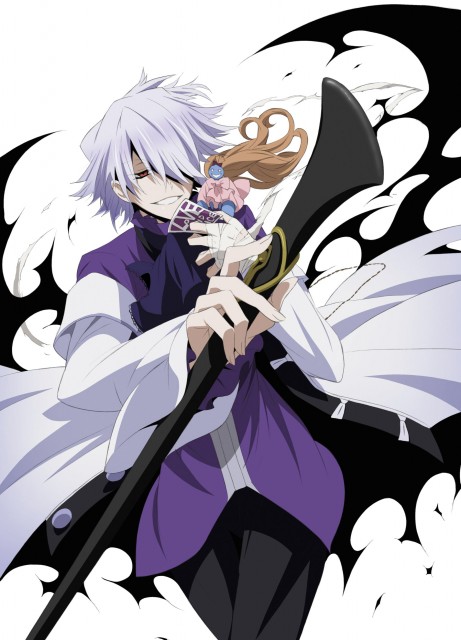 6. Isaac and Yuri ("ES: Eternal Sabbath"): Yeah, yeah, I know, these are TWO people, not one. But this brings up a point--I tend to find little kids to be really creepy. But, going back to Isaac and Yuri. Isaac is able to kill people without lifting a finger (screw the gun), so he's scary right off the bat. Yuri, however, doesn't have the Eternal Sabbath gene, so she cannot do the same. Her naivety about such subject matter is creepy, though. Their philosophy is as follows: Person X has done something bad (minor or major), so he deserves to die. D'oh!
5. Kiriyama Kazuo ("Battle Royale"): Anyone in his situation would go a little nuts, but his cold-hearted tactics and emotionless murders are a step above "a little nuts." There is an explanation behind it, but it does little to quell the fear most of us felt. He is an awesome character and an awesome killer, but it was done better in the novel. And between the explanation and the setting, it is pretty understandable.
4. Gasai Yuno ("Mirai Nikki"): Some of you guys are probably screaming at me for not putting her higher on the list, but let me explain. In the first nine-or-so episodes, she is downright terrifying. Her obsessive love for Yuki and willingness to do ANYTHING for him made me think she would be one of the, if not the, scariest anime character of all time. Unfortunately, somewhere along the way, the writers got too horny. Suddenly, fanservice entered the survival-horror anime and effed everything up. Yuno got a lot of it. Instead of forgetting her sanity, she forgot pants, and so on. But, Yuno, you were scary while the series was good. Crazy stalker will be missed.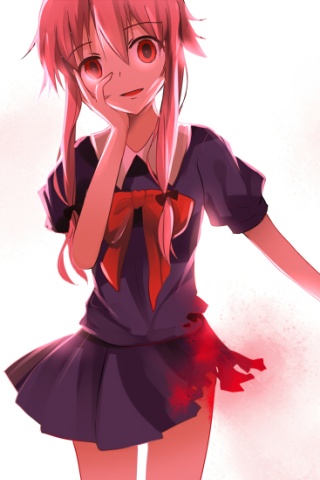 3. Yagami Light ("Death Note"): Considering the fact that both the manga and the anime are very popular, I shouldn't have to explain. But I will. Light has a Death Note, so he can kill knowing only a person's name and his/her face. And, believe me, he goes insane. And he kills. A. Lot. Of. People. Anyway, in the beginning, he kills only criminals or those who have done wrong, so you should be okay if your track record is pretty clean. Later on, though, the power corrupts him, and that's when the innocent should start to worry. I couldn't bring myself to put him higher. He's not very scary for most of the series, but he DOES have an awesome weapon and is smarter than most of us could ever hope to be.
2. Ushiromiya Maria ("Umineko no Naku Koro ni"): You know how I said that little kids creep me out? YEAH... Maria is creepy for the majority of the series, but (SPOILER ALERT! :D) ends up murdering her mother. 100+ times. I mean, sure, Rosa is a bitch mother, but killing and resurrecting her just because she's, ahem, "possessed by a demon" or whatever, and because she's killing "bad mommy" (the possessed one) and not "good mommy" (the... other Rosa). Both of them are schizophrenic and all, but that's overkill. (PUN FREAKING INTENDED.) Plus, she's a delusional freak. Need I say more?
1. Ryuugu Rena ("Higurashi no Naku Koro ni"): YOU SAW IT COMING. You cannot possibly have a list of scariest anime characters without putting someone from this anime on it. My second choice would have to be Takano, but Takano is more of a minor character, whereas Rena can laugh her way into our hearts throughout the whole series. In the show which originated "You can't spell 'slaughter' without 'laughter,'" you might think Shion is the scariest. She IS scary, but only when she's being sadistic and killing and laughing (in short, when she's happy). Rena is scary when the true reason "Higurashi" is horror comes through--the psychological aspect. Her personality switches from kind schoolgirl to ominously creepy stalker to homicidal maniac and back again at the drop of a hat. Plus, she has a disease which MAKES her insane, so you can't argue by saying, "Oh, but she's not ACTUALLY insane." Cute little girl with a cleaver, some maggots, and many people to kill.