Yo! Is it captain, Neko262, how speaking now!
Want to know about me? Are you sure >:D?
Sorry I Can Tell ya ;3 Okay ... Okay ... I tell a bit about myself X3~
I am kind and nice ... Not for my parents>.> Lol XD Just joking.
I'm mostly quiet, most of the school. Because I'm shy *blush* >/////<
Things I love: Milk, cat, bunny´s, bf, Marabu 8D ~, Konata, sleep, be on the internet and ... <.< >.>... Yaoi and hentai a bit like I >/////<*blush*
Things I hate: The school XD, people who think they are something, bitch, people how trying to play cool, wake up early, doing homework/tests and parents who complain about me.
Hope you enjoyed my presentation, If you not like it ... I do not know what to do XD
Bai-nii!!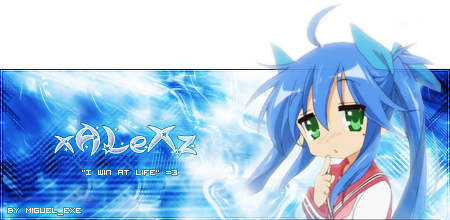 My Signature
i characters
i characters
Location:
Member Since:
June 24, 2010
Last Visited:
December 9, 2012
User Stats:
19 / Female
0 recommendations
Anime Ratings
5
4.5
4
3.5
3
2.5
2
1.5
1
0.5
total anime ratings: 207
Manga Ratings
5
4.5
4
3.5
3
2.5
2
1.5
1
0.5
total manga ratings: 15
© Anime-Planet, 2001-2014 — Graphics, logos, designs, page headers, button icons, scripts, and other service names are the trademarks of Anime-Planet.