Hard-to-please, lazy bitch here, with no significant merits beside ... um ... my kindergarden teacher once told me I'm awesome on a timpani.
Beside anime, I waste my time on video games, books, TV series and all other forms of electronic barf. And of course, Anime Planet and it's glorious forum, where I just happen to be a moderator.
If you want to know more, you might as well try talking to me, since coming up with witty jokes and unpretentious sentances to make my bio look cooler is not doing well.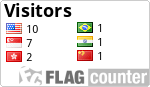 My Signature
i characters
i characters
Location:
The Moon
Member Since:
February 15, 2012
Last Visited:
9 hours ago
User Stats:
22 / Male
Anime Ratings
5
4.5
4
3.5
3
2.5
2
1.5
1
0.5
total anime ratings: 830
Favorite Genres
Least Favorite Genres
Manga Ratings
5
4.5
4
3.5
3
2.5
2
1.5
1
0.5
total manga ratings: 193